Savages
But they try to refuse, and that's when business becomes downright ugly. The cartel kidnaps O and will hold her for one year, during which time Chon and Ben must do exactly as they're told. They pretend to play along but secretly hatch their own secret plans to rescue their girl at any cost, which means that much blood and many chunks of brain meat will be shed. As the title suggests, the movie is at times grisly, perhaps exploitatively so. It also attempts humor with mixed results, working with a script that's never quite as clever as the filmmakers seem to think it is. And frankly, none of the performances is either especially credible or memorable. An unrated cut of the already harsh movie is included, but it adds 11 minutes, and the R-rated theatrical edit feels too long as it is.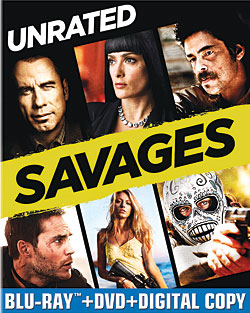 The video quality, however, is exceptionally sharp, with wonderful clarity in fine details on both long vistas of Laguna Beach and closer shots of the attractive actors and their stylish costumes. Blacks are deep and natural, and the 2.4:1 image contains no video flaws worth mentioning. Once again, Stone is having a field day with the color, contrast, and grain, manipulating each in conspicuous ways to give his movie a variety of distinctive looks.
The mostly tame DTS-HD Master Audio 5.1 soundtrack does not live up to the gorgeous visuals, noteworthy primarily for its deft integration of the music, including a host of clever song choices that show a pleasing bass presence and extend well into the surrounds. The various environments are also well established across the multichannel soundfield, but potential show-off moments such as a handful of explosions are in no way spectacular. The occasional random effect might pleasantly surprise viewers, but the gunplay-heavy final battle at least impresses with its directionality and sharp, plentiful cues across all the speakers.
Director Stone provides a solo audio commentary, with another from producers, writers, and the production designer. Nine deleted scenes are presented in high definition, 16 minutes total, and the five-part "Stone Cold Savages" takes us behind the scenes with the cast and crew. The disc is BD-Live enabled, with support for the pocket BLU app for enhanced control and downloadable content. Disc two is a DVD of the movie plus the audio commentaries. A unique printed code to access a Digital Copy is also tucked inside, in addition to an UltraViolet cloud copy, and each works with a variety of suppliers (iTunes, Amazon, Vudu, Flixster, etc.).
Blu-Ray
Studio: Universal, 2012
Aspect Ratio: 2.40:1
Audio Format: DTS-HD Master Audio 5.1
Length: 131
MPAA Rating: R
Director: Oliver Stone
Starring: Blake Lively, Taylor Kitsch, Aaron Taylor-Johnson
Three-time Oscar winner Oliver Stone has made some interesting choices in his career, from instant classics (such as 1987's Wall Street) to real head-scratchers (2010's Wall Street: Money Never Sleeps). Leaning more into the latter camp is Savages, a beautifully photographed romantic crime drama about equally beautiful people who just so happen to be drug dealers by trade. Adapted from the Don Winslow novel, it introduces us to Ben (Aaron Taylor-Johnson), the hippie brains of the operation, and soulless Chon (Taylor Kitsch), the muscle, both of whom share the lovely O (Blake Lively) as their live-in girlfriend. They grow and sell some amazing marijuana for huge profits, and life is good—until a ruthless Mexican drug cartel invites them to become international partners, an offer they can't refuse.
LATEST VIDEO