Samsung's Latest HTIB, The HT-BD3252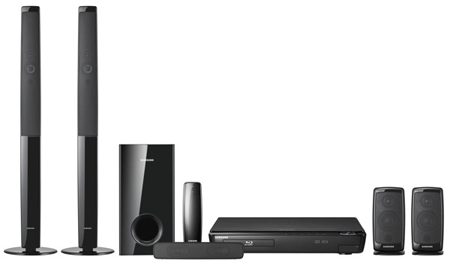 If you're in the market for a relatively capable Blu-ray-equipped HTIB, you might not have to wait until Black Friday to get it. Samsung's latest, the HT-BD3252, retails for just $799. With it, you get BD Live, support for both DTS-HD Master Audio and TrueHD as well as access to Netflix Watch Now, Pandora and, eventually, Blockbuster Online.
The speaker system pumps out a combined 1,000W of total power in a 5.1 configuration, including two wireless rear channels. The speakers utilize Samsung's bio kelp speaker cones, which will at least make for a good conversation starter at parties. Also included is a built-in microphone used to make sure your system is properly calibrated.
On paper, it sounds like a heck of a deal for someone who isn't into buying individual components. Of course, we'll need to get our hands/eyes/ears on it before we can make a judgment, but if you do manage to wait until Black Friday, you might be able to pick one of these up for a song.
LATEST VIDEO
WHERE TECHNOLOGY BECOMES ENTERTAINMENT