Samsung Set to Deliver Super Plasma, Ultra HD TVs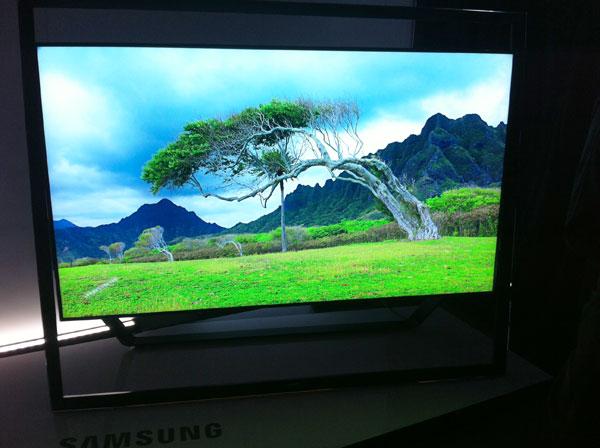 At a press conference in Manhattan on Wednesday marked by celebrity guest appearances of super model Kate Upton, Super Bowl quarterback Eli Manning, and super-rapper Flo Rida, Samsung officially introduced its 2013 TV line and availability for a new F8500 super plasma. Along with Panasonic's much anticipated ZT plasma series that will debut soon, the F8500 is said to represent a new level of performance for a category that remains much beloved by A/V enthusiasts as the gold standard for image quality.
Simultaneously, Samsung announced that its 85-inch Ultra HD model (photo above), the UHD-S9 first shown at CES, will be available for preorders on the Samsung.com Web site at the end of March. Price for the set, which features a stunning, museum-like aluminum easel stand and frame, will be $39,999. Samsung cited several unique characteristics to justify the high price —some $15,000 more than Sony's 84-inch Ultra HD, previously the most expensive UHD set on the market. Among these are the costs associated with the industrial design and the panel itself, which is not the same LG-sourced LCD panel being used in Sony's or LG's UHD entries, and is said to have a more sophisticated design. Also mentioned was the more costly full-array local dimming backlight—which again differs from the existing edge-lit models from Sony and LG. Finally, some cost is attributed to the separate, and ultimately replaceable, interface box that comes with the TV to accommodate source connections. The box will function much like Samsung's new plug-in Evolution Kits do for last year's TV models, allowing users to upgrade elements of the set's SmartTV hardware in the future to allow it to keep up with new interface developments while also facilitating future connection types that might crop up to handle native 4K content.
Samsung took the occasion to also introduce its new 8000 series LED models, which bring the sophisticated local-dimming edge backlight scheme used in its flagship 75-inch 9000 series model (see our review here) to lower price points and smaller screen sizes.
A New Generation Plasma

Although judgments on the new F8500 Series plasmas will have to wait for Home Theater's hands-on product evaluation, plasma fans who still mourn the loss of Pioneer's Kuro models can at least celebrate the commitment of engineering resources devoted by Samsung to this new F8500 series. An entirely new panel was developed that reduces the dead space between the red, green, and blue subpixels that make up the picture. Consequently, the color phosphors that create light consume more of the total screen area, which is said to result in a measurable increase in brightness. Additionally, black levels have been improved with further refinements of Samsung's Real Black Pro filter layer, which is now said to do an even better job of rejecting ambient light than last year's models, and with additional refinements to the refresh circuitry that are said to allow the panel to get much closer to zero light output as it recycles between frames. The TVs are said to deliver "eight times the black levels as standard LED TVs," according to company literature.
A "Black Optimizer" function buried in the set's menu is also said to further enhance contrast without otherwise compromising the image by "stretching" the brightness of white information near the 235 video reference level to something between 235 and the 255 industry-standard clipping level. Some videophiles know that image brightness ranges from a video level of 0 at the dark end of the scale up to 255, but program material is technically produced within the range of 16-235 to allow headroom on either side. By pushing the brightest highlights beyond 235, Samsung hopes to broaden the contrast ratio and imbue even greater punch to the image.
Along with a unique "metal craft design" that integrates pedestal support at the base of the unit, the F8500 models will feature a quad-core processor driving Samsung's new Smart Hub interface, which allows users to swipe among 5 different screens to organize, search, and select their desired content from broadcast, Internet, and home network sources.
Three F8500 models were announced: 64-inch ($3,699 list), 60-inch ($3,199 list), and 51-inch ($2,199 list), with the 64-inch set for late March availability.
LATEST VIDEO