Samsung QN65Q80R LCD Ultra HDTV Review Page 2
All four of the Q80R's HDMI inputs can pass the full 18Gbps bandwidth required for 4K/Ultra HD, HDR, 10-bit sources at up to 60Hz—that is, for all sources currently available to consumers. While the Q80R is not fully specified for HDMI 2.1 (which requires a bandwidth of 48Gbps), it does offer some of HDMI 2.1's features on all of its HDMI ports. Those features, useful primarily to video gamers, include VRR (Variable Refresh Rate), ALLM (Auto Low Latency Mode), and Dynamic metadata. But the Q80R doesn't support 8K (irrelevant, of course, on a 4K set!), frame rates above 60Hz, or eARC. (Conventional Audio Return Channel, which the Samsung does support, can carry only lossy surround sound formats, such as plain-vanilla Dolby Digital and DTS, while eARC, a feature of fully implemented HDMI 2.1, supports lossless Dolby TrueHD and DTS-HD Master Audio soundtracks.)
The set's optical digital audio output carries Dolby Digital and DTS audio from the Q80R's onboard tuner and streamed apps (plus any other sources connected directly to the set's HDMI input) to your AVR. But it can do so only in 2.1 (stereo+sub), not 5.1 or higher. The Q80R's onboard sound is above-average for casual listening, though I heard some occasional, barely audible buzzing from the chassis that was likely excited by what passes for low bass on a flat-panel TV.
There's a lot more to the Q80R's feature set—too much for us to cover it all here. But if you're up for an extended read, you can gorge yourself on the Q80R's online manual at downloadcenter.samsung.com.
HD and Standard Dynamic Range Performance
All of my serious evaluation of the Q80R was carried out using regular and Ultra HD Blu-ray discs played on an Oppo UDP-203 Ultra HD Blu-ray player.
The Samsung's FALD backlighting performed well. I measured under 100 local dimming zones, but this didn't appear to be a significant limitation. There was some blooming—inevitable with any local dimming TV—but it was obvious only on bright highlights next to dark areas, and more often in high dynamic range (HDR) than in standard dynamic range (SDR). I wasn't much bothered by it, but some viewers might be less tolerant. Black bars in letterboxed films were otherwise genuinely black, and the screen dropped to total black on full fadeouts between scenes. Starfields generally looked good, though were clearly less jaw-dropping than on an OLED where each individually-lit pixel forms its own dimming zone. And while I never saw the dimming pump unnaturally on program material, it was often visible on scrolling end credits (true of every local dimming set I've reviewed).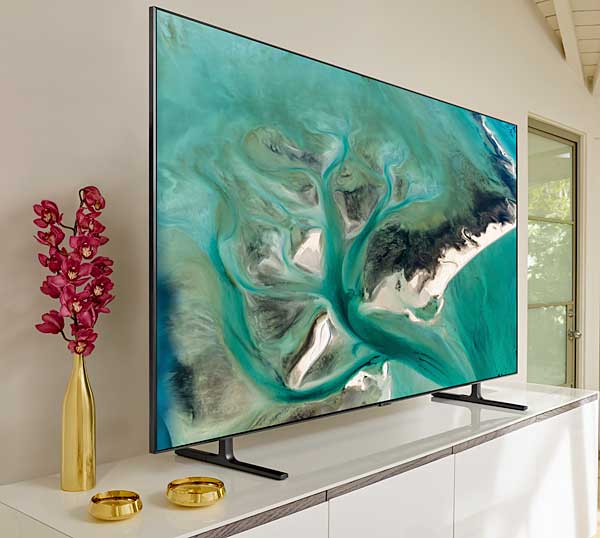 I've spent significant time over the past few weeks reliving old episodes of Game of Thrones on Blu-ray, plus experiencing new ones in the nearly complete (as I write this) final season on HBO. A recent final season episode, Battle of Winterfell, took place almost entirely at night, much of it shot with available light. Fans of the show were quick to complain that they couldn't see much of what was going on, but they clearly weren't watching on a properly adjusted Q80R TV. I won't say that the Samsung revealed everything, nor could it equal a pricier OLED in displaying the episode's gloomy, inky darkness while still revealing most of its abundant shadow detail. But there was never any point at which I was missing anything important, particularly after some creative tweaking of the Samsung' Brightness and Gamma controls.
The deliberately toned-down color palette of Game of Thrones gave the Samsung little opportunity to reveal its excellent color rendering capability. But the movie Victoria & Abdul was a different story, particularly in the bright reds of the ceremonial costumes and the abundant, natural green foliage. For a non-HDR transfer it also popped with impressive contrast, particularly as calibrated for a peak SDR brightness of around 50 footlamberts (ft-L), or about 171 nits. Yes, I know, that's well above the 29 ft-L (100 nits) long considered the goal for (SDR) home video. But in the era of HDR, an SDR peak level of 29 ft-L looks dim even in modest room lighting. And the Samsung lets you enjoy that added horsepower without seeing clipping or other nasties, even in the darkened room that I use for serious viewing.
Alpha is a superbly-filmed production about the domestication of wolves. Okay, it's not exactly real history (there weren't many historians scribbling away 20,000 years ago), but the cinematography looked stunning on the Q80R, with vast, brilliantly-sunlit vistas, dark night scenes, natural detail, and far more eye-catching color than the drabness of the era might suggest. There's also plenty of action in Alpha, including a buffalo stampede early in the film. I was never bothered by motion blur during any of it. Samsung's version of motion compensation, Auto Motion Plus, is less intrusive than most if used with a light touch in the Custom mode (Judder set to maximum, Blur off or in a low setting), but I never felt the need to turn it on.
Ultra HD and High Dynamic Range Performance
The Q80R is a superb display for viewing HD/SDR, but it really comes into its own with 4K/HDR programs. Out of the box, it was a little "hot" in the upper end of its PQ curve (the HDR equivalent of gamma). But dialing the Contrast back by a few steps, even before I did a formal calibration, eliminated this issue (I used Contrast settings between 42 and 44, out of the default maximum of 50, for most of my HDR viewing).
The Ultra HD Blu-ray of the animated feature Trolls is one of my guilty pleasures. It may not be a fan favorite, but you can't argue that it's not a great-looking disc with some of the most dazzling color this side of Disney/Pixar's Coco. The first and last acts in particular lit up the Q80R's screen with brilliant hues and crisp detail. And while there are only a few dark scenes in this film, the Samsung handled them without a hitch.
Allied is a more conventional, live-action WWII drama. You wouldn't expect it to be a great candidate for HDR, but bright sunlight in the Saharan desert locale of the film's opening, the night street scenes, and the shots that take place on a Casablanca rooftop all provided ample opportunity for the Samsung to show off its chops. HDR adds significantly to this film's impact, with those rooftop scenes being particularly effective. The Q80R is the first non-OLED set I've tested that can capture not just the shadowy details across the rooftops themselves, but also a hint of clouds in the otherwise dark sky behind them.
Post-calibration, the Samsung's image rarely looked overly dark on scenes with few or no bright highlights, an issue that many (including me) have experienced with some HDR displays. I clearly noticed this benefit in the opening scenes of Oblivion. In the past I've felt that in some important ways that the SDR version of this film looked better than the HDR transfer. But not here: HDR was a clear winner on the Samsung. Yes, the eternal question will always be which result is the one intended when the transfer was made? While I can't answer that, I will state that the Q80R produced HDR images that never disappointed me on a wide range of sources.
Conclusion
Way back in 2008 Samsung was one of the first TV manufacturers to produce an LCD television with full array local dimming. A lot of technology has floated by under the TV bridge since then (hello 4K, 8K, high dynamic range), and Samsung has consistently been in the thick of it. And with its excellent brightness, impressive blacks and shadow detail, and crisp, noise-free image, the QN65Q80R comes very close to looking like those super bright OLEDs offered by... oh wait, nobody. And while I love the look of OLEDs and have never obsessed about their (remote) potential for burn-in, a gamer can play all day on the Samsung Q80R without the slightest concern that those stationary scoreboards will become a permanent fixture on their TV screen.