Samsung PN60E7000FF 3D Plasma HDTV
Price
: $2,530
At A Glance
: Crisp resolution and superb color • Full control and calibration features • White uniformity could be better
With all the talk about LCD this and LED that, and the buzz about upcoming OLED sets that are expected to set the video world on fire (a very pricey fire, at least to begin with), plasmas are still very much with us. Samsung remains one of the technology's biggest supporters, although LCD sets remain its bread and butter.
The new 60-inch PN60E7000FF (actually 59.9 inches diagonal, if you're counting) is one notch down from Samsung's top-of-the-line 8000 series, with the only difference said to be the lack of the new Smart Interaction fea- tures that integrate voice and gesture control. Consequently, it sells for $550 less. Otherwise, the PN60E7000FF is equivalent image-wise to Samsung's top-tier plasma, and it combines solid performance with Samsung's latest Internet-centric capabilities.
Walkabout
The PN60E7000FF's input set includes three HDMI jacks, a component A/V input shared with a standard composite connection (they may not be used together), and USB and LAN ports. You can use the USB ports to play back compatible music, video, or photo files from a USB storage device.
There are four Picture modes in 2D and three in 3D. For the most part, you can set up each of these modes separately for different inputs, and for 2D and 3D as well. But the Color Space control can't hold different 2D and 3D settings for the same Picture mode at the same input. I avoided this limitation by using the Movie mode for 2D and the Standard mode for 3D, which did allow distinctive setups.
The odd man out among the standard picture adjustments is the Cell Light control. Plasmas are self-illuminating and, unlike LCD sets, do not require back (or edge) lighting. Think of the Cell Light control as a backlight control for a plasma set, although how it performs this function is very different. To reach my preferred 30 foot-lamberts peak brightness in 2D, I had to set this control to 20 (its maximum), but on some sources I had to back off on this a bit. For 3D, 20 is the default setting and did work best; extra brightness is never a liability on today's 3D HDTVs.
The PN60E7000FF follows the modern trend of offering more controls than any sane viewer will ever want to fiddle with. Some of them aren't accessible with some types of program material. Many of them I never used and left off if they weren't already blocked out for my sources—Black Tone, Flesh Tone, xvYCC, and Motion Lighting (adjusts the set's response to the room lighting). Some, like the digital and MPEG noise filters, might be useful on occasion.
There are both high/low (two-point) and 10-point (10p) white balance adjustments. The most convenient way to use these controls is to start with the two-point settings and fine-tune the result with the 10-point controls; the two can be used together. The Color Space control's Custom setting is actually a color management system (CMS), with full controls over both the position and luminance of each primary (red, green, blue) and secondary (yellow, magenta, cyan) color. This CMS also functions in 3D, but the 10-point white balance controls don't.
To my surprise, I found that the Dynamic Contrast control's Low setting proved useful. The image had more pop with it, but going to the Medium setting (too much enhancement) or High (ugh!) was often over the top for 2D. However, unlike my last experience with a Samsung plasma, I was at first ambivalent about using the Medium setting for 3D. Whether it was a plus or not depended largely on the source.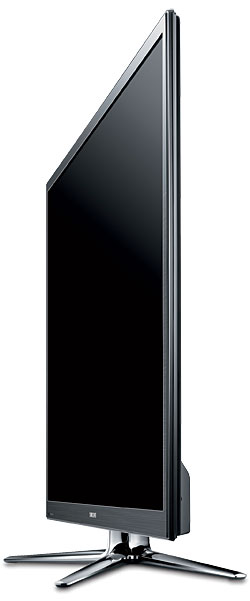 An RGB-only control is useful for properly setting the color and tint controls with a color test pattern, although I never felt the need to play with the default settings for Color or Tint once the set was calibrated. I set the seven-position gamma control within one step of its midpoint (zero) depending on the source material.
The PN60E7000FF refreshes at 60 hertz, 96 Hz, or 120 Hz. With a 24-fps, 2D source and Cinema Smooth selected in the Film Mode control, the refresh rate is 96 Hz, and 24 fps displays at four times its original refresh rate, with no 3:2 pulldown conversion. The added frames are merely repeated; Cinema Smooth is not a motion- interpolation feature. There's a slight bit of motion blur on fast-moving objects, but no display is completely immune to this, and plasmas in general are better at suppressing it than most. If you've selected Cinema Smooth and feed the set a non-24-fps source, the refresh rate reverts to 60 Hz and one of the Auto Film Mode settings. However, 3D playback always uses 3:2 pulldown on 24-fps sources, for a total refresh rate of 120 Hz (60 Hz at each eye).
The 3D menu has settings to optimize the 3D effect. I left them all in their factory default positions. There's a 2D-to-3D conversion mode that worked at least as well as any I've seen before, but like all such modes, it's no substitute for a true 3D source.
The backlit remote is relatively conventional and presented no particular issues. Gone, at least here, is Samsung's two-sided, multitasking remote from last year with its tiny keyboard on the back. You can use the set with an outboard Bluetooth keyboard (not included).
The onscreen ergonomics are outstanding. My only complaint is that the readings you get with the white-balance adjustment menus open (and dropped to the bottom of the screen, well away from the area the meter is reading) are often different from the readings with the menu closed, which can be a hassle during calibration.