Samsung Launches Ultra Short Throw Projectors, Expands The Wall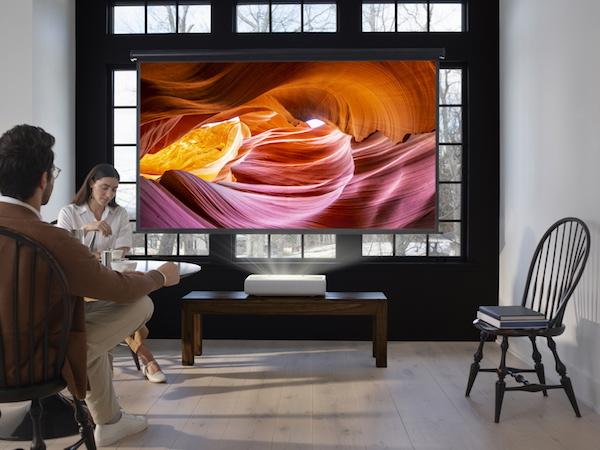 Samsung is using CEDIA Expo Virtual 2020 to show off its growing portfolio of custom installation-centric display solutions. Included in this group are The Premiere 4K ultra short throw laser projectors, The Wall MicroLED displays,
The Terrace
, and the lifestyle-oriented The Frame TVs. Samsung's full lineup was covered in a press conference on Tuesday and is now being exhibited virtually in the company's virtual booth.
The Premiere 4K Ultra Short Throw laser projector marks Samsung's return to projectors, a category it entered briefly in the late 2000s under the guidance of video expert Joe Kane. Two models have been announced: the LSP9T and LSP7T, which support up to 130- and 120-inch screen sizes, respectively. The Premiere LSP9T uses triple-laser technology, is spec'd to deliver up to 2,800 ANSI lumens peak brightness, and is the world's first HDR10+ certified projector. No similar brightness spec was provided for the LSP7T. Both models feature the UHD Alliance's Filmmaker Mode plus Samsung's Smart TV platform for streaming, and they are decked out with living room-friendly fabric finishes. According to Samsung, "powerful built-in woofers and Acoustic Beam surrounds sound" in both models "reduces the need for additional sound equipment in tighter spaces." The Premiere will be available in Q4 for $3,500 (LSP7T) and $6,500 (LSP9T).
While Samsung's modular The Wall is something best experienced in-person, the company is also virtually showing new variations on its 0.8-pixel pitch Lux solution. The new options are available with either a 1.2- or 1.6-pixel pitch. The differences compared to the 0.8 version include lower peak brightness and a greater viewing distance requirement to avoid seeing the pixel structure in images (viewing distance for the 0.8 version is 8 feet). The Wall features Entertainment (video) and Ambient (static image display) modes, and with a specified 100,000-hour lifetime, the modules can be permanently turned on. All versions are available now for custom integrators to spec into projects. Pricing is "don't ask," though the new 1.2 and 1.6 options are said to cost approximately half of the 0.8 version.