CEDIA Expo 2020: New Gear Highlights
Welcome to the age of virtual trade exhibitions. CEDIA Expo 2020 officially got underway on Tuesday as it has every year since for the past 30 years but unlike past events the only thing you needed to attend was an internet connection and your device of choice. More than 100 "exhibitors" introduced new products, including a healthy selection of audio/video and home entertainment products covered here and elsewhere over the past three days.
In addition to a daily slate of educational and virtual meeting opportunities, CEDIA launched the CEDIASTRONG Scholarship Fund to "eliminate financial barriers for students interested in building careers in the custom install space…and help attract the next generation of our industry's labor force." The fund will be used to pay for coursework, travel, and certification for "high-potential students." Show producer Emerald Expositions is matching donations made during the CEDIA Expo Virtual Experience, which ends today. You can contribute to the fund here.
While the CEDIA 2020 virtual experience was well organized and provided a reasonably efficient way to gather information on exhibiting companies and their products, there's no substitute for hands-on demos and live, face-to-face interaction. Here's to hoping that the "new normal" of live events being replaced by virtual gatherings will be short-lived.

Magna Audio Aura Multipurpose Speaker
Virtual gatherings may not be ideal but they do have a few benefits. Magna Audio, for example, didn't have to travel all the way from São Paulo, Brazil to introduce its décor-friendly Aura Series of speakers to the U.S. market. The new line comprises three models, each featuring a round enclosure with integrated LED lighting and designed for mounting on a wall or ceiling. The Aura 3 ($599/pair) has a single 3-inch wide-dispersion driver rated to handle 40 watts, while the two-way Aura 6 ($1,299/pair, available November) adds a 6-inch woofer and handles up to 150 watts. Rounding out the series (sorry, couldn't resist), the Aura Subwoofer (bottom right, $859) features an 8-inch driver and a 200-watt power rating.
You wouldn't necessarily know it from the photo shown here, but the speakers can be installed indoors or outdoors. The disc-like enclosures are made of aluminum with a silicone-sealed lighting ring and carry an IP66 rating, meaning they are impervious to dust and certified to withstand powerful streams of water. Magna even offers an optional dimming kit so you can use the lighting to create a wall-sconce effect. The supplied installation brackets are designed to decouple the speaker from the mounting surface and can be ordered in stainless steel for outdoor applications. Cabinets are offered in natural and black aluminum or can be finished with white or black paint. Grille choices include four fabric options and black or white aluminum. Visit magnaaudio.com for more information.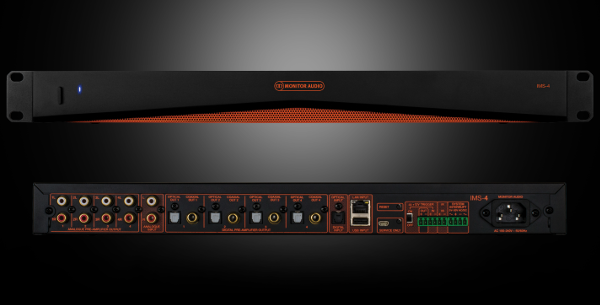 Monitor Audio IMS-4 Music Streamer
England's Monitor Audio is all about speakers so you might be surprised to learn that the company now offers a music streamer. The low-profile IMS-4 is based on the BluOS streaming platform developed by NAD/PSB sister brand Bluesound and allows hi-res 24-bit/192-kHz streaming to four zones but can be integrated with other BluOS devices to create up to 64 zones of music, each controllable through the BluOS Controller app and able to stream different sources or play in sync with one another.
Available with or without ears for rack mounting, the system is designed for easy integration with home automation control systems from Crestron, Control4, and RTI includes an interrupt feature to ensure doorbells and fire or security alarms can be heard. It also supports streaming via Apple's popular AirPlay 2 platform (with Siri voice control) and is compatible with the MQA format developed by Bob Stuart, co-founder of the high-end British audio company Meridian. Monitor Audio offers a generous five-year warranty and recommends partnering the IMS-4 with one of its streaming amplifiers. Visit monitoraudio.com for more information.

Sonance Invisible Series Speakers
In-wall speaker pioneer Sonance has reengineered the popular Invisible Series of speakers it introduced eight years ago with the goal of delivering a line of in-walls that rival the performance of freestanding speakers. The heart of the updated line is proprietary Motion Flex Technology that mates the company's new mid/high-frequency Wave Flex Drive Unit with a new Air Flex Woofer in an "acoustically isolating baffle" designed to prevent the bending motion of the tweeter from interfering with the piston-like motion of the woofer. With the help of a new Constant Directivity Crossover, the speaker is said to radiate sound close to 180 degrees horizontally and vertically with smooth off-axis response and tonality that remains consistent regardless of listening position. But what Sonance is most proud of is the redesigned speaker's ability to produce "powerful bass that defies expectations," which is achieved by coupling the woofer to an air chamber behind it.
In addition to elevating the performance of the revamped Invisible Series, Sonance says it has established a reliable installation process that uses four steel discs embedded behind the speaker diaphragm and a hand-held depth gauge to ensure that spackle or other finish materials are applied over speaker surfaces with a consistent thickness. Remember, the idea is to make the speakers disappear. The line will comprise six new models, slated to ship late this year and early next year. Prices range from $1,250 a pair for a two-way model with a 6-inch woofer to $1,500 for a 15-inch subwoofer. Visit sonance.com for more information.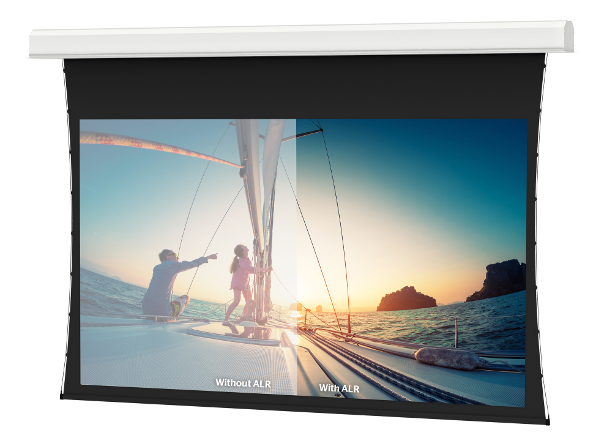 Da-Lite Parallax Stratos 1.0 ALR Screen
Da-Lite, one of the many A/V brands featured under the Legrand umbrella, has introduced a lower cost ambient-light-rejecting (ALR) screen material designed for use with standard-throw projectors in high-light environments that are subject to image wash-out. The new Parallax Stratos 1.0 material is available for tensioned electric and fixed frame screens up to 16 feet tall (seamless) and said to reject up to 80% of ambient light. The 1.0 gain screen is the latest in a line with three higher performing optical-surface screens that promise 95 or 96% ambient light rejection with gains of 0.45, 0.8, and 2.3 for use with ultra-short- and standard-throw projectors. The screen is mildew resistant and can be cleaned with water.
The company also announced a new Screen Surface Selection Calculator to help consumers and installers choose the right screen surface for any environment. The online tool factors in differences between lamp- and laser-based projection as well as the impact of different ALR screen surfaces. Visit legrandav.com for pricing and more information.