Samsung Galaxy S4: Safe and Sound?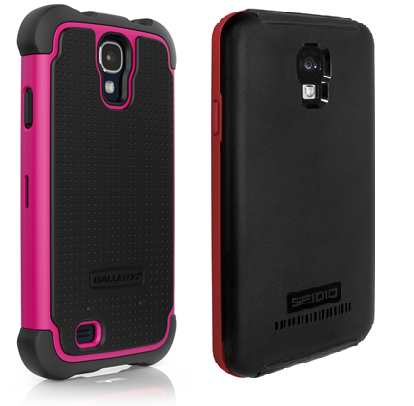 We love our devices. Love 'em! When we first get them, we baby them. But the reality is, sooner or later, life happens. Phones slip through our fingers, fall out of pockets, and drop into water or worse. And heaven help them from the atrocities inflicted by active folks—rain-soaked armbands, sweaty bike jersey pockets, damp backpacks, and the occasional boogie board ride in the Atlantic. One solution is to encase them. Thus "protective covers" abound. Unfortunately, those cases often muffle or kill the features we use the most. What to do?
My previous smartphone was a waterproof Sony Xperia acro S. It was water resistant (but not very impact resistant). It served me well for quite a while. Great phone, actually. However, when the Samsung Galaxy S4 came out, I knew I had to have one. The reviews for the screen and camera were great and when I auditioned the built-in speakers, I knew this was my phone.
Now, don't get me wrong. I abhor trying to do any serious listening on a cell phone. Most of us here do too. But, the fact is that there are times when I use the built-in speakers. Checking out a new song before I buy it, watching a video clip, and even mundane tasks like using the voice-guided navigation. So, to me, cellphone sound matters. But, I also wanted to protect my new baby.
First, I tried out the Ballistic Shell Gel SG Case for my S4 phone. It came in a variety of colors and provided significant impact resistance. It wasn't very bulky, and unlike other protective cases, it has a gripping surface but still slips easily into a pocket or purse. What I especially liked was that it didn't interfere with the screen, camera, microphone or speakers. The sound quality of the Samsung Galaxy S4 was wonderful, and the Ballistic case didn't impair it in any way.
The problem with the Ballistic case was that it is wasn't waterproof, let alone water-resistant. And, well, I'm hard on my electronics. My daily routine is to get up and hop on the bicycle for a few hours. The inside of my jersey pocket isn't the most hospitable place for electronics—it's hot, bouncy, and typically in the sunshine of Miami—sweaty. And, when my hands are sweaty, I tend to drop things. Like phones. When you live near the ocean, that's not a good thing.
Then I read about the Seidio OBEX waterproof cases for iPhones and Galaxy phones. (OBEX is Latin for "barrier." Who knew?!) It's an effective waterproof case, but the initial reviews were brutal with regard to sound quality. When I heard that a new, improved version was coming out, I anxiously signed up for one. I was immediately impressed with the design; two sides of the case snap tightly together. They recommend you test it before you use it. I submerged mine in a bowl of water and not a drop entered the case. All phone operations work through the screen protector, all buttons functioned properly, and the screen and camera were also completely functional. Time to give it a listen.
This is a tough call. Sound is definitely transmitted through the waterproof barrier. It is also loud, but not necessarily clear. At soft listening levels, it sounds somewhat transparent. But turning up the volume to anything more than just background music reveals the flaw in the system. It develops a significant buzzing sound, with very apparent resonances. This is on music playback. As long as noise-cancelling is turned off during phone calls, the sound is acceptable. I could hear other parties, and they could hear me. It wasn't nearly as clear as it was with the Ballistic case, and of course, not as clear as with no case at all.
Bottom line: there are times when I would rather be safe than sorry, and sacrificing sound quality comes with that security. Considering that most cyclists I know carry their phones in a Ziploc baggie, the Seidio OBEX is definitely a step up. The protective covering over the camera lens is almost worth the sacrifice in sound quality. When I'm out on the bike and water is an issue, I'll definitely take the Seidio. When sound matters, I'll be back to my Ballistic SG case. Sound or security—which would you choose?