Salamander and SI Team Up to Simplify Ultra-Short Throw Video Projection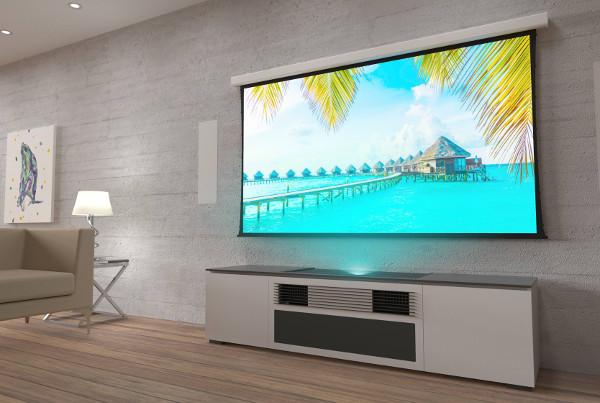 AV furniture maker Salamander Designs and Screen Innovations (SI) have teamed up to simplify the task of setting up an ultra-short throw video projection system.
Under a new partnership, the companies have created a "place projector here" solution by matching Salamander's Ultra-Short-Throw (UST) credenzas with SI's Solo Pro line of motorized projection screens designed for use with ultra-short-throw projectors that sit just inches from the screen.
The goal of the alliance is to "take the guesswork out of" setting up an ultra-short-throw projection system in close quarters.
"There's no need to fish wires, so it's much faster to install," said Scott Srolis, vice president of sales and marketing at Salamander Designs. "Just pick the size, select the color, and add the projector of choice for a gorgeous, seamless solution."
Salamander's UST credenzas are designed to provide fast and easy access to AV components and wiring and feature an aluminum support chassis, recessed projector cavity, and active cooling system comprising a fan and built-in louvers to keep equipment cool.
SI's Solo Pro motorized screens are made with the company's ambient-light rejecting Short Throw material and available in sizes up to 100 inches diagonal with either a low-voltage 24-volt motor or rechargeable lithium-battery-powered motor. The screen housing, or cassette, is available in 12 colors.
For more information on Salamander's UST credenzas, visit salamanderdesigns.com.
For more information on Screen Innovations' Solo Pro screens, visit screeninnovations.com.
Related
Sony VPL-VZ1000ES SXRD 4K Ultra-Short-Throw Projector Review
Ultra-Short-Throw Projectors and Ambient-Light Rejecting Screens: Perfect Together?