Russound XStream X1 Wireless Audio System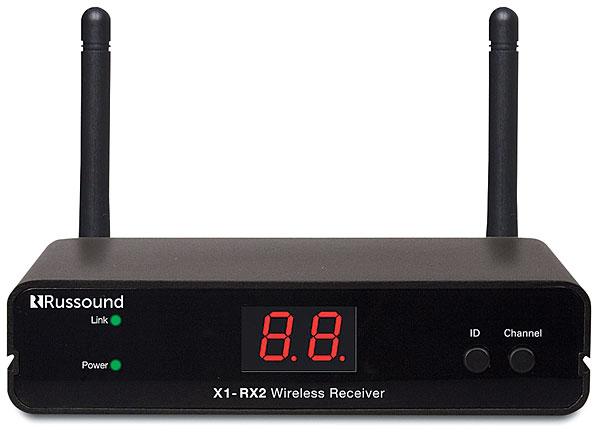 PRICE
$568 and up ($967 as tested)
AT A GLANCE
Plus
Fast and simple setup
Long transmission range
Zero detectable latency
Minus
Optical input doesn't support Dolby or DTS bitstreams
THE VERDICT
XStream works exactly as promised, beaming audio around the home with little effort. Easily integrates with existing audio distribution systems or functions standalone.
Thanks to companies like Sonos and Bluesound, wireless audio distribution systems are gaining real traction in the marketplace. And if you're starting from ground zero, these can be terrific options for sending music around an existing home.
But what if you have an existing audio system you want to expand on? Say an older Elan, Niles, or Russound housewide system that's feeding multiple rooms that you want to add to? Or if you purchased a multi-zone A/V receiver and want to add music to a far bedroom or porch. Or maybe you just want to add some surround channels to the back of a room or new Dolby Atmos speakers that wouldn't be possible or cost effective to do with traditional wiring. If any of those sounds like you, Russound's new XStream X1 wireless audio system might be the perfect solution.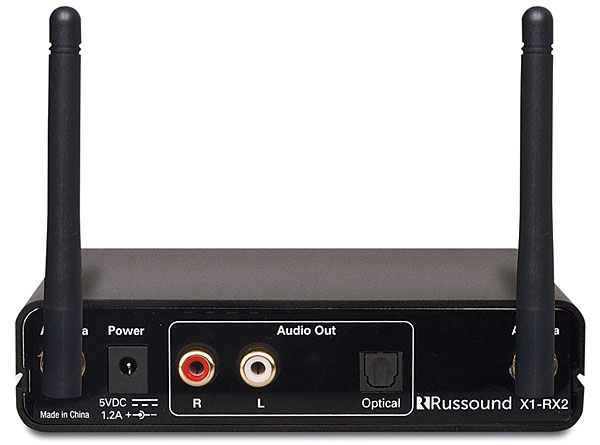 Russound describes the X1 as a "wire replacement technology" basically acting as an up-to-100-foot invisible interconnect between two or more points. Every X1 system will include at least one X1-TX8 ($319) multichannel wireless transmitter. This device accepts up to four inputs (three stereo RCA and one selectable between Toslink optical digital or stereo RCA); you can stack two X1-TX8s to create an eight-source system. The X1-TX8 broadcasts them using channel-hopping or fixed-channel transmission in the 2.4-, 5.2-, and 5.8-gigahertz bands on one of nine selectable transmission IDs. While this operates in the same spectrum as Wi-Fi, the X1 system is not Wi-Fi, rather using "a proprietary digital wireless signal that provides a more reliable, lower-latency connection between the transmitter and receivers," according to Russound.
A front-panel button on the X1-TX8 selects its broadcasting ID, and the owner's manual does a nice job explaining the differences in channel frequencies, saying, "2.4 GHz operates better through walls than the high frequency. However, this band is widely used in many systems including Wi-Fi. If the band is crowded, interference may occur. The 5.2-GHz and 5.8-GHz bands do not go through walls at the same distance as the lower bands. However, they will have less interference."
Any number of X1-RX2 ($249) or X1-RX220 ($399) receivers can go on the receiving end. The X1-RX2 is a passive device, offering RCA or Toslink optical output for connecting to a local receiver or amplifier. (The system only transmits PCM signals and doesn't support Dolby Digital or DTS bitstreams via the optical connection.) The X1-RX220 includes a 2 x 20-watt amplifier to drive a pair of connected speakers and features trimpots on the back to individually adjust volume for left and right speakers with a range of 0 to 60. I appreciated the precision and range to accurately fine-tune volume with the LED displaying showing the level.
On the front panel of each receiver are two buttons: one to set channel ID number (1 throung 9) and one to select the input (1 through 4). The receivers are set-and-forget devices, and there are no ways to adjust either of them remotely. Ideally, the X1-TX8 would connect to something that can be remotely controlled like a multi-zone output from an A/V receiver or a multi-room controller like Russound's MCA-C5. Very smartly, all devices hold their settings if power is lost, meaning there won't be any "Why isn't the audio working?!" issues if the power should blink out.
All the devices feature dual antennas for maximum signal reception and have similar profiles. They also include mounting brackets to hide away in a variety of places, including behind a flat-panel TV.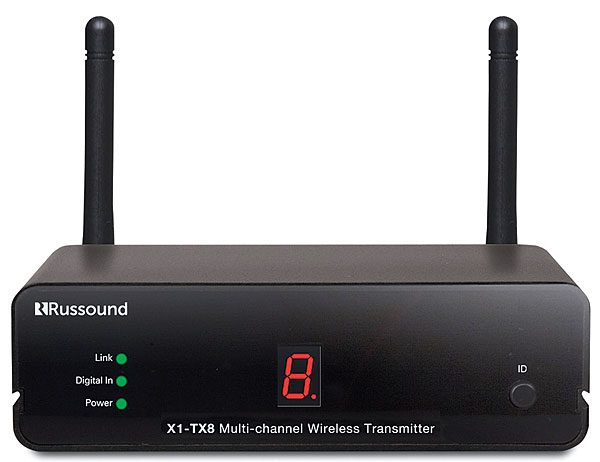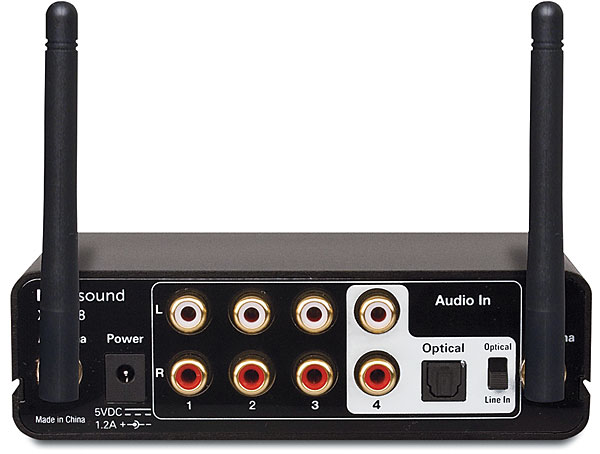 Once the devices are connected, powered up, and tuned to the correct ID, a link light appears, and that's pretty much it. I connected a variety of different sources to the X1-TX8—Dish Hopper, Kaleidescape, iPad, Bluesound—and beamed music to both receiver models that were supplied for review. There is zero discernible latency between the receivers or from the wireless and direct-wired signal. I watched and listened to World Cup action with the audio in perfect sync with the video and audio from my main, direct-wired system in another room. It even played REM's Murmur at high-res 192/24 from the Bluesound Vault.
I used ID 5 (5.210 GHz) while testing at my custom installation showroom, and it blasted through two walls with no problem. However, when I brought the system home and placed the transmitter and receiver at extreme ends of my 2,000-square-foot house—about 65 feet and passing through five walls—I needed to switch to a 2.4-GHz ID for the devices to link up to each other. I never encountered any interference at either location
The X1-RX220 amplifier certainly had decent power output, able to coax a fair amount of bass out of some Definitive Technology tower and bookshelf speakers, and it easily produced room-filling volume. However, while digital amplification has come a long way and the X1-RX220 is definitely suitable for its intended use, the audio didn't have the performance of a larger amp. For example, Michael Hedges' Aerial Boundaries had a more compressed sound, lacking the attack, depth, and emotion present in the recording.
Russound's XStream X1 is a powerful problem solver, letting you put audio in virtually any area with zero wire or labor costs. While not an inexpensive solution, when contrasted with the cost of paying a day of labor and wiring charges, it could end up being a bargain.