Rotel RAP-1580 Surround Amplified Processor Review
PRICE
$3,800
AT A GLANCE
Plus
Muscular Class A/B amp
PC-USB and phono inputs
Dolby Atmos and DTS:X 7.1.4 decoding
Minus
No auto setup
Limited access to seven-channel amp for Atmos/DTS:X
THE VERDICT
Rotel returns to analog amplification for their latest top-of-the-line home theater machine—and the results are golden.
Is the Rotel RAP-1580 the surround receiver that dares not speak its name? In keeping with the two-channel distinction between stereo receivers and integrated amplifiers, Rotel calls it a surround amplified processor because it doesn't include an AM/FM tuner. But to my mind, the defining trait of a surround receiver is that it combines a surround preamp/processor and a multichannel amp in one box. So I prefer to call this an audiophile receiver. You say tomato... [Editor's Note: I'd call it a surround amplifier, and I don't think it's the last of this type we'll be seeing...but, whatever.—RS]
Life isn't easy for audiophile surround products, whatever you call them. They are reviled from one side for not having enough features— and reviled from the other side for being, well, an oxymoron, as if surround sound shouldn't even aspire to audiophilia. But there's a determined cadre of home theater buffs who are thrilled by the dynamics and subtleties of a great movie soundtrack. Some of them even collect music in high-resolution surround and stereo formats. I count myself among them.
And I love audiophile receivers. I gave up on surround separates years ago, as soon as the first true audiophile receivers became available. Some of the most convincing ones came from Rotel, one of the pioneers of relatively affordable audiophilia. Rotel poured so much love, know-how, and aspiration into the RSX-1065 and -1067 receivers—with their distinctive front-panel heat fins and golden, dynamic sound—that the existence of audiophile receivers could no longer be disputed. Such receivers were like quarks, antibiotics, and Post-it notes: Once discovered, they couldn't be undiscovered.
Back to Analog
Rotel's only other current surround receiver, one that proudly wears the name, is the RSX-1562. That fiveyear-old model uses ICEpower Class D amplification. However, it predates Dolby Atmos and DTS:X and can't be upgraded to add them. The company also offers surround pre/pros and multichannel amps.
Available in silver or black, the RAP-1580 returns to Class A/B amplification, scene of earlier Rotel triumphs. The brawny 50-pounder is rated at 100 watts per channel into 8 ohms with all seven channels driven, a spec that most manufacturers prefer to dodge, rating into only stereo loads instead. See our Test Bench measurements for an independent look. I'm guessing it will be close to the rating. Demanding 4-ohm speakers are gleefully challenged to an arm-wrestling contest.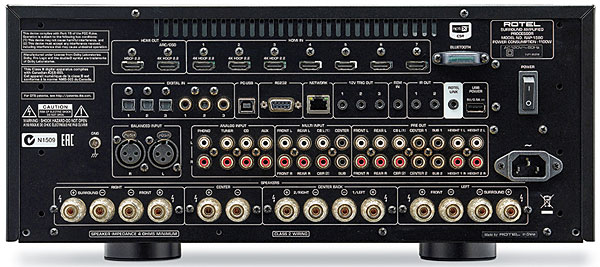 The RAP-1580 owes much of its weight to the massive Rotel-made toroidal power transformer, a key ingredient in the secret sauce. My lights flickered when I turned it on. I worried that the 1.4-inch window of daylight allowed by my rack's guest-receiver berth wasn't enough for its ventilation needs and therefore added a small fan to blow air through the gap. Putting the product in an unventilated gear closet or stacking other components on it would be inadvisable.
Memo to Dolby Atmos and DTS:X enthusiasts: In what amounts to an oddity, if not an outright design flaw, the seven available onboard amp channels are limited in their ability to be configured for Atmos. Although the surround processor section supports up to 7.1.4 channels, without adding external amplification you can only assign the onboard amps for a 5.1.2-channel setup, with a single pair of Atmos/DTS:X height channels, or a traditional 7.1-channel system with a pair of back surrounds. Given the onboard processing, logic would suggest that stepping up to 5.1.4, with four height channels, should then require only the addition of a single stereo amplifier, but you'll actually need four external amp channels with this setup— the sixth and seventh internal channels simply go unused in a 5.1.4 configuration. Stepping up to a 7.1.4 system allows you to call those internal amps back into play for the back surround channels, but you'll still require four outboard amp channels to drive the height speakers. Rotel says this problem will be addressed in a future software update, though the company cited no immediate time frame.
(Another odd quirk was that the master volume control on the remote did not affect test-tone levels, which would have required me to balance channels well below reference level. However, the volume knob on the front panel did affect the test tones, so I just ran to and fro between front panel and sweet spot, making hairline adjustments with the knob and checking the meter. Fortunately, this problem was subsequently addressed in software update V1.71, so you shouldn't suffer that inconvenience.)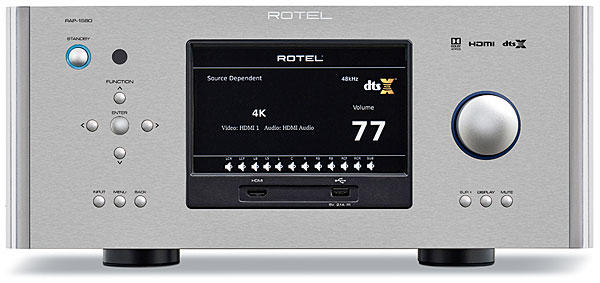 Dominating the front panel is an unusually large display, 6 inches wide by 3.5 tall. It is mostly monochrome, aside from a touch of yellow for the X of the DTS:X logo. Seeing so much information at a glance is helpful (if a little geeky). The two numerals representing master volume get the biggest play. The TV-screen interface is also monochrome. At left are menu navigation buttons and a blue-ringed power button, whose intensity can be reduced with included stick-on ring covers. At right, below the volume knob, are minimal controls for surround mode, mute, and display (front panel and TV displays on, one off, or both off). The remote control is plain but decently organized. It reserves its top row of buttons for on-the-fly adjustments of subwoofer, center, and surround levels. An app for mobile devices is in development; Rotel's existing app for other products didn't apply at press time.
Eight HDMI inputs include seven in back and one in front. There are two HDMI outputs. Three inputs and one output are Ultra HD capable, but none support scaling, only passthrough. There are no component or composite video jacks. However, multichannel analog connections are supported, 7.1-channel in and 11.1-channel out, with connections for an extra center and subwoofer or biamp applications. Coaxial digital, optical digital, and stereo analog inputs are present in triplicate. Also provided are moving-magnet phono, stereo XLR line, and iOS-friendly front-panel USB inputs. Rotel can't be praised highly enough for providing a second, PC-friendly USB input supporting 192/24 hi-res audio—something that remains a rarity in any receiver, but shouldn't be. Note, however, that the network connection for the unit is wired Ethernet only (no Wi-Fi option). As mentioned, AM and FM reception is not supported, but neither are music streaming services, and there's no headphone jack. The only wireless option is an aptX capable Bluetooth connection to send signal from a smartphone/tablet or laptop.