Roku to Deliver Wireless TV Speakers this Fall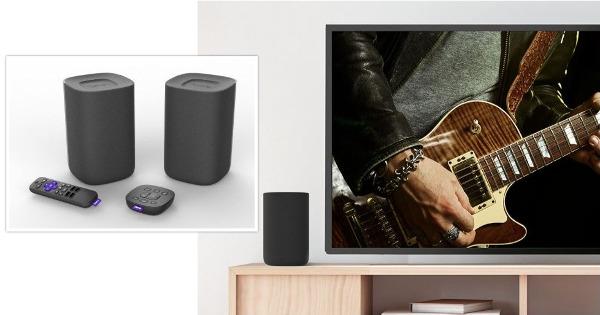 Roku has announced its entry into the wildly overcrowded TV speaker market — but not with a soundbar.
The streaming company plans to launch the Roku TV Wireless Speakers bundle in October. The bundle is designed to work with Roku TVs and includes a pair of small speakers designed to flank the TV screen plus a voice remote and a battery-powered tabletop remote control featuring a press-and-hold button for voice commands, playback controls, and programmable preset buttons. Both remotes control the speakers and the TV.
The system will sell for $200 when it becomes available this fall but Roku is offering an introductory price of $150 for orders placed by Saturday, July 23. The price for orders placed between July 24 and October 15 is discounted is $180.
The system is easy to use and optimized to ensure audio and video are in sync because Roku controls the software in the speakers and Roku TV. Setup is a matter of plugging the speakers into a power outlet and pairing them with the TV while following instructions on the screen.
Once the speakers are set up and paired with the TV, you can use them to listen to any streaming channels on the Roku platform as well as audio from TV shows delivered via an antenna, cable box, or other set-top device. The speakers also support Bluetooth streaming from mobile devices and include automatic volume leveling and a dialogue enhancement mode to improve speech intelligibility.
Roku TVs accounted for one out of every four smart TVs sold in the U.S. during the first three months of this year, according to the company.
For more information, visit roku.com.