Roku Announces 5 Streaming Players, Updates OS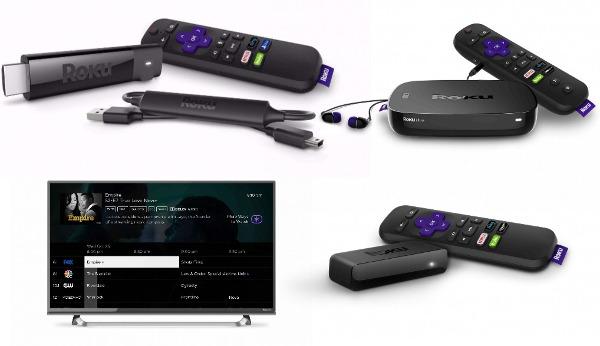 Roku today announced five new streaming players said to offer better performance, improved wireless reception, and new convenience features at prices ranging from $30 for a more powerful Roku Express to $100 for a new Roku Ultra.
The company also unveiled an updated operating system, Roku OS 8, with a Smart Guide that aggregates over-the-air (OTA) broadcast TV and streaming options.
The second-generation Roku Express ($30) and Roku Express+ ($40), which extend Roku service to other TVs in the home, are described as five times more powerful than their predecessors. In addition to the HDMI port offered on both models, the Roku Express+ adds a set of composite AV jacks for connection to older TVs; it will be available only at Walmart.
The updated Roku Streaming Stick has a new higher price ($50) and now includes a voice remote with power and volume buttons for controlling compatible TVs. The Stick also features a quad-core processor and 802.11 AC dual-band wireless with MIMO technology that uses multiple transmitters and receivers to enhance data transfer and speed.
The Roku Streaming Stick+ ($70) supports high-dynamic-range (HDR) 4K at up to 60 frames per second (fps) and launches channels more quickly than its predecessor, Roku said. An advanced wireless receiver built into its power cord is said to offer up to four times the range of last year's Roku Streaming Stick to help minimize buffering and the updated device can now control TV power and volume.
Roku's top model, the Roku Ultra ($100), is said to offer the company's best wireless performance and supports high-dynamic-range (HDR) 4K at up to 60 fps. The player comes with a voice remote that controls TV power and volume and includes an Ethernet port and micro SD slot to speed up channel load times with wired connections. The remote also includes a headphone jack and remote finder button.
The Roku platform provides access to 500,000 movies and TV episodes plus more than 5,000 channels. The recently introduced Roku Channel also offers hundreds of free, ad-support movies with no fees, subscriptions, or log-ins required.
The new models are expected to hit stores by October 8 and are available for pre-order now from Roku, Walmart, Best Buy, Amazon, and other retailers. The Roku Express+ will be sold only through Walmart.
A Shiny New OS
Updates to Roku's OS 8 include a Smart Guide that integrates OTA broadcast TV and streaming options, an improved search mechanism, voice control and fast start for Roku TVs, and other features.
The Smart Guide will provide program information for local broadcast channels seven days back and up to 14 days in the future and includes a More Ways to Watch feature that offers additional streaming options, such as watching a movie or show from the beginning or seeing more episodes of the program you're watching and browsing similar entertainment. Over time, the guide will also identify your favorite OTA broadcast channels and put them at the top of the program guide.
The Roku search platform, which already spans more than 500 streaming channels, will be expanded to include local broadcast TV channels searches conducted by Roku TV owners who use a TV antenna. Results are sorted to show content that is free or least expensive and users will also be able to use the Roku mobile app to search for broadcast TV content.
Roku said the new voice control feature for Roku TVs will make it easy to switch inputs, tune to local broadcast channels, launch streaming channels, and control other tasks. Voice commands will be executed via enhanced remotes that include a microphone button or the free Roku mobile app for iOS and Android devices.
Voice search has also been improved to better understand searches done in a more conversational tone. For example, viewers will be able to say things like, "show me movies with Tom Hanks" or "show me comedies with Will Ferrell."
With the OS 8 update, Roku TVs will start more quickly and viewers will be able to launch a streaming or broadcast TV channel in seconds using a voice command such as "launch Hulu," which will turn on the TV and open Hulu, or "tune to ABC," which will turn on the TV and tune to the local ABC station if an antenna is connected..
The updated operating system also offers the TV Everywhere (TVE) single sign-on system for subscribers of Dish, Cox, AT&T, and hundreds of other providers, eliminating the need to enter log-in credentials multiple times. The system will initially cover 30 channels.
Finally, the Roku 4K Spotlight Channel has been redesigned to make it easier to find 4K HDR content, including Dolby Vision, for players and TVs that support these newer technologies. A new navigation menu displays more content categories and makes it easy to browse by genre and choose from multiple streaming channels if a movie or show is available from more than one provider.
Other enhancements and bug fixes included in Roku OS 8 are detailed in the release notes at blog.roku.com
The OS 8 update is slated to begin rolling out to Roku players in early October and to Roku TVs in November. The update is expected to be operational in all Roku devices by the end of the year.
For more information on the new streaming players, visit roku.com.