RIP: 'Rhinestone Cowboy' Glen Campbell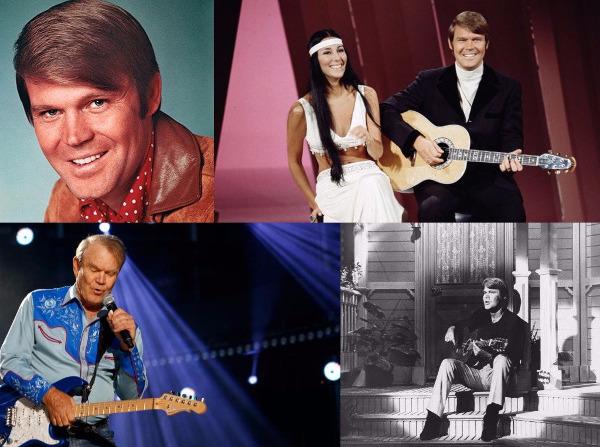 Glen Campbell, the Arkansas born country pop singer/guitarist know for such memorable hits as "Wichita Lineman" (1968), "Galveston" (1969), "Rhinestone Cowboy" (1975), "Southern Nights" (1977), and many more died yesterday following a long battle with Alzheimer's disease. He was 81.
Campbell's passing was announced by his family in a post GlennCampbell.com and Facebook:
It is with the heaviest of hearts that we announce the passing of our beloved husband, father, grandfather, and legendary singer and guitarist, Glen Travis Campbell, at the age of 81, following his long and courageous battle with Alzheimer's disease.

Glen is survived by his wife, Kim Campbell of Nashville, TN; their three children, Cal, Shannon and Ashley; his children from previous marriages, Debby, Kelli, Travis, Kane, and Dillon; ten grandchildren, great- and great-great-grandchildren; sisters Barbara, Sandra, and Jane; and brothers John Wallace "Shorty" and Gerald.

In lieu of flowers, donations for Alzheimer's research may be made to the Glen Campbell Memorial Fund at BrightFocus Foundation through the donation page at Careliving.org.
The following is excerpted from the biography on GlenCampbell.com:
One of the best-selling solo male artists in U.S. chart history, Campbell released more than 70 albums, selling 50 million copies with more than 80 songs charting. He was a member of the Country Music Hall of Fame and the Musicians Hall of Fame. He won the Country Music Association's Entertainer of the Year, twice won the Academy of Country Music's Album of the Year award and was named Male Vocalist of the Year by both. In 2012, he was bestowed the Grammy's most prestigious honor, a Lifetime Achievement Award.

Campbell arrived in 1960 at a glorious time in pop music history and within a year got a publishing company job writing songs and recording demos. His demo work led him to his job as a guitarist in The Wrecking Crew, the group of studio musicians who worked with Phil Spector to create his influential Wall of Sound production style. His work during this period would have been enough to secure his place in rock history. Alongside musicians like Leon Russell and drummers Hal Blaine and Earl Palmer, he played on an astounding 586 sessions in 1963 alone. That's him creating unforgettable guitar parts on the Beach Boys' landmark Pet Sounds album, Frank Sinatra's "Strangers in the Night," the Righteous Brothers' "You've Lost That Lovin' Feeling," and the Monkees' "I'm a Believer," not to mention hits by Elvis Presley, Bobby Darin, Lou Rawls, Ricky Nelson, Merle Haggard and Bobby Vee. And you'll also find him among backing a who's who list of artists with the Crew as the house band on the legendary "T.A.M.I. Show."

Campbell made history in 1967 with his first Grammy wins by sweeping the song and performance awards in both the pop and country and western categories. "By the Time I Get to Phoenix" won the pop accolades and "Gentle on My Mind" took the two country and western trophies. Those two songs and "Wichita Lineman" are in the Grammy Hall of Fame.

The inability to define his sound marks Campbell's career. Campbell was the rare artist whose success had no fences. He grew up loving country music, but Campbell made sophisticated music that connected with Americans making the physical and cultural transition from a rural agrarian society to a modern urban one. He also brought that love for the genre to new fans, who embraced it and helped move what was once a regional sound into the pop cultural conversation, sparking an interest in all things rural to an adoring international audience.
Campbell was also famous for "The Glen Campbell Goodtime Hour," a TV variety show that ran from 1969 to 1972.
In 2011, Campbell announced that he had Alzheimer's disease and embarked on a farewell tour that would last through the end of 2012. The tour and Campbell's struggle with the disease was chronicled in the touching 2014 documentary Glen Campbell: I'll Be Me.
See the Glen Campbell's discography at here.
See Campbell's Top 40 Billboard hits here.
For more on the life of Glen Campbell visit at GlennCampbell.com.