Revived KLH to Unveil Speakers, Voice-Enabled Keypad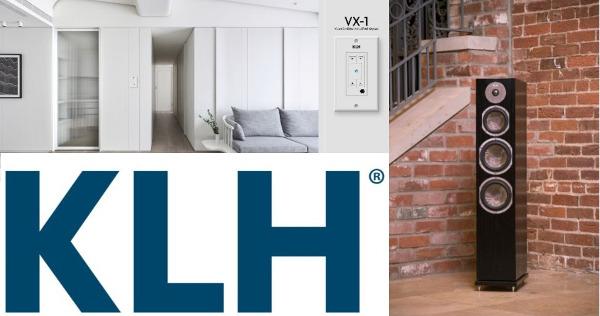 The iconic KLH speaker brand,
relaunched in January
under the direction of former Klipsch president David Kelley, will unveil the "world's first" voice-enabled in-wall keypad, a new line of home theater speakers, and a line of architectural in-wall/ceiling speakers at the upcoming 2018 CEDIA Expo.
Described as a "simple and cost-efficient" way to transform a single-source music system into a wireless multi-source streaming system, the VX-1 keypad has an integrated amplifier and is designed to replace outdated passive in-wall volume controls. It supports Wi-Fi, aptX-enabled Bluetooth, hi-res audio, and Alexa voice control, when used with the free Muzo app (iOS and Android). KLH research indicates that 8.5 million passive in-wall volume controls exist in U.S. homes today, setting the stage for vast market potential.
The VX-1 is slated to ship in October with a suggested price of $199.
KLH will also introduce a line of freestanding speakers, each named after a street in Cambridge, Massachussetts to honor the brand's birthplace. The series will include the Ames and Albany two-way bookshelf speakers; the Kendall, Quincy, and Cambridge floorstanding models; the Story center-channel speaker; the Beacon and Broadway surround speakers, and the Stratton and Windsor powered subwoofers.
All models boast Kevlar drivers, anodized aluminum-dome tweeters, MDF cabinets finished in real wood veneer, and a 10-year warranty (except for the powered subwoofers, which carry a five-year warranty). To bolster bass output, the floorstanding speakers will incorporate low-resonance driver chambers with hand-tunable ports.
On the architectural speaker front, the company will unveil the Maxell line of in-wall and in-ceiling speakers, suitable for stereo and home theater applications. The series is named after physicist James Clerk Maxwell, whose name appears on a building at the Massachusetts Institute of Technology (MIT), which KLH founder Henry Kloss attended.
Ranging in price from $500 to $650 each for two- and three-way models, the in-wall series features tuned, sealed back-boxes, MDF baffles, 6.5-inch Kevlar-coated fiberglass drivers, 1-inch silk-dome tweeters, tapered-array crossovers, and gold-plated five-way push-pin binding posts.
The Maxell in-ceiling speaker series — comprising three two-way models ranging in price from $230 to $450 each — aims to achieve broad dispersion through the use of a coincident driver design that puts a silk-dome tweeter in the throat of a 5.25- or 6.5-inch Kevlar-coated fiberglass driver. All models incorporate a sealed tuned enclosure with an integrated back box.
KLH will also christen the lower-priced Faraday line of in-wall, in-ceiling, and "all-weather" outdoor speakers. The series is named after scientist Michael Faraday, whose name also appears on a building at MIT. All models are two-way designs featuring IMG woofers, soft-dome tweeters, gold-plated, five-way push-pin binding posts, and paintable microperf grilles that attach magnetically.
Five in-ceiling models with a 6.5- or 8.5-inch driver will be offered at prices ranging from $100 to $300 each along with two in-wall models at $100 and $150 — both featuring a 6.5-inch driver — and two outdoor models that mate a soft-dome tweeter with a 5.25-inch or 6.5-inch driver.
Relaunching an Iconic Brand
The KLH Research and Development Corporation was founded in Cambridge, Massachusetts in 1957 by Henry Kloss, Malcolm S. Low, and Josef Anton Hofmann. The company developed a number of notable audio innovations, including the Model Eight high-selectivity radio, Model Nine full-range electrostatic loudspeaker, Model Forty tape recorder, and Model Eleven portable phonograph with integrated stereo speakers.
In 2017, David Kelley was presented the opportunity to purchase the defunct KLH brand after having served as global sales president and board member at Klipsch, another iconic speaker brand. Recognizing the huge potential to capitalize on the pedigree of both the brand and its legendary founder, Henry Kloss, Kelley assembled a team that included other former Klipsch executives.
The reformed company plans to bring back famous KLH designs of the past — including the Model Eight radio and Model Nine electrostatic loudspeaker — but its larger focus will be on creating what Kelley boldly calls "the most compelling loudspeaker line to ever reach the market."
"KLH is one of the most storied and revered audio brands in the world, founded by one of the most iconic engineers in the history of consumer electronics," Kelley said. "I am taking the brand back to its roots, to Henry's original mission, to build world-class loudspeakers and radios at affordable prices. I am proud to be the new owner of KLH and will honor Henry and his many contributions to the audio industry through the introduction of our extraordinary new KLH products."
"I'm hard to impress at this point in my career but KLH is not just another speaker company," said Bob Cole, founder of Pennsylvania-based World Wide Stereo, one of the few remaining independent AV retailers. "It's got everything you'd expect of a mature, premium brand but its brand-new and I think is going to be a major player. Somehow, David Kelley hits it out of the park, but I'm not surprised; he's old school with a fresh perspective. Speakers are what he's always done, selling them, building them, marketing them. He knows what to do. He understands what consumers want, what dealers need, and has the resources and team to achieve it."
For more information on KLH, visit klhaudio.com.
For more KLH news, check back on Wednesday, September 5 when our coverage of the 2018 CEDIA Expo begins.
Related:
Henry Kloss, Hi-Fi Design Titan, Dead at 72
The Advent VideoBeam 1000 Projection System
Tales From Audio's Good Old Days: The Sweet Smell of Success