Review: Winegard FlatWave Amped HDTV Antenna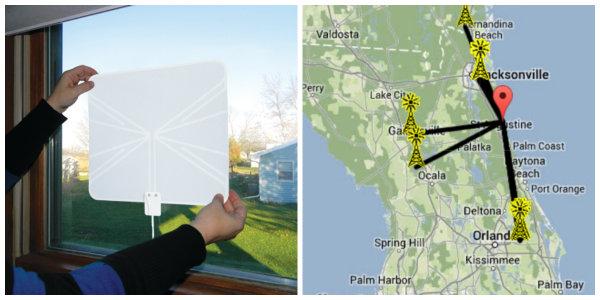 There are lots of ways to get television content into your home, and everyone makes it seem like it's a simple matter of literally cutting the cord. Get your entertainment from online streaming, and use a pair of rabbit ears to get your local news fix. Easy, right? If you live in or near a big city, that may be true. But having recently left urbania for smalltown USA, I can attest that it's not so easy after all when the nearest TV towers are miles and miles away. When Winegard announced FlatWave, a new line of flat, passive or powered HDTV antennas, I was all ears.
The FlatWave line includes three products. The standard FlatWave (MSRP $40) is a passive, paper-thin dual-band antenna that claims to pull in signals from up to 35 miles away. The 13" x 12" wafer is black on one side, white on the other and weighs just 0.34 lbs., making it simple to mount on a wall or window for an optimized signal. The FlatWave Mini (MSRP $30) is also passive; it measures 7.25" x 9.25". It is optimized for UHF reception (but you might get some strong VHF signals) with a range of only 25 miles; it's intended for cities. The FlatWave Amped, with a range of up to 50 miles was the one that grabbed my attention. Why amplified? Without the extra boost, I assumed there was zero percent chance of getting any signal to my TV. In addition to living 45 miles away from the nearest TV towers, my home is also built like a bunker. Concrete and steel and most windows facing away from those towers.
The FlatWave Amped (MSRP $70) is the same size as the standard FlatWave, measuring 13" x 12" and it's also reversible - black on one side, white on the other. Like the other models, it comes with a 15-foot white mini-coaxial cable. I found the cable to be quite flexible, so it was easy to lay it over doorways to optimize placement while being less visually intrusive. The amplifier's power is supplied via USB. The FlatWave Amped comes with a 110V USB charger that you plug into the wall or you can plug it directly into your TV's USB port. An LED indicates that it's powered up.
Set up was a snap. I simply plugged in the USB charger and attached the antenna to the coax input on my digital converter box. However, I quickly discovered that placement of the antenna was crucial, and even weather conditions and time of day affected reception.
It was a darky and stormy day when I first set up the FlatWave Amped. With the antenna just sitting next to the TV, I did a channel scan and picked up 12 channels. Not bad, but I was missing a few major stations. Propped up next to a window that faces the direction of the towers in Jacksonville, FL 45 miles away (but blocked by a corner of the house) I still only received 12 channels. I truly expected more. When I taped the antenna firmly to the window, I gained 2 more channels, for a total of 14. Oddly enough in my bunker-esque house, taping the antenna directly to an interior wall (that is clear of the corner of the house) and facing the towers, I got the best reception - 16 channels. What was most surprising, however, was when I ran a channel scan the next day. It was later in the day, and brilliantly clear. On that day, with the antenna still taped to the concrete wall, I picked up 26 stations. This included multiple stations from Savannah, GA, 158 miles away. Call me impressed.
As a reality check, I grabbed an old indoor/outdoor digital antenna and dragged it out of the garage. This is an aluminum antenna (3' x 2') designed to go on a roof or up in an attic. My home lacks an attic and the pitch of the roof makes mounting an antenna a difficult proposition, but I wanted to see how it performed indoors. On the same day (and reception conditions) that I picked up 26 channels on the FlatWave, I put the metal antenna against the same wall. After performing multiple channel scans, the best I could get was 25. The Winegard FlatWave was clearly a winner in this situation. However, I would have to say that if I had been able to get the metal antenna mounted outdoors and on top of my 30-foot roof, the tables would have been turned. Given that I (and most people) wouldn't put an aluminum antenna inside their home, the FlatWave, with its decor-friendly design, is a simple choice.
I had assumed that I would always be tied to cable to get my local news. A quick check at dtv.gov/maps suggested that getting more than five stations would be difficult. With a properly placed (and frequently updated channel scan) I discovered that my options weren't nearly as limited as I assumed. With more and more cable-cutting options available, such as the new Roku Streaming Stick and Google Chromecast, the Winegard FlatWave is one more tool sharpening my cable-cutting scissors. Snip, snip.