Review: Two Takes on Tinker Tailor Solider Spy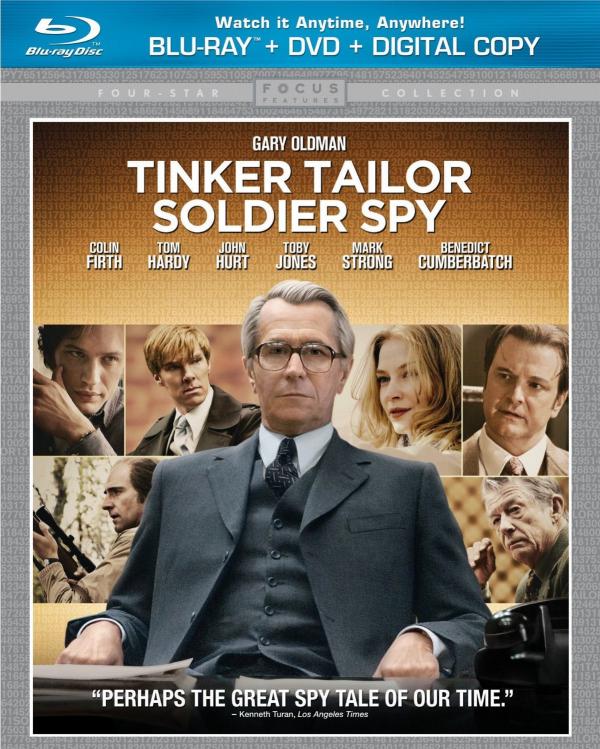 More modest and thoughtful than action-packed, John le Carré's 1974 spy-novel classic Tinker Tailor Soldier Spy is a spook story filled with civil servants (not double-0 operatives) in a world where little happens beyond talk, but the stakes riding on those conversations are supremely high. In the involving intrigue of Cold War espionage and supremely smug, backstabbing bureaucrats, everything feels duly and dully normal yet strangely off-kilter as the slow-and-stealthy-paced story plays out.
At its center is George Smiley, a brilliant yet unprepossessing intelligence man called out of forced retirement to uncover the Soviet mole in the highest levels of the British MI6 secret services. In the 2011 film adaptation, Gary Oldman's compelling Smiley (which earned him an Oscar nod) is blank and expressionless, giving nothing away to possible enemies. In the six-part 1979 TV series, Alec Guinness is equally still, understated, and unresponsive at times, but there are also waves of exceedingly subtle expressions — a half-smile, a raised eyebrow, a momentary stare, a clearing of the throat, a slight frown — used to encourage, ensnare, or intimidate whoever he's interviewing or interrogating.
The TV production boasts a cast of English actors who are individually brilliant and equally marvelous as an ensemble. That's not to say the film production doesn't have its own talented roster of Anglo thespians (including John Hurt as a wonderful, haggard, world-weary Control), but the script and direction of the TV series succeeds more in bringing out the depth, individuality, and complexity of le Carré's characters as well as utilizing his dazzling, near-poetic dialogue more. All of that seems to inspire the actors to produce one gripping scene after another.
Both versions are mainly set in dingy offices and dimly lit rooms. The six 52-minute episodes of the TV series, shot on 16mm film, have scenes of utter darkness at times with rim lighting of faces so that you can barely make out the edges of their silhouettes. The film, on the other hand, shoots these same scenes in a modern Hollywood manner where, though dim, everything is perfectly visible and highly detailed due to each area having its own spot. The movie is more visually attractive and informative with depth to shots and volume to figures, but it loses a lot of mood, menace, and authenticity.
Similarly, the TV series' scenes of a dangerous mission in Czechoslovakia show overcast skies, drab, smeary colors, and moonlit woods. The muddy sea-of-gray backgrounds are set off by splashes of bright color and blocks of rich primaries such as on passing cars, but overall, the communist country is suitably miserable-looking. Yes, the 1.33:1 picture is fairly fuzzy at times and detail is lost in the softness of focus, but you can still see every line in the sagging, worn face of Control (the masterful Alexander Knox) and read newspapers and secret documents. Ultimately, it all adds to the power and believability of the story and the feel of the dreary ennui of these espionage office workers.
The film goes for pretty-picture technical perfection in its moodiness. Its portrayal of Hungary (a location switch only made explicable by cheaper labor costs) is gloomy — albeit brightly gloomy — and looks less a threatening Eastern-bloc backwater and more a great place for a cultural European vacation. There's excellent contrast throughout with deep blacks in Smiley's suits, sweater, and bowler hat, brightness in his starched shirts, and a good range of tones. There's detail enough that heavy, rolling English clouds look marvelously real and cobblestones are as individuated as the patterns in old-school ties.
In the TV series' Dolby Digital 2.0 Mono soundtrack, Geoffrey Burgon's discordant, disconcerting, and menacing music is clear and full, the haunting theme and lone male youth choral vocal over the end credits atmospherically invoking the privileged, well-educated, old-fashioned world these people operate in. The tantalizing dialogue is always clean and crisp, while background London city sounds help sell each scene.
The film's DTS-HD Master Audio 5.1 soundtrack is exceptionally clear, full, and open. In Alberto Iglesias's music, instruments are well separated across all channels with drumming and trumpet in the surrounds along with atmospherics like startled pigeons. Sound effects are well placed and suitably restrained, and during the sole pure action sequence, the Budapest underground produces forbidding deep-bass rumblings.
The two-disc set of the TV series includes a 30-minute interview with director John Irvin in which he talks entertainingly about casting Guinness, his experiences dealing with the BeeB, and his own efforts in trying to become a filmmaker in England at the time. In the 20-minute conversation with the author, le Carré explains aspects of the character of Smiley and his own relationship to Guinness's portrayal of him that ultimately stole the character away from the writer. There are text production notes and a le Carré biography and booklist. Twelve minutes of deleted and extended scenes add a few more turns of the screw.
The film's extras include a commentary in which director Tomas Alfredson and star Oldman muddle through with random memories and associations to what they're seeing. It's enjoyable enough and worth a listen to get the feel of the production. There's 6 minutes of deleted scenes that add some quiet moments of shading for the Smiley character and a 13-minute promotional featurette with good soundbites. You also get 25 minutes of more in-depth, thoughtful interviews with Alfredson, actors Oldman, Colin Firth, and Tom Hardy, and screenwriter Peter Straughan, plus a very thought-provoking 30-minute chat with le Carré. The combo pack includes a DVD version and an UltraViolet Digital Copy for streaming/downloading.
Fans of the British TV Tinker Tailor can also obtain the follow-up Smiley's People at www.acornonline.com or, by joining Acorn TV at a charge of $24.99 a year, stream seasons of similar popular shows.
LATEST VIDEO