Review: Lyrix Duo Bluetooth 2-in-1 Speaker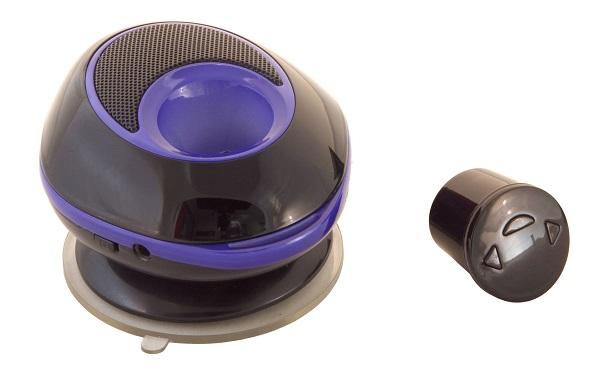 Every morning, my inbox is filled with press release after press release announcing some new Bluetooth wireless speaker. Everybody seems to be making them, and every company is trying to find an edge—some way to elevate themselves above the fray. Different shapes, multiple colors, small or large, they all do the same thing. But the Lyrix Duo caught my eye as something different, something unique. I needed to find out if different is also good.
At first glance, the Lyrix Duo (MSRP $50) looks similar to many other Bluetooth speakers on the market. But a closer look reveals the difference. The Duo has a small removable module in the center that is an independent Bluetooth receiver. It has its own built-in battery (separate from the speaker itself) and a 3.5mm audio output jack. You can stream music directly through the Duo speaker dock from up to 30 feet away. Or, connect the module to your receiver and stream music from your phone to your home theater from across the room. Or, you can plug headphones into the module, basically turning them into Bluetooth headphones. Brilliant.
Brian Austin, President of Digital Treasures, manufacturer of the Lyrix Duo, says, "There are so many wireless options on the market today; but, the Lyrix Duo is a completely different experience. Its functionality is unmatched because it doesn't limit you to only listening through the Lyrix Duo speaker. Get this—you can actually take out the wireless receiver and attach it to ANY other speaker in your home turning it into a Bluetooth device! Now that's versatility!"
The egg-shaped speaker has a maximum output of 3 watts, but it's surprisingly well-balanced in the midrange as long as you don't push it too hard. Be careful—it's easy to overdrive this system. The specs rate the frequency response at 20 Hz-20 kHz, but of course, there's no way this tiny speaker is producing frequencies that low. With any dance track it yielded a slight tapping sound instead of a kick drum. On the other hand, vocals were surprisingly clear with just a slight "nasal" quality, but the lack of bass or clean highs do limit it—it certainly could not be considered a high-end playback system. For a small, out-of-the-way device to listen to while you're painting the house or sitting outside gardening, it's fine. Playback time for the speaker is four hours on a charge; same for the Bluetooth receiver.
The other most notable design feature of the Duo is the suction cup on the back of the device. We really don't see enough suction cups these days. Remarkably, the thing works pretty darn well. It kept getting stuck on my desk without any pressure, and ended up being annoyingly effective.
The Lyrix Duo comes with all the necessary cables: a mini-USB cable for charging, a 3.5mm to 3.5mm cable, and a 3.5mm to RCA cable to connect to your receiver. It supports Bluetooth EDR2.1, A2DP and AVRCP. As noted. as with most Bluetooth devices, range is about 30 feet. As the battery discharges, Bluetooth range is the first thing to falter.
The Lyrix Duo is a small, extremely portable speaker that sounds quite a bit better than the speakers built into most phones. Is it high-fidelity? No way. Is it a simple way to stream tunes to various playback devices around the house? Absolutely. With its 2-in-1 Bluetooth receiver the Lyrix Duo is a unique device that stands out from the crowd of Bluetooth speakers. It's good to be different.