Recording and Remixing Revolver Page 6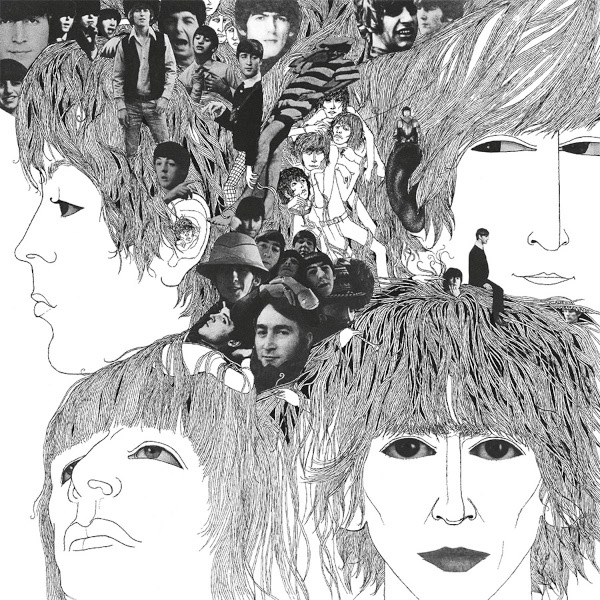 The Cover of Revolver
The Beatles' previous six albums had all featured portraits, of one variety or another, of the four band members, the most recent being Rubber Soul, which was shot by photographer Robert Freeman, who also did the striking and iconic photograph for their second album, With The Beatles (and seen across the States for decades as Meet The Beatles!). But knowing this album was quite different from all that had preceded it, they knew they wanted something different. They once again asked Freeman to create something for the as-yet-unnamed album. Freeman crafted a fascinating circular collage of dozens of images (which can be seen as the cover image of the Sessions discs in the Deluxe set).
They loved the design, but, apparently, still weren't quite sure if that was the direction they wanted to go. So one day, in early June, John called another old friend, whom he knew had a background in graphic arts: Klaus Voormann.
Klaus was one of their earliest friends, from their days in Hamburg, and had remained close to the band ever since. He had done some graphics work for a few years, but shifted to playing bass in a trio known as Paddy, Klaus & Gibson, with Gibson Kemp and Paddy Chambers. "I was living in an attic apartment in London, on Parliament Hill in Hamstead Heath, with my wife" [actress Christine Hargreaves, who was appearing in the popular series, Coronation Street] "and I was just joining Manfred Mann," he recalls. "And then, John called."
Klaus knew they had been recording their new LP, but hadn't heard any of it yet. "He asked, 'Do you have an idea for the cover?' They didn't say they wanted this or wanted that — nothing at all. I would have complete freedom, for whatever I wanted to do. I could do color, use photos, whatever I wanted. I just had to come up with a good idea. The only trouble was, I wasn't really doing graphics then, I was doing music. I didn't even want to do the cover."
He hadn't seen the design by Freeman, who was also a good friend. "They said, 'Come down to the studio and listen to the tracks,'" to give their friend a sense of what he would be representing. "So I listened to whatever they had mixed, or just rough from the multitracks, and, of course, I was knocked out. It was so way out that they did music like 'Tomorrow Never Knows,'" Voormann says. "It was just amazing."
When he arrived that day, at EMI, he found the four of them looking over photos taken by Robert Whitaker. "And then, John said, 'If your cover is no good, we'll use one of Bob's photos,'" he laughs. "That wasn't very nice."
He went home and began pondering what kind of approach would fit their new music. "It was very hard. I was aware that I had to do a cover that was avant garde, in one way, but, at the same time, had to cater the kids who still loved 'Love Me Do,'" he smiles. "I knew it had to be something special — and that it was my job to do that."
"For The Beatles, you have to have photos. They wouldn't want to have just an illustration — that's not enough for a Beatles album. So I thought, 'I'll have lots of little photos on there.'" He also wanted it to be surreal, "with a strange atmosphere, like 'Tomorrow Never Knows' and some of the other tracks." And, of course, it's The Beatles, so. . . "I said, 'Oh, shit — there's gotta be hair!' It's hard for people today to imagine how amazing those hairstyles of theirs were. So I knew — lots of hair." So he began playing around with that idea — the four faces, lots of hair, and lots of little photos. "That was the idea, and that's what I put together."
He also sketched out a few other ideas (which, unfortunately, no longer exist). "One had a hot air balloon, flying in the air. And another was a boat, where they were hanging over the edge of the boat. But I liked this one the best."
He began sketching out his ideas, on a large A2 layout pad, using, as he recalls, some of the first Magic Markers. "I drew in lots of hair, and the four faces — and even started putting little figures on it." That sketch, too, is gone, unfortunately.
He returned to the studio, meeting his friends in the canteen. "I went there, and I showed them the big piece of paper. And they looked at it, and said, 'That's the one. We like it.' Ringo even thought that was good enough. He said, 'Hey, that's good. Let's put this on the cover!'"
The next step was to figure out in which medium he would produce the work. "Was I gonna do color, was I gonna do in black and white? Was I gonna do it in pen and ink? I tried lots of things — charcoal, everything, and I was really getting frustrated. And I had to find all my materials. I hadn't even thought of doing any drawing, any design for quite a while."
He ended up going with pen and ink and doing the cover in black and white. "Most album covers, at that time, had the face of the artist, all smiling nicely, in bright color. Particularly in those psychedelic times. So I said, 'No, no, no — I want it to be black and white.' And they all said, 'Fine, do a black and white. That sounds great.'"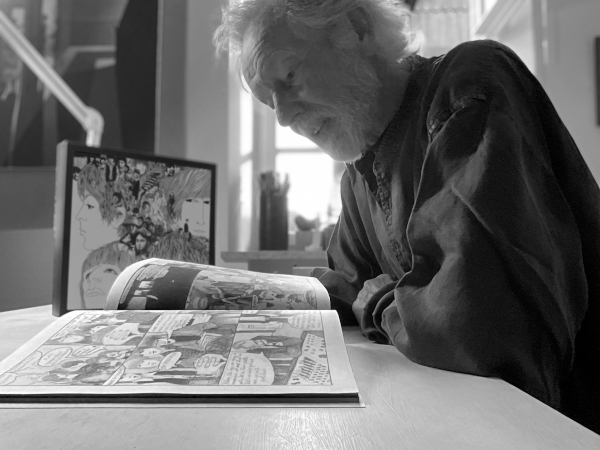 One thing Klaus needed was lots of photographs. Fortunately, Brian Epstein's company, NEMS, had all of Robert Freeman's photographs (which Apple now owns), so there were plenty to use, without having to pay licensing. But he wanted a large variety. "Once they told me I could go ahead and do the cover, I said, 'Look, boys — you have to go and find lots of old photos, whatever you've got. I've got the Bob Freeman photos, but I still want you to find what photos you've got, and send them to me.' Paul said, 'Oh, what do you want with our lousy photos — you can't use them.' I said, 'I'll use what I think is right — and you'll have the final say if you want a photo or not. But leave it to me. Let me decide what I'm going to put on there.' And the next day, a nice envelope arrived with lots of great pictures."
Some of the images needed to be scaled. "In those days," he says, you would write down, on the back of the photo, what cutout of that image you want, the size you want it in, and then sent that to a lab. For some of the photos, I had them make three different sizes so I could decide as I went along."
Klaus took a trip to the nearby Windsor & Newton store, a popular art supply store in London, and brought home a 40 x 40-cm (about 15 ¾ x 15 ¾ inches) board, made by Scöller Hammer, on which he marked the outline of a 12 x 12-inch square. "That was a special board you used for doing graphic arts. Lots of my illustrations, in those days, were done on those boards, which were about 3mm thick."
Then he went to work. He began sketching, using pencil first. "I was just busking along. I didn't know exactly what I was going to do. I started in the upper right corner, on John's hair, and I worked my way down. I'd draw, and then, suddenly, I had three of them, and I'd put a photo here, and one over there. And then I'd go, 'Oh, I'm gonna do the hair across there. Oh — now, hold on, I think I'll cut that leg off. . . '"
His playful sense of humor worked in perfectly. For example, a photograph of Paul was placed on top of Ringo's head. "That was a Bob Freeman photo of Paul lying on the floor in Abbey Road Studios. So I said, 'Oh, this is nice — I'll put him on Ringo's head." Another featured them in their old-time bathing suits. "It's stretched, because that was actually photographed on some kid's wall, sitting on his bed." He notes, "Somebody actually sent me something, where he told me where each photo came from and who took them!"
At one point, Christine found the room a bit stuffy and opened the window, sending all of the photos Klaus had laid out on his table flying out the window with the breeze! He dashed out to the street and somehow managed to collect all of them. From then on, the window stayed closed and images were fixed in place with rubber cement.
Besides images of his four friends, Klaus also drew in miscellaneous characters, seen around the cover, such as one in Paul's ear, miscellaneous arms, hands.
One place photos came in handy was for George's face — specifically for his eyes and mouth. "I had a tough time," Klaus recalls. "I tried everything. George is a beautiful boy, but he doesn't have the same characteristic elements of his face, like John's nose or Paul's eyebrows or drooping eyelids. I could not get his likeness. And then I got a magazine, and there were photos of the four boys. I cut out the eyes of George and the mouth and stuck them on the cover — they were exactly the right scale. And I thought, 'Okay that looks nice.'"
There was one last photo with no Beatles in it, on the right hand side, midway up: Klaus himself, making a cameo in his Beatles cover. "That was actually from a group shot of Paddy, Klaus & Gibson, from 1963. And it was taken by Astrid Kirchherr," another extremely close friend from Hamburg, who, like Klaus, remained connected to them until her death in 2020. "And you can see, I had long hair, even then ‐ even before they did." The image is signed with his name, "Klaus O.W. Voormann." "The O.W. is for Otto Wilhelm," he notes.
At some point, during the process, John called and told him the album's title, which had been decided upon: Revolver. So Klaus prepared a clear overlay, with the title, which would appear towards the bottom of the cover.
When he was finished, he presented it to the band, George Martin, and Brian Epstein at EMI's headquarters building at Manchester Square. They all loved it, but Klaus noticed something peculiar about Epstein. "Brian was very moved. And I said, 'Shit, what's he doing?' And he was sobbing. Then he suddenly pulled himself together when he saw everyone was so happy with the cover. And he very, very quietly came up to me and said, 'Klaus, you've built the bridge I was looking for. Because I was so scared that the public would not accept this giant step The Beatles' music had taken. And you built that bridge for me. Thank you, thank you very much."
The original artwork was turned in and sent to the printer. "I never saw it again," he says — though he did have the lab make a couple of 12 x 12 prints of the raw cover image (without the title or label logo). One of those prints is seen in a photograph, taken in late April 1967, of Klaus posing with the art and the Grammy Award he received in 1967 for "Best Album Cover, Graphic Arts." It was the first time a pop or rock album had received that award.
That print, seen in that photo, also disappeared — for a long time, anyway, until Joe Walsh bought it at a memorabilia auction, some years back. "Joe has my copy," Klaus confirms. Walsh kindly loaned it to Universal/UMe for the preparation of the new reissue.
If you'd like to learn more, Klaus told the entire, detailed story on the making of the cover in a graphic novel he created in 2016, celebrating the album's 50th anniversary. The novel is titled Birth of an Icon: Revolver 50 and can be found at voormann.com.
Revolver was released in mono and stereo in the U.K. on Friday, August 5 and by Capitol Records in the U.S. on Monday, August 8. In both territories, it was accompanied by the double A-side release of "Yellow Submarine" b/w "Eleanor Rigby." It was the first time in the U.K. that a Beatles single was issued with tracks also featured on the album and on the same date as the album.
A New Mix
Ever since Giles Martin and Sam Okell's remixes of other Beatles albums began to appear, complete with session outtakes and other treats, fans have wondered if they would one day see a similar treatment for Revolver. Giles had wondered the same thing.
In Spring 2021, he and Sam had finished remixing the Let It Be album (done early in the year, to get it into the long queue for vinyl pressing), and were about to begin mixing Peter Jackson's Get Back for IMAX release. As he was finishing that mix, he began listening to potential extras (outtakes, etc.) for a Revolver release. "It's always important to us to make sure that there is a good value for the fans," he states.
Having been immersed in Get Back, Martin noticed a distinct difference between the two sets of recordings. "It was really exciting, because listening to Get Back, it's an era where, though there's certainly cohesion in the band, there's not as much excitement from them. And Revolver is the exact opposite. If you listen to the extras for one, versus the other, one is like unwrapping presents, and the other, you have your gifts already there. So that stimulated me, to think, 'Okay, what can we do here?'"
His main concern, regarding remixing, was in having enough separate elements to create something new. While, say, Sgt. Pepper was also recorded on 4-track, there had been enough reduction mixes and bounce-downs during recording — the original first reels still intact in the Abbey Road tape library — that they could be aligned with each other by Abbey Road veteran Matthew Cocker, providing multiple layers of content from which to create a new mix. But Revolver was a much simpler recording, typically with a rhythm track on Track 1 of a song's first reel — usually guitar, bass, drums — and a few additional parts on a second reel, and that was it. If Martin couldn't find a way to separate those rhythm track instruments (and other combined instruments on other tracks), he felt there wouldn't be much point in remixing the album — it wouldn't sound that much different than Emerick's original mixes.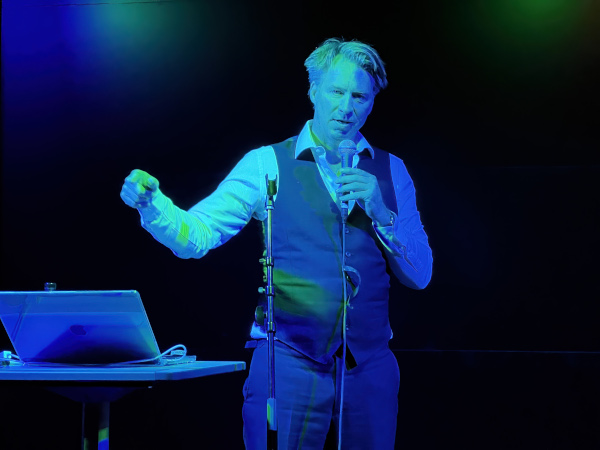 Ten years earlier, in 2011, an Abbey Road Studios programmer, James Clarke, was developing software to "de-mix" source material — to separate instruments within a single monophonic recording. Martin gave Clarke "And Your Bird Can Sing" as a test, to see if he could separate the guitars from Ringo's drums on the rhythm track. Clarke's de-mix software passed the test for the work he was doing at the time (which would eventually be used to separate the screaming girls from the music for Martin and Okell's remix of The Beatles at The Hollywood Bowl), but, the producer notes, it "wasn't completely perfect, with a kind of a ping-pong effect."