High Fidelity First Class
Well, I don't know whether I'm allowed to say what we're doing — but I certainly think we'll do something. It would be silly not to." That's Pink Floyd drummer Nick Mason, responding somewhat cheekily to my inevitable question regarding the then-impending 50th anniversary of
The Dark Side of the Moon
during a September 2022 Zoom call.
Fact is, it's not hard to understand Mason's caginess in that moment, given the Pink Floyd camp rarely lays down any cards that far ahead of any concrete confirmation of their full-court-press anniversary-release announcements. Besides, Mason knows (as do we all, really) that The Dark Side of the Moon is one of the most listened to, most analyzed, most discussed, longest charting, and best-selling recordings of the rock era — and it's also been well acknowledged as a decades-long audiophile-favorite recording in regard to the aural content of both its two-channel representation on vinyl and its multichannel mixes on SACD and Blu-ray.
Released 50 years ago on March 1, 1973 by Harvest in the UK and Capitol in the U.S., The Dark Side of the Moon not only ushered in a more precise, prog-rock-centric sonic template for what the psychedelically inclined music of Pink Floyd ultimately evolved into for the balance of the ensuing decade — but it also coalesced all the necessary elements required for creating the most perfect concept album, from the very first heartbeat fade-in heard at the outset of the Side 1 opener "Speak to Me" to the final heartbeat fade-out at the end of the Side 2 closer, "Eclipse."
And now, 50 years on, Pink Floyd have gone all-in — well, mostly all-in, but I'll explain that in a moment — on The Dark Side of the Moon's golden jubilee celebration with a physically hefty and indeed quite pricey 50th Anniversary Limited Edition Deluxe box set from Pink Floyd Records/Sony Music. For those who are wondering — no, this new box set does not house the comparable bonus audio, video, and/or marbled/scarved componentry that was part of the September 2011 Dark Side: Immersion box set. What this new Dark Side box set does include are 2CDs and 2LPs with parallel content (i.e., the remastered original studio Dark on the first CD and LP, and the 1974 live Dark Side on the second CD and LP); 1BD including Dolby Atmos and 24-bit/192kHz stereo (uncompressed), and DTS-HD MA stereo mixes of the core Dark Side album; 1BD with 24/96 5.1 (uncompressed), 24/192 stereo (uncompressed), DTS-HD MA 5.1, and DTS-HD MA stereo mixes of the core album; and 1DVD with those same 5.1 and stereo mixes of the core album.
You also get a 160-page hardback book with rare photos from the band's 1972-75 tours, a 76-page music-notation book of the original album, two 7-inch singles on the Harvest label ("Money" b/w "Any Colour You Like," and "Us and Them" b/w "Time"), and more in a truly oversized all-black box that measures 15 x 3½ x 14⅞ inches (w/h/d) — which is (all you shelving-challenged audiophiles out there, take note!) physically bigger than most other Pink Floyd box sets to date. In terms of the box set's visual-design details, the 2023 creative director is Aubrey Powell/Hipgnosis (who, along with the late great Storm Thorgerson, were responsible for most of Pink Floyd's innovative art direction over the years), with design and art direction by Peter Curzon/StormStudios, and the overall 50th anniversary concept and design by Pentagram. The box's price is indeed a steep $300 — the typical going rate for comparable historical Pink Floyd boxes with this kind of heft to them.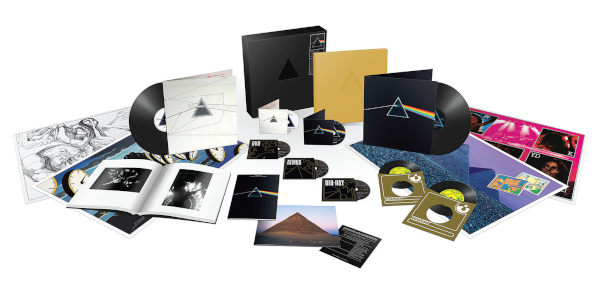 The 180g Dark Side LP is a 2023 remaster by James Guthrie along with Joel Plante, as done at das boot recording. This LP appears in a gatefold sleeve with the original posters and stickers included, and it's currently only available in the box set. The second 180g LP, The Dark Side of the Moon – Live at Wembley Empire Pool, London, 1974, was recorded in November 1974 and engineered by Brian Humphries with Phill Brown. It was mixed by Andy Jackson as assisted by Damon Iddins, and mastered by Andy Jackson at Tube Mastering. The live LP also comes in a gatefold sleeve with two posters, and it's the first official appearance of the 1974 Empire Pool concert on vinyl, as it was only previously avail- able on CD in the aforementioned Immersion box set. In this case, however, Live at Wembley Empire Pool is also available for separate purchase on both LP and CD.
For us immersive audio lovers, the included Dolby Atmos mix on its own Blu-ray — newly done by James Guthrie and assisted by Joel Plante — builds upon what we've heard in the 5.1 mix Guthrie did for the 2003 Capitol SACD, the Blu-ray in the 2011 Immersion box set, and the remastered 2021 Analogue Sounds SACD. The good news is, the all-new Atmos mix lets Dark Side breathe (to borrow a word) even more in terms of its height-channel elements, such as the recurrent pinballing of the cash register effects in "Money," the better clarity of the various spoken-word soundbites all throughout the album (which more often than not previously appeared as muffled elements), and the stacked vocal blends on the choruses of "Us and Them."
Musically speaking, the broader scope of the 360-degree synthesizer oscillations, the channel-shuffling footsteps, and the ominous laughter during the instrumental "On the Run" actually got my own heartbeat racing like it might during the denouement of an action thriller. Meanwhile, the volume swell of the multilayered clock alarms going off in the intro, the thunderous power chords, the tom-tom workout, and expansive keyboard noodlings on "Time," not to mention the absolutely blistering guitar solo sections on "Money," all carry much more weight and have undeniably incredible overall impact in Atmos. I could go on and on, but the bottom line is this — James Guthrie's Atmos mix for The
Dark Side of the Moon is shaping up to be the benchmark many of us have been raving and drooling about getting our hands on for, well, decades. During the past 30-plus years, I've asked countless musicians what they think about The Dark Side of the Moon, and then I've duly filed their answers away for a historical-retrospective eventuality such as this one. Over that time span, I also made sure to get firsthand comments from three of the four bandmembers who made the Dark Side album — namely, the above-noted drummer Nick Mason, bassist/vocalist Roger Waters, and guitarist/vocalist David Gilmour. Sadly, keyboardist Richard Wright passed away in 2008 before we ever had a chance to converse — but at least I got to see Pink Floyd with Wright, Gilmour, and Mason in tow playing The Dark Side of the Moon together in its entirety as the full second set at Giants Stadium in East Rutherford, New Jersey, on July 17, 1994. That night in the nosebleed section at the back of the stadium was indeed one exceptionally amazing live- quad experience I'll never forget.
Reflecting on The Dark Side of the Moon
Before the great gig in the sky comes calling for us all, let's now turn things over to three of the mighty members of Pink Floyd along with a score of their fellow musicians and producers alike to tell the enduring tale of The Dark Side of the Moon as only they can. There is no dark side of the moon, really / Matter of fact, it's all dark. . .
Nick Mason (Pink Floyd's co-founding drummer): We have to give an enormous testament to EMI for installing us at Abbey Road Studios to do our recording. It was something that simply hadn't crossed anyone's minds until about 1968 or 1969 — to "host" a project that long in one place. No one dreamt of spending any longer in the studio than a few hours back then because you did the sessions — and that was it. I think that's one of the reasons the album holds up.
Yes, I recorded my drums first [when the Dark Side sessions got underway in 1972], before other parts of the songs were completed. That was another era entirely, wasn't it? We'd gotten Alan Parsons onboard by then as our engineer. He was really technical — wonderfully old school in the way he had come up as an assistant and an apprentice. Engineers never started in rock & roll in those days — and they were made to edit tape with scissors! (chuckles) I think the idea with the scissors was they were less prone to cause any damage, or to demagnetize the tape on the machine. It was the beginning of 16-track, with 2-inch tape. Plus, people expected there to be a fair amount of tape deterioration anyway.
On "Breathe," what we did first was the bass and drums together. We were looking for a master track, and there'd always be guidance from Dave [Gilmour] and Rick [Wright], just to get the mood right. Almost all the time, we'd do the drums analog, even when we'd gotten full 48-track digital machines. The idea was to put the drums down on 16-track, and then we'd hide that away until we came to mix time.
Roger Waters (co-founding former bassist/vocalist of Pink Floyd, generally considered to be Dark Side's chief architect): The first thing any of us hear is our mother's heartbeat — and that's what you hear first on The Dark Side of the Moon. When I did "Late Home Tonight, Part I" [on his September 1992 solo album on Columbia, Amused to Death], you get the heartbeat again. You get that sound [mimes a heartbeat slowing down] as the woman's dying. It was fun making that.
When I did "Us and Them" and "Money" for the 12.12.12 Concert for Sandy Relief [which was later released on 1DVD and 2CDs by Columbia in 2013], I had Ian Ritchie playing the horn. [On the original Dark Side album, Dick Parry played the saxophone parts in the two songs Waters refers to here.] It was fantastic to hear those tenor parts played again live. I thought, "Wow, that's really great!" They're so easy to play, and I felt it was cool as a one-off, one night thing. I knew how it worked.
Because I've been writing [music] for so long and people recognize my style, I'm not sure they would want me to write two hours of stuff nobody's ever heard before, and then go out and do it live. I completely understand some people would want to hear some new stuff — particularly if it's got context. They get that. If I'm writing a new song that can go into a live set with "Us and Them," "Money," or any number of songs from Dark Side of the Moon — any of the stuff people want to hear, and want to remember — it all fits, simply because it all comes from the same beating heart. The same bleeding, beating heart. (smiles)
David Gilmour (Pink Floyd guitarist/lead vocalist, on the satisfaction of hearing Dark Side in surround sound): I think that one came out really, really well. Fantastically well. James [Guthrie] and I did transatlantic mixing for it. He sent his mixes to me in England from his studio in Lake Tahoe, and I sent back copious notes. And, believe me, that thing came back and forth across the Atlantic a number of times. (laughs)
Pink Floyd was always about surround sound. We were doing live quadraphonic sound right from when I joined the band in 1968 — and a lot of our albums, like Dark Side, were based on elements that were already integrated into our show. Unfortunately, at the time, we weren't able to do the quad mix ourselves, though Alan Parsons did do one himself, didn't he?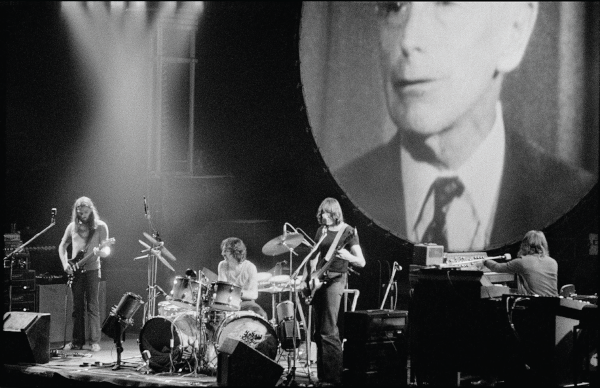 Alan Parsons (who engineered the original Dark Side album at Abbey Road Studios): Quad was early surround, and 5.1 is 21st century surround — and it's always the effect-y things that work the best in surround. Pink Floyd were doing that in their shows in the '60s. What would I do differently if I had the chance to mix The Dark Side of the Moon in surround? I'd make it not sound like stereo on four speakers. (chuckles)
James Guthrie (who did the aforementioned Dark Side 5.1 mix and the current — and truly stellar — Dolby Atmos mix that's on Blu-ray in the new box set): When I did the initial 5.1 mix, The Dark Side of The Moon presented its own unique challenges — both musically and technically — because I decided to go back to an earlier generation of multitrack tapes that were never intended to synchronize with the final version. Musically, the challenges with that album were tricky, because the work is indelibly printed on so many people's minds, and they expect a particular emotional response.
The 5.1 mix had to be faithful to the original stereo mix and deliver at least the equivalent — or hopefully an even better — emotional listening experience. While mixing in 5.1, I'm regularly comparing what I'm doing to the original stereo mix, to make sure it is achieving the desired result. You can't resort to trickery. The mix must work musically first — then you can try out all the theatrics. I like that we now have an increased spatial feel, while still retaining the musical integrity of a band playing in a room. When you dismantle The Dark Side of The Moon, you recognize the brilliance of the musical arrangements. There's a blend of guitars and keyboards, often playing in the same register and often through Leslies and Uni-Vibes, which creates a beautiful, watery sound.
Being given the opportunity to re-approach such important pieces of work [in terms of both 5.1 and, later, in Atmos] is a great privilege. You have so many creative options. This music really lends itself to the surround experience. Pink Floyd were early pioneers of the quadrophonic live show, so this is a natural progression for them. To be able to create the feeling of being truly enveloped and immersed by their music is great fun.
Andy Jackson (longtime Pink Floyd and David Gilmour engineer and live mixmaster on shepherding the sound of The Dark Side of the Moon – Live at Wembley Empire Pool, London, 1974): We had a lot of things to fix with that one. We actually looked at this recording more than a decade or so ago, and decided we couldn't use it because of technical problems. Technology has come a long way since then, so we were able to rebuild the stuff that wasn't there.
A lot of the sound effects — the footsteps, the explosions, and all that stuff you hear in the show — came from tape decks in the front-of-house. But a lot of that hadn't been recorded onto the live master tapes. We could hear things spilling into the audience mikes, but we didn't have the original signal. So we went back and found the original tapes used for the show and put them back in, very laboriously. It was self-evident what needed to be done. I've been in this organization for a long time — since right after the movie of The Wall came out [in 1983] — so when it comes to the live shows, I know what they sound like. It's not like we were working with new material, where there isn't a clear idea of what it is until you've made it.
We could hear the sound effects in the PA — like the racing-car noises that aren't on the studio record, and other things like that — but we couldn't find any tapes of them. Fortunately, it was so loud in the room that they were spilling into the audience mikes; they just sounded distant. For "On the Run," I could afford to have the audience mikes up really loud, which actually made it sound very much like the record. But putting the audience mikes up to get that kind of vibe with it also made it feel like being in a big hall.
The audience didn't make much noise — but they did make some. You're kind of unconsciously aware of that, and it makes you feel like you're at a gig. I thought it was important that it feel like a gig. It's a pretty accurate live performance. You know, I was in the audience that night. It was the only time I ever paid to see them (laughs), so I'm on the recording somewhere! Actually, it's quite nice to be able to work on the stuff that predates me working with them — and this project felt like a missing component was fulfilled.
What Pink Floyd Means to Me
Steven Wilson (Porcupine Tree mastermind, and the once and future surround sound and Atmos guru, on what Pink Floyd has meant to him over the years): When I was a kid first discovering the magic of music, what made the biggest impression on me about Pink Floyd was the idea that an album could be a musical continuum or journey. It wasn't just about writing ten songs and throwing them together on two sides of vinyl — it was as much about the architecture and flow of the material.
They may not have been the only ones doing this, but they did it better than anyone else, perhaps because it was done without losing quality control in the songwriting department. You could take individual sections or songs out of the context of the album, and they still sounded fantastic. The lyrics and concepts were always thoughtful and deep without being pretentious, and universal enough to resonate with almost anyone, right down to an 8-year-old kid overhearing his dad playing The Dark Side of the Moon album. Even at that age, I could understand and relate to the sentiment of songs like "Money" and "Time."
Ultimately, the material was very simple and melodic, and the grand design or musicianship was never allowed to get in the way of a great tune, such that the best Floyd records strike a seemingly impossible balance between being epic/ambitious and uncontrived/effortless. Going hand in hand with all of this, you had the perfect visual equivalent of the music in the record sleeves, which de-emphasized the cult of personality in favor of a kind of intellectual cool. From Floyd more than anyone, I learned the importance of the relationship between the music and the presentation — and that the creative process does not end with the music but carries through to the record sleeve, the live show, and the whole visual identity of the artist.
Richard Chycki (producer/engineer for progressive-leaning bands like Rush and Dream Theater, on what Dark Side did for the scope and promise of how bands recorded music in the rock era): The Dark Side of the Moon incorporated both musical elements and effects, and that was the perfect combination for its day. It's one of the first albums where the band could say, "We're going to create a mood, and we're going to use instruments, voices, effects, sounds, and non-musical sounds — but do all of it in rhythm." It was The Record. It was the template for how you achieve mood. Yes, it gets really dense at certain points, but there's also economy in it.
You can also decompress when you're listening to it. You have something that's very, very zen. Your body relaxes — and then the album just comes back at you again with another great solo, or those waves of musicality that keep coming through. Listening to Dark Side now, it's still such a fantastic record. I wish I had recorded it! (laughs heartily)
Joe Satriani (extreme guitar maestro, on his coming late to the Dark Side parade): It took me a while to get into The Dark Side of the Moon, because I was focusing on listening to other music than some of my friends at that time did — the ones who were really into that album. At first, I associated it more with a lifestyle choice, you know what I mean? (chuckles)
But, of course, I started to appreciate later on, after I had started making my own records. I could then sit down and separate the social attitude of certain Pink Floyd fans from the actual band. I could sit there and go, "David Gilmour — wow. Like, wow!" That's when I began truly appreciating the album, the musicianship, and the approach to playing — and I finally realized how wonderful it was. I feel like I really benefited from that experience, because I connected with The Dark Side of the Moon in a different way.
For example, I love the chord sequence in "Us and Them," because it's quite unique. I find the real artistry is in the harmony — the chord structure — and everything else goes on top of that. The music comes first, and everything else comes after it.
Wayne Coyne (frontman for The Flaming Lips, whose band covered Dark Side from start to finish alongside a few select friends on December 2009's The Flaming Lips and Stardeath and White Dwarfs With Henry Rollins and Peaches Doing The Dark Side of the Moon): Pink Floyd are very punk rock in a lot of ways — in terms of how they first came together and couldn't play their instruments very well — and they just made the music they could make and believe in. Even the way they changed, from the '60s Syd Barrett era to Dark Side in 1973 — they became a completely different-sounding group in not that many years. To think they were constantly looking to do and try new things was always inspiring — especially the aspects that we embraced as a group early in our career, such as the visuals and the strobe lights.
One thing that's always impressed me about their music is how overjoyed people are when they hear it. It's different from just listening to music — it's loving the music. You're feeling the actual effects. My nephew Dennis [Coyne] and my brother — his dad — are good examples of that. You couldn't be more changed by the music than they were. I see it all the time from people who come up to me after our shows and say how much we affect them. There are thousands of groups who would consider themselves little brothers of Pink Floyd — and we're glad to be one of them.
The Dark Side of the Moon is mysterious. It's otherworldly. People tend to forget this — before them, no one did music like that. Pink Floyd are amazingly original. The music they made with Syd Barrett was totally original, and the music they made after Syd was insanely original. They didn't just think of music as music — they thought of it as sound.
Nick Mason (Pink Floyd's drummer returns, to wrap things up and give us the final Dark Side cut): It's a wonder in a way that The Dark Side of the Moon came out so well. When I think back to when we recorded it — the number of passes the drum tracks and most of the instruments on that record took, the things that were opened up and redone, and all the rest of it — the end result is truly amazing.