Remaster Class – Black Sabbath: Paranoid
"We Sail Through Endless Skies"
The key to the enduring appeal of Black Sabbath's career-making second album, September 1970's Paranoid, doesn't only reside within its fist-pumping, headbanging, metal-genre-establishing bonafides. Actually, the secret sauce can be found via something you may not have even considered — Black Sabbath's inherent sense of melody. And where might that come from, you ask? Two words — The Beatles.
"I wanted to be in The Beatles," Sabbath vocalist Ozzy Osbourne told me during our in-person interview a decade ago. "They had great harmonies and great melodies, and I always got a great feeling listening to them. The Beatles did give me the gift of melody, you know. My other thing is, if a song still sounds as good now as it did when you first heard it, it's gotta be good." If that's the case, then Paranoid is quite bloody good indeed. In fact, if you listen closely, you'll find Ozzy's vocal approach to the verses on "Paranoid" is a direct descendent of the way Paul McCartney attacks the verses on The Beatles' "Get Back." (Help me with my mind, Loretta. . .)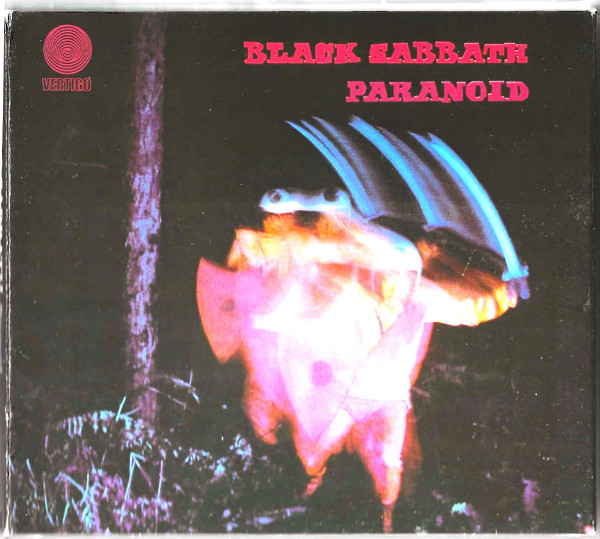 My first gatefold vinyl copy of Paranoid, a 1979 Warner Bros. Winchester pressing, suffered from much ringwear, as the outer sleeve essentially fell apart thanks mainly to my less-than-ideal LP shelving habits back in the day. Naturally, I would've loved to have gotten my hands on one of the earlier holy grail Paranoid LPs, the 1970 German Vertigo pressing. Regardless, I'm quite happy with the 2006 Rhino/Warner Bros. 180-gram LP reissue mastered by Kevin Gray and pressed at RTI. Some cite it as being too bright, but its wider range of dynamics works just fine for me.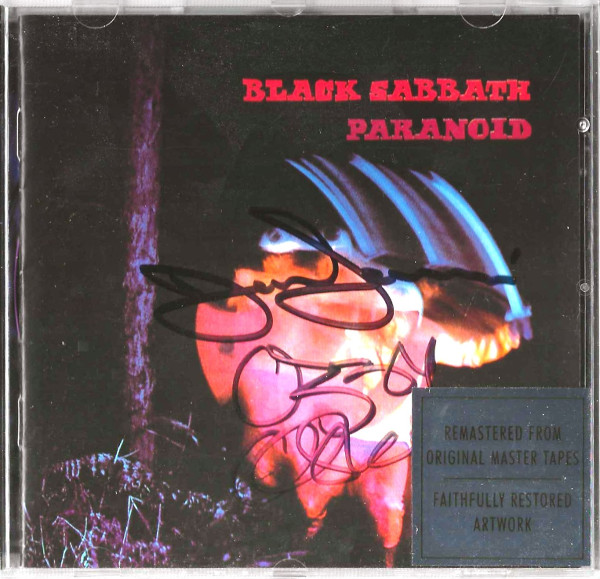 I have, of course, obtained a variety of Paranoid CD offerings. I got the Redbook 1987 Warner Bros. and 1996 Castle Communications CDs just to have them, but I've listened to Sanctuary's 2009 2CD/1DVD Deluxe Edition, which includes instrumental and alternate versions of the core album's tracks on Disc 2. (Warner Bros./Rhino released a similar Deluxe Expanded Edition in 2016, sans the DVD.)
Getting the 1974 Paranoid quad mix on DVD was of great interest to me, albeit garnering mixed results. For one thing, the DVD menu says it's DTS 5.1, but it's not. And there's a major quality issue with the transfer in terms of massive tape hiss and other egregious surface noise that should have never gotten past QC, but the promise of the original quad's intent is there — if you're willing to get past the flaws and actually listen to it. (See especially the swirling siren call of "War Pigs" and the free-jazz, space-jam psychedelia of "Planet Caravan.")
A 2016 4CD box set from Warner Bros./Rhino in a 6x8-inch rectangular format more common to European boxes contains fine upgrades of a pair of well-bootlegged 1970 live gigs from Montreux and Brussels, showing how the performance bond between Ozzy, guitarist Tony Iommi, bassist Geezer Butler, and drummer Bill Ward was only getting stronger. Note that a 2019 50th Anniversary Super Deluxe Edition 5LP box set from Warner Records/Rhino is a digital transfer of the CD box's contents, so be forewarned if that's a deal-breaker.
That said, there's also a downmixed stereo version of 1974's quad mix on CD2 (and LP2). It is, what's the word — interesting. Sometimes, it's just too quiet, especially when it comes to some of Ozzy's vocals. As a consummate surround advocate, I'd rather hear things go the other way into 5.1 or even Dolby Atmos territory, if only to remedy the 2009 quad DVD snafu. At the very least, imagine "Planet Caravan" taking to the height channels, or getting the full range of the ebb and flow of volume and power in both "Iron Man" and "Hand of Doom." The best bet would be to have the original quad restored plus new 5.1 and Atmos mixes housed together in one release. Anyone for a duly updated 55th anniversary box in 2025?
Regardless of any of these picked nits, the fact remains: Paranoid is a stone-cold rock-era classic, and a prototype for the ensuing decades of metal riffage that followed. Whether it be melodic, thrash, or gothic in how it unfurls, the future of mankind awaits within Paranoid's deep grooves.