Recording and Remixing Revolver Page 4
Paul, of course, plays the explosive guitar solo, instead of George. That section was copied and added to the tail end of the song, replacing the fade-out that had been tracked originally.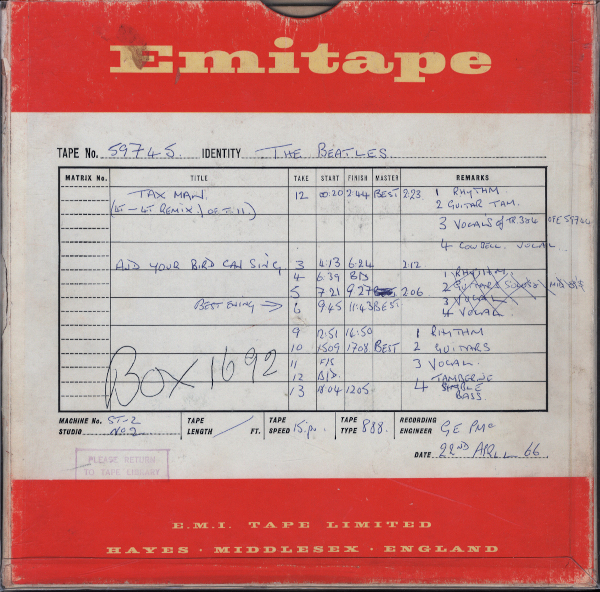 I'm Only Sleeping
The following day, on Wednesday, April 27, the mono mix of "Tomorrow Never Knows" was created, three weeks after the song's recording. Afterwards, the band crafted another of John's tunes, the hazy "I'm Only Sleeping." Like "Rain," recorded two weeks prior, "Sleeping" benefitted from thoughtful use of speed change, to effectively create, as Howlett put it, a "yawning" quality.
The group tried their initial approach to the arrangement, which included vibes (likely played by Paul, and heard on Sessions as a previously-unknown rehearsal fragment at the tail end of a reel), before trying a version with a different arrangement. Like "Rain," they played it fast, knowing the tape would be slowed down to 47.5kHz, using the Varispeed controller Ken Townsend had devised. For Take 11, the one heard on the record, they did the opposite — tracking with the machine running sped up, at 56kHz. Vocals were then recorded with the machine running slowed down to 47.5kHz, so when the track was mixed at standard speed (50kHz), the vocals were slightly brighter than normal — a brilliant use of this new Beatles recording tool. Like the "Rain" outtake, you can hear the actual speed of the original backing track on Sessions.
The other unique aspect of the recording is the backwards guitar solo provided by George, which Okell notes is actually two parts tracked over top of each other.
While the solo, as heard in the official release, almost has a melody to it, Howlett notes that Harrison once stated in an interview that he simply played little random riffs, and the tape would be flipped to see how the pieces fit. Other "little Indian raga style bits" are scattered around the song.
"I think a lot of time and effort went into that solo," Okell states. "A lot of trial and error."
Eleanor Rigby
A special treat, heard on a Sessions outtake, is of the string octet recording session for "Eleanor Rigby," made the following day, in Studio 2. The outtake reveals some back and forth between the players and George Martin, who accepts and respects their input. It's also interesting to note that Martin understood the value of preserving this conversation, as the tape box is marked "Keep."
The discussion is mainly focused on whether the musicians should play their instruments with the normal vibrato string players use — which helps them find notes on their fretless instruments — or to play it straight. "There's this lovely rapport between George Martin and the musicians," Howlett observes. "They're clearly into it. One might have the impression that, in 1966, these highly respected classical musicians, coming into a Beatles session, would think, 'I'll just take the money and run. This isn't real music.' But, clearly, these string players were very enthusiastic about making the best possible arrangement and recording of this 'Eleanor Rigby' backing track. And it just shows what a perfect producer Martin was for The Beatles, that he could attract great musicians into the studio, immediately get on their wavelength, and bring out the best in them."
Giles Martin agrees. "It surprised me, when I heard it. Because I always had this belief that the string players looked down on these recordings. They're pop songs, and that's it. So it's surprising how involved they were in the creative decision making. I love that outtake. It humanizes them, and you hear their incredible art. I wish my father could have heard it."
As for his father's arranging abilities, Giles offers some wonderful insight into the countless important scores he provided over the years, which are often the integral backbone of the recordings (and the subject of Kehew and Ryan's next book). "On his previous recordings with other artists, he hadn't really done much arranging — he would have Ron Goodwin or someone do them for him. And of his own, I don't think he felt confident in them. So I think he threw everything at them. Even that changeup in 'Eleanor Rigby' — that final verse where the rhythm changes. I can just imagine him going, 'Okay, what do I do for this bit?' And he never really repeated himself."
Upon then listening to the players record this pass, he adds: "Ten minutes before we hear what we hear, no one had ever heard 'Eleanor Rigby.' It was just on a piece of paper with dots."
For No One
Over the following month, in May, The Beatles did very little recording. They added overdubs to "I'm Only Sleeping" and actually slipped in a live performance, the NME Poll Winners concert, on Sunday, May 1.
On Monday evening, May 9, however, they recorded another Paul classic — "For No One," which started life on Paul's original lyric sheet as "Why Did It Die?" and is known to be among Emerick's favorite pieces of recording work.
The backing track features Paul on piano with Ringo drumming — the others were not present. And, as explained in Howlett's notes, the recording features a clavichord, an older instrument Martin had just purchased for himself that sounds a lot like a harpsichord, except that the strings are struck, rather than plucked.
On Thursday, May 12, three new recordings were mixed in mono, strictly for use by Capitol Records. Capitol did not follow the British release format of 14 songs per LP plus non-album singles, so over the previous two years they had compiled and crafted their own LPs, breaking up albums and including the hit single tracks. In early May, they were putting together the follow-up to Rubber Soul — titled Yesterday. . . and Today — and were short three tracks so they requested three from the current sessions.
So three were selected from the existing set of nine: "And Your Bird Can Sing," "Doctor Robert," and "I'm Only Sleeping." Only mono mixes were made that day, with Capitol creating "fake stereo" mixes (which they called "Duophonic" mixes) for the album's stereo release. For such mixes, the Capitol mastering engineer would feed the mono mix to two channels on his mixing console, one of which would have the low frequencies cut and high frequencies boosted, and the other vice versa, and then panned hard left and hard right, respectively, creating a. . . kinda stereo.
Interestingly as Howlett notes, at least one of these early mixes bore some differences from the final mixes created for the U.K. album, notably for "I'm Only Sleeping." In the "stereo" mix released in the U.S., the miscellaneous backwards guitar bits (not the solo) appear in different places than in the U.K. mono mix — something that has always fascinated American fans, who grew up on Yesterday. . . and Today.
The following week, on Monday, May 16, Paul overdubbed his lead vocal onto "For No One," and George did a short vocal fix on "Taxman." His first song, "Love You To" received its mono mix.
It had apparently been decided that a good horn section would better convey the sense Paul had for "Got to Get You Into My Life" than a guitar part (George's). So, two days later, on Wednesday, May 18, two trumpeters and three saxophonists — including two players from Georgie Fame and The Blue Flames — worked a 12 hour session, essentially replacing George's part with a wonderful one made of horns. They were tracked onto Tracks 2 and 4 of Take 8, wiping George's previous guitar part and Paul's original vocal recording. Following a reduction mix, he replaced his vocal, once again onto Track 4, doubling it on Track 3. As Howlett explains, Paul and George added the cool distorted guitar part toward the end of the song onto Track 3, which meant Paul's voice could not be doubled for the remainder of the song.
The following day, Thursday, May 19, French horn player Alan Civil, of the New Philharmonia Orchestra was brought in to add the fine part heard on "For No One." In an interesting twist, Howlett noted the tape speed had been reduced on the recording, dropping the key from C to somewhere between B and B flat, so the natural tuning of his horn wouldn't work, requiring Civil to make a tuning adjustment, something he would have rarely had to do.
Promotional Films
The rest of the week — Thursday, and also Friday, May 20 — were spent shooting promotional films for the two songs that made up their new single, "Paperback Writer" and "Rain."
The films were directed by Michael Lindsay-Hogg, who, two-and-a-half years later, would direct Let it Be. At age 24, Lindsay-Hogg had begun directing a hugely popular music program, Reddifusion Television's Ready Steady Go! "The Beatles had done it a couple of times, just before I joined," he recalls. "It kept you in touch not only with music and how music was presented, but also with fashion and clothes and how kids looked. There were a couple of other shows at the time in England, but none had the 'street cred' of Ready Steady Go!"
He tended to use the camera with a slightly more theatrical approach than other directors. "I tried to make it a participant in the music, with camera shake, focus going in and out, and funny zooms. And they would watch — and that's how I got the gig." Lindsay-Hogg was called in for a meeting with the band in the last week of April.
The group had sent him acetates of the two songs, so he began thinking of approaches for the films. For "Paperback Writer," he initially had an idea for a story video — a style of which wasn't really seen at the time. "They would all be journalists, working in a newspaper office, and they'd all be clacking away on their typewriters. And Paul would secretly be trying to write a paperback novel." The band liked the idea of doing a story video, but as novel as the idea was, he recalls, "It didn't get very far, even though they liked the idea. I got a call from Brian, saying he didn't want anything 'unusual,' just wanted 'the boys' performing. So that's what we did."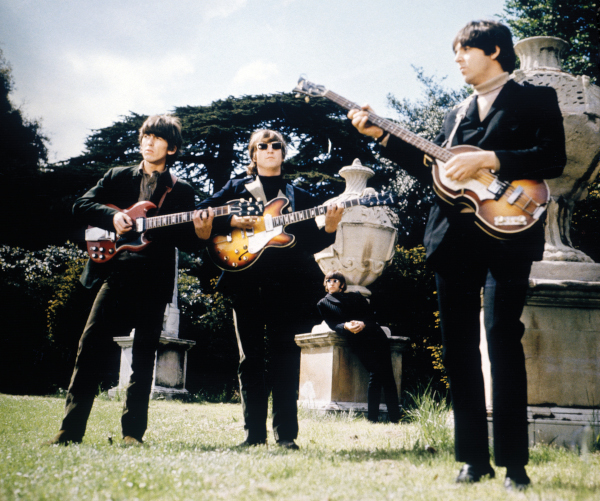 It was decided to shoot some straight "performance" videos of both songs at EMI Abbey Road Studio 3, and then, the following day, film them outdoors in the gardens at Chiswick House, elsewhere in London. In those days, anything shot in a studio was captured on videotape, while anything shot outside was shot on film, due to the limitations of video cameras for work outdoors. "We always planned on doing two locations. Because The Beatles weren't appearing anymore on these TV shows, and going to all of these different countries, we thought we would just do a couple of different versions, a couple of different looks."
The director was set up with monitors in a small room near Studio 3 and the Reddifusion truck was outside doing the recording. "That way, I could come in and give them notes, right after we'd done a take. And then they could come in and look at the takes, and offer any thoughts."
The band was arranged in a traditional setup, on a rostrum, with Ringo behind, as they would normally appear, miming to playback of the songs, John with his Epiphone Casino and George with his Gibson SG. They were playing with their sunglasses on. "We had a little discussion about how it would make them more 'edgy' if they had them on." There was also one take, he notes, where "a couple of the cameras were slightly out of position and, rather than shooting them full face or profile, shot the backs of their heads. So you got more hair shots than face shots. We played it back, and I said, 'We better go do that again,' which we did. But they said, 'Maybe that's the one we should send out, because it gives people a good look at our hair' — which was very much an issue at the time. The Beatles and people like them changed society so much. So some of the shows played what I call 'the hair version.'"
For "Rain," the director realized there was the presence of John's backwards vocal. "I said, 'What do you want to do about that?' And John said, 'Lemme try to mime to it. Even if I don't get it right, it'll be funny.'"
Shooting would start and stop. "The day was actually slightly compromised, because every half hour or so one or the other of them would have go off and be fitted for costumes for their upcoming American tour. There was a designer there. So we did as much as we could, with them performing, whenever all four were there. At least we had the songs down."
Lindsay-Hogg shot five versions of "Paperback Writer" — four black-and-white and one in color (for The Ed Sullivan Show), as the U.S. had launched color TV some time before the U.K. and other territories. Ed's version received an exclusive introduction, with the band goofing around with lighting gels and sending their greetings. Four versions of "Rain" were taped — three black and white and one color.
Interestingly, photographer Robert Whitaker was also on hand that day, and it is indeed one of his photos of the band in that setup that appears on the back cover of Revolver. There are also photos of the Fabs examining transparencies of Whitaker's infamous "Butcher Cover" images, shot two months prior, which less than a month later would be featured on the quickly-withdrawn original cover of Yesterday. . . and Today.