Recording and Remixing Revolver Page 5
The following day, the group and Lindsay-Hogg and his team, which included director of photography Tony Mander, met up at Chiswick House to shoot additional versions there. Mander, who had shot film inserts for Lindsay-Hogg for some of his dramatic television projects, shot these on film, operating camera himself. "I hadn't really worked a lot in film," the director notes, "so this was a great way to get a little film experience — on The Beatles' dime."
Back at the studio, Martin and Emerick were busy making the first stereo mixes — this time for the three songs already sent to Capitol — as well as mixes for the U.K. stereo LP. The U.S. mixes remained unused.
Lindsay-Hogg's approach, this time, allowed him to be more creative. "I'd occasionally show them playing instruments they were holding," with no kit for Ringo, though. "He played his fingers or sat on the ground. The idea was to just examine their faces when they were in repose. It was really just to be able to have a look at them, because we hadn't really seen that before. It was very different from what we did on Ready Steady Go!"
Some kids had gathered outside the gate — it was The Beatles, after all. "So we just said, 'Well, why not have them there, too?
While editing of the Chiswick clips was fairly straightforward, working with video was another matter. On the day of the Abbey Road shoot, a technical director would switch between cameras during each shoot. But, later, in post-production, one would have to do what was called a "fine cut." "We would maybe take a bit of Take 1 and drop it into Take 2, or a shot from Take 3 into Take 2, because the backing track was the same and the vocals were the same, so the music was consistent. But in those days, you had to make the cuts with a razor blade, under a microscope," cutting the 2-inch videotape. "It was a hairy ordeal. If you didn't cut it at exactly the right spot, you'd get what was called a 'pulse edit,' where it would pulse and jump. And then you'd have to cut something in from another take."
The director was happy with the results from both shoots. "I saw the black-and-white Abbey Road version of 'Rain' the other day, and I thought, 'Oh — that's pretty good. It looks fine.' The Beatles are just a great band — a great band to look at, a great band to listen to. "
Yellow Submarine
When The Beatles finally returned to the studio on Thursday, May 26 to resume recording new songs, it was to work on a song that would not only become forever associated with its lead singer, Ringo, but serve as the inspiration for the 1968 animated film of the same name.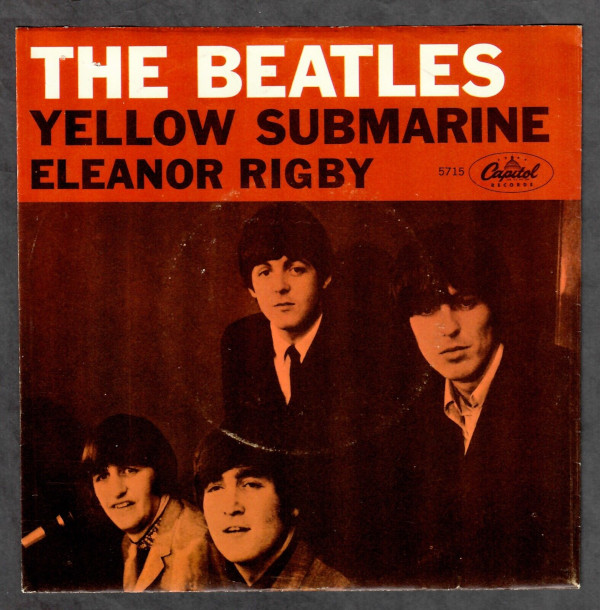 Yellow Submarine has always been thought of — and spoken of — as a song Paul wrote. But among the greatest pieces of treasure in the Deluxe set's Sessions collection is a never-before-heard recording of the writing session, which illustrates how the song evolved from parts of songs John and Paul had. John's bit had "In the town where I was born, no one cared, no one cared" sung to the familiar melody, to which Paul added "We all live in a yellow submarine."
The recordings were in Apple's own tape library on "a tape that had a sequence of different versions of 'Yellow Submarine' on it," Howlett explains, with John's early demo found on the end of the tape. "I edited the segments into the order that makes sense," walking the listener through the development of the song from these early bits to the song we know. It is, for most of us, the first time hearing John and Paul writing a song together — an incredible illustration of their process.
On the 26th, the backing track, Ringo's vocals, and harmony vocals were recorded in Studio 3 with Ringo playing just his snare and kick drum, after which a reduction mix was made to free up two tracks for the song's many effects. One of those effects, as Howlett notes, is one that has baffled fans for decades — the source of the brass band recording, which appears after Ringo sings, "And the band begins to play."
"There has always been a lot of debate as to whether it was taken from a source tape or if it was recorded for this track. And some of the comments in interviews have not been helpful — George Martin himself remembered a brass band. But we found the effects tape" — Abbey Road Source Effects Tape Volume 46 with a bit of "Le Rêve Passe in B flat. "We slowed it down, as they had done to match the key of their recording. There was just a little bit of editing that had been done to fit it into the gap. But it's so clever, that they found that recording."
Another source of debate has been what The Beatles can be heard, shouting out during the effects break — where miscellaneous "submarine" noises, generated by the Fabs and their friends, are supplemented by callouts by the "crew" — The Beatles. "We actually had a debate about that," Howlett smiles. "Mike and I studied it, and we heard 'Full speed ahead, Mister Boson,' with the response of 'Full speed immediately, sir,'" which others might hear as "Full speed it is, Captain." "Ringo can also be heard, saying, 'Cut the cables, cut the cables,' which he's talked about saying."
Giving the callouts their proper environment, Kehew says, "They tried all kinds of things. There's filters, there's somebody standing in an echo chamber room, yelling [John's ship "captain" callouts]. Things to make it sound like somebody's in the hold of a ship, with a kind of a metallic, ringy sound. They were just playing with the spaces at the studio to 'make an audio picture of a submarine.' And it's perfect for that. There's also a little bit of dirty noisiness, from, say, filtering the microphone or using a cheap microphone to sound like the intercom system on a submarine."
Four days later, on Monday May 30, "Paperback Writer"/"Rain" was released as a single in the U.S.
The effects for "Yellow Submarine" were recorded in Studio 2 the following week, on Wednesday, June 1, after the Fabs had a chance to pull together a few friends to help out with sound effects and assemble a nice big crowd to sing the chorus. These friends included: Brian Jones, Marianne Faithfull, Neil Aspinall, Mal Evans, their driver, Alf Bicknell, Pattie Harrison, producer Martin, and even the studio security man, John Skinner. Interesting to note, George missed part of the hoopla, having left to attend a Ravi Shankar concert at The Royal Festival Hall.
The gang raided what was known as the "trap room," a closet underneath the famous Studio 2 stairs to the control room. The session notes detail who did what: Mal Evans was playing a huge bass drum strapped to his chest, while the others followed him in a conga line throughout the building, while Alf dragged some chains through some water in an old bathtub. Brian Jones twiddled a Swanee (slide) whistle, and the whole gang gathered to sing the rousing chorus for the back end of the song. A Sessions track allows us to hear all of the effects, as they appear on Track 4 of the tape, including some unused ones.
Another unused part of the song was a wonderful introduction — written by John and spoken by Ringo — that tells of a "land o'groats," over some marching feet. The intro was removed, when the song was mixed, though it made its debut on the 1996 "Real Love" maxi-single (and can be heard as a Sessions outtake).
I Want to Tell You
The next day, Thursday, June 2, brought us to another George Harrison composition — "I Want to Tell You" — his third for the album, something previously unheard of.
The rhythm track consisted of George on guitar, Ringo's drums, Paul on piano, and John on a tambourine plus two tracks featuring George's lead vocal accompanied by John and Paul harmonies. Paul added a bass overdub the following night, Friday, June 3. Also on June 3, the first print ads for the "Paperback Writer" single, featuring the first appearance of the "Butcher cover," ran in England. Shocking, for sure, but the response was not even close to the reaction the image would get in America. . .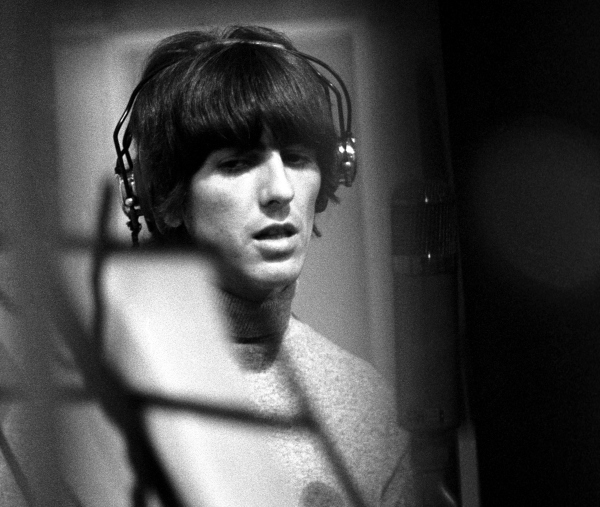 "Yellow Submarine" was also given its mono mix that day. The following Monday, "And Your Bird Can Sing" and "I'm Only Sleeping" were given new mono mixes for the mono U.K. LP release, supplanting the two done for Yesterday. . . and Today ("Sleeping's" mix, again, having slightly different appearances of George's backwards guitar flourishes than that previous mix). Paul also added the wonderful, "Ah, look at all the lonely people" counter-line, heard toward the end of "Eleanor Rigby," completing that song.
Good Day Sunshine
Two days later, on Wednesday, June 8, the band tracked Paul's joyous "Good Day Sunshine" in Studio 2 (this time, with Richard Lush as tape operator), a song that would be chosen as the opener for Side 2 of the LP. The rhythm track had Paul on piano, Ringo, a bass part by George, and John on tambourine, with vocals added as an overdub. George is seen in some Revolver session photos with an odd Burns NuSonic bass, though it is unknown if that's what he used on this session.
Further work was done the next day, Thursday, June 9, with the addition of Ringo's cymbal swirls, another piano part, and George Martin's vaudeville-style piano solo, recorded with the tape machine running at half speed, which gave it a fun, old time feel (and made it easier to play).
If you've ever wondered what John mutters when Paul sings the line, "She feels good," Howlett says he and Heatley had a good listen. "He says, 'She do.'" John was apparently sitting beside his bandmate during that session, initiating a slight chuckle from Paul, as heard on the record.
The next day, Friday, June 10, saw the release of "Paperback Writer"/"Rain" in the U.K.
Here, There and Everywhere
Another one of Paul's tracks was recorded the following week, on Tuesday, June 14 — the lovely "Here, There and Everywhere," which Paul wrote at John's house in Weybridge. The initial tracking on this day featured acoustic guitar, which was changed to Paul on his Casino and George on his Rickenbacker 12-string (for both the "I want her everywhere" bridge and the ending notes, played using a volume/tone pedal) when the group returned to the song two days later to record Paul's lead vocal, three-part backing vocals, and some overdubs, including Paul's bass.
Earlier that day, The Beatles appeared on Top of the Pops, miming to their new single. The previous day, though, was a momentous one of sorts in the States, when Yesterday. . . and Today was released with its infamous "Butcher cover". It was immediately withdrawn, and replaced with a tame photo taken some months earlier of the group posing around a trunk. Of course, the "Butcher cover" remains one of the most collectible of U.S. Beatles releases, especially stereo copies.
More overdubs on "Here" were tracked the next day, on Friday, June 17.
She Said She Said
"Got to Get You Into My Life" got its mono mix at the beginning of the following week, Monday, June 20. The Beatles were due to leave on their German tour on Thursday, June 23, so there was a rush to get the album completed. British LPs always had 14 songs — and there was still one to go. Never at a loss, John came up with the fantastic rocker, "She Said She Said," which was tracked and completed the next day, Tuesday, June 21. "It's their last session, and they have to come up with one more song," Howlett muses. "That they come up with this great track is simply startling." A revealing home demo — and a true rarity — can be heard on one of the Sessions discs.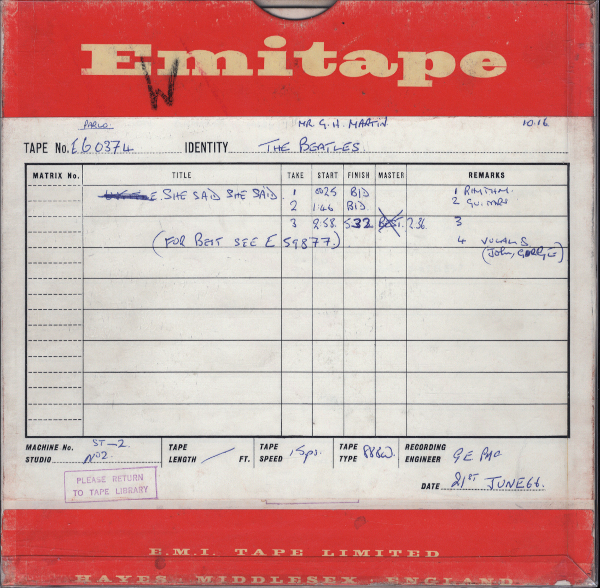 The band attended mixing sessions for four songs in the first part of the day — "Taxman" (mono and stereo), "Love You To" (stereo), "Here, There and Everywhere" (mono and stereo), and "For No One" (mono and stereo) — before digging in on this track, ablaze with fantastic distorted guitars. The basic track features John and George on said guitars, Paul on bass, and Ringo on drums. Though Paul has told the story of getting into a row (in his words, "a barney") and exiting the session, leaving George to play bass, Howlett and Heatley's session tape study clearly reveals his presence. "All four of them can be heard playing together. Paul is playing bass."
During Paul's absence, John overdubbed his lead vocal with George singing harmony, and both were then double-tracked and combined when a reduction mix was made. The song was completed by 4 a.m. on the 22nd and given its mono and stereo mixes. Also mixed that day — presumably after some shuteye — were the remaining tracks: "Eleanor Rigby" (mono/stereo), "Yellow Submarine" (stereo), "Got to Get You Into My Life" (stereo), and the album's closer, "Tomorrow Never Knows," finally mixed for stereo (again, with slight variations in effects in the mix). With that, the album was complete, pending assembly of the running order and side reels.