Remembering Buddy
We've just gotten word that a distant member of the Sound & Vision family passed on a couple weeks ago. He was the closest thing we had to a mascot and supermodel, and he was a real good sport: Buddy Butterworth, the Yellow Labrador Retriever.
Buddy first hit the pixels of the Sound & Vision site back in May when he played the "bad dog" in the feature, "Trouble, Spot: 7 Ways to Pet-Proof Your Gear" (see top photo). He would later reappear just a month ago when we used him to illustrate the small stature of a Soundmatters speaker system in the test report, "Foxl: A David Among Goliaths" (below).
Word has it that during these photo shoots, Buddy never complained, and was always game to put his paw or snout wherever duty required. In fact, it was around the time of his photo session for Foxl that Buddy first started feeling a bit of malaise. Still, he soldiered on and once again managed to look super-cute.
Yes, the dog was downright irresistible. When the Pet-Proof story was picked up by Gizmodo, one commenter noted, "The dog in the picture looks like it was posed with the speaker cover under its paw and is now confused and wondering if it's about to get yelled at even though it was posed that way. Also, I want to hug it."
Yes, we all wanted to hug Buddy, even though we've never met him. And we all hoped we'd see him in many more S&V Web photos, but sadly, this will not come to pass.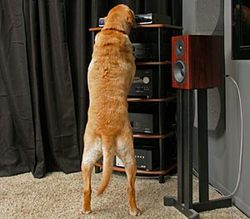 Buddy passed away suddenly and with little pain, surrounded by his loved ones, including his dad, S&V writer Brent Butterworth. He will be missed. -Rob Medich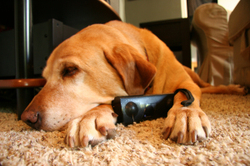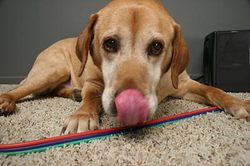 LATEST VIDEO