Red Carpet Brings First Run Hollywood Movies Home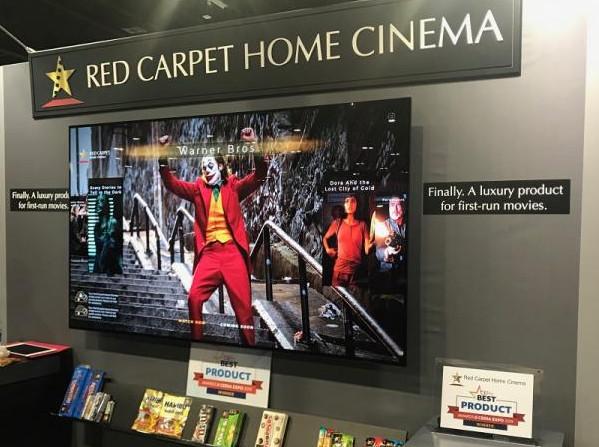 Want to watch the new movie
Joker
on opening night in the comfort of your own home theater? Red Carpet Home Cinema has a system that can make that happen…provided you can pay for the privilege.
Red Carpet Home Cinema — the brainchild of Fred Rosen, the man behind Ticketmaster, and Dan Fellman, past president of domestic distribution at Warner Bros. — is bringing first run, Hollywood movies into the homes of luxury cinema owners, letting them watch movies opening night, day-and-date with their cinema release. The heart of the system needed to make this happen is a $15,000 media server with an HDMI output that works with any traditional AV system. And then you have to pay $2,000 to $3,000 for each film, immediately billed to the credit card on file. However, that purchase price includes two viewings within a 36-hour period. Plus, you can pause and rewind up to 10 minutes.
I spoke with Mr. Rosen at CEDIA and he said, "We asked the studios, 'What will it take to make this happen? You set the price and terms.' The studios said I was the first guy to come in and not try to tell them what they could charge, not tell them how it was going to be."
Red Carpet offers films from 20th Century Fox, Paramount, Warner Bros, Lionsgate, Paramount, MGM, STX Entertainment, and Annapurnca, which means lucky Red Carpet owners will be able to watch the new Terminator: Dark Fate, Ad Astra, and Rambo: Last Blood amongst many others.
"This is a luxury product offering something that is very limited and difficult to get, and our customers are willing to pay for the convenience and privilege," Rosen said. The company isn't looking for mass sales. Rather it would like to sign a limited number of affluent clients, saying it would be happy to have hundreds of members in New York and Los Angeles and then 100 more in each of the largest cities throughout the U.S. With luxury options available in virtually every other category, Red Carpet wants to provide athletes, movie stars, and just "regular" wealthy people with the option and freedom to consume content when and how they want.
Interestingly, all of Red Carpet's films are currently limited to 1080p and are non-HDR, however they are encoded at better than Blu-ray quality at an average of 45 Mbps with HEVC encoding. They also currently use 5.1-channel PCM audio, not Dolby Atmos or DTS:X.
According to Rosen, people spent $70 billion last year on private planes and $60 billion on private yachts. "I'm not saying that's good or bad, it just is what it is. And if those people want to spend $3,000 to watch a movie in the privacy of their own home, why shouldn't they have that as an option like any other luxury purchase?"
For those with the means, Red Carpet Home Cinema is available now throughout the country.