The Really Great Outdoors: Part 1
Backyard home theater is about more than bringing the indoors out.
Outdoor living is all the rage, so it's only natural that we've been seeing an increasing interest in entertainment for outdoor living spaces. Festive fire pits and sexy spas create focal points for terraces and gardens. In the design world, rattan, teak, and wrought iron are meeting moisture-resistant materials, producing a new generation of rugged, attractive outdoor seating. And, ever the entertainment commandos, we know that, where there's a seat, there simply must be an A/V system nearby. Let's look at some new components and create two outdoor theaters of varying scope and price. For most categories, I'll offer several choices of products, since there is a plethora of goods out there.
First, I'll make some disclaimers. I am not advocating the use of non-weather-resistant equipment or any components (amplifiers, DVD players, etc.) that have not been designed and sanctioned by the manufacturers for outdoor use. (If you still don't know that electrical devices exposed to water can be lethal, see the sidebar entitled "Safety.")
System 1: $7,223 to $12,577
Video Display
I assembled this system for intimate patio viewing. The focal point is either of two new video displays, which are engineered for permanent residential and commercial outdoor installations. In both, the electronics are protected from rain, dirt, insects, scratches, and extreme temperatures.
First, let's look at the SunBriteTV all-weather model 3210HD ($4,195). It is a 32-inch LCD TV with a resolution of 1,366 by 768 (16:9), a claimed 1,600:1 contrast ratio, and HDMI connectivity. I was curious as to exactly how a television can be weatherproof. I had the opportunity to inspect the SunBriteTV closely during the recent Electronic House Expo in Orlando, Florida. My big question was, isn't the heat-outflow mechanism also the TV's Achilles' heel, allowing moisture in? In the rear of the unit, I discovered a thick, porous foam filter under a metal valance, which keeps the unit dry and cool enough to run in a 122-degree environment. An internal, thermostatically controlled heater protects the TV in temperatures as low as 24 degrees Fahrenheit. A watertight cable-entry system provides a passthrough to keep the cables dry, and all of the mounting hardware is weatherized. Although it is engineered for outdoor viewing, the SunBriteTV appears at its best after dark or in as much shade as possible, not by the pool in direct sun. Fair enough.
The second video display is Sanyo's 42-inch 42LM4WPN ($6,999), which sports the International Electrotechnical Commission's IP56 weather-resistance approval. It won the Innovations Award for displays at last January's Consumer Electronics Show in Las Vegas. It is equipped with an antireflective, tamper-resistant glass. This monitor is part of Sanyo's commercial line, boasting a 1,366-by-768 resolution and a claimed 800:1 contrast ratio. The Sanyo uses a no-holes ventilation design. It is UL rated in the United States and CSA rated in Canada and has several types of inputs in its jack pack (most importantly, HDMI, Y/Pb/Pr, RGBHV, and an RS-232 control serial port).
The marketing material on both of these TVs shows each operating while a garden hose blasts the panel with water. Sanyo describes their 42-inch LCD as weatherproof, while SunBriteTV uses the terms "all-weather" and "weatherized." Make no mistake. Neither manufacturer describes their display as waterproof, as in submersible. Even scuba wristwatches are typically described as water resistant to varying depths. You wouldn't want to sink either of these puppies and try to watch them from the bottom of a swimming pool.
As you are probably thinking, there is more to a home theater system than just the video display. To be fair, I can't define either of these outdoor systems as completely weatherproof unless I provide a weatherproof cabinet for dedicated components like a multichannel receiver, DVD player, and cable box or HD satellite receiver, for which you're on your own. That aside, if you were interested in an outdoor theater, wouldn't you want to tap into your existing indoor components if they were located close by?
So, let's assume that you already own decent core electronics and you have a clever installer who can split the audio and video signals between the interior and exterior. What's next? Since the Sanyo LCD is a pure monitor with no speakers and the SunBriteTV's built-in 10-watt speakers leave a bit to be desired, I suggest an LCR speaker array. Presuming that you won't tick off your neighbors unless you don't invite them over, I present the following speaker options.
Speakers
Sonance has manufactured the Mariner series of dependable outdoor bookshelf speakers for many years. The Mariners come in several configurations, and Sonance describes them as UV and weather resistant. Equipped with polypropylene woofers, polycarbonate tweeters, and paintable aluminum grilles, each pair comes with multipivot bracket hardware, and prices range from $300 to $750 per pair. This is a dependable and well-recognized brand in the custom-installation industry. To be fair, many brands make these types of speakers, including Niles Audio,
Russound, OWI, Pyle, Audio Source, TOA, and others. Bass response in an outdoor environment is extremely important, no matter what brand you select. Outdoor speakers sound thin without some beef on the bottom end. In a common patio arrangement, you would mount the LCR speakers in as close proximity to the video display as possible and on the same vertical plane. The speakers would be at home on a convenient underhang. For budgetary purposes, figure $100 to $500 per speaker.
For fun, let's presume you want to disguise the surround-channel speakers. Of course, depending upon the backyard landscaping, you can always hide a pair of the same model you used for the front channels. But remember, we're already breaking quite a few purist rules with this wacky project, so you've got to be a little forgiving regarding front-surround timbre similarity. A look at Madison Fielding planter speakers might trigger some ideas. Made of polypropylene or fiberglass, the Terra Cotta and Flagstone planters accommodate real or fake shrubs and include a drain. The speaker components are made by Audax of France, which carries beaucoup manufacturer cred. The Terra Cotta model 8.20 has an 8-inch coaxial driver with a frequency response of 42 hertz to 20 kilohertz. It's 89-decibel efficient at 1 watt, and a pair retails for $1,199 sans shrub. There are several brands that offer planter speakers, including hanging styles. Looking for a subwoofer? The Marc Anthony Doric column ($899) sports an 8-inch dual-voice-coil driver and has a frequency response of 35 to 150 Hz. I wouldn't put a beer on the top when you're watching King Kong.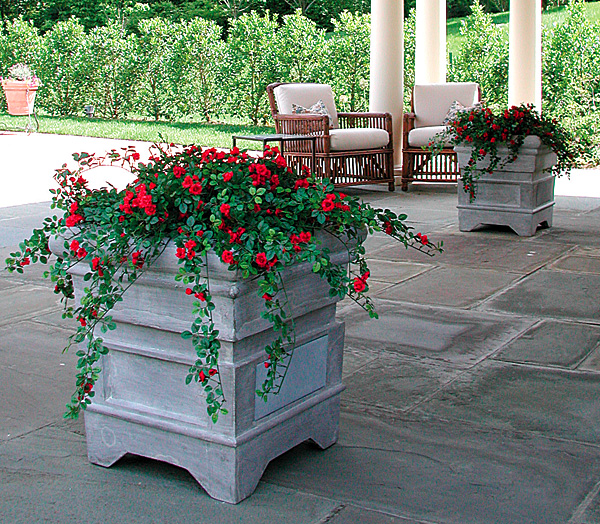 Another cool option for outdoor surround-channel speakers is the ubiquitous rock speaker, made by Sonance, Niles Audio, Stereostone, Rockustics, Russound, OWI, and others. Except for some of Stereostone's offerings, which use their SoundStealth no-holes technology, virtually all rock speakers look fake. I mean, really. The holes or round, color-matched grilles are so apparent. Isn't the purpose for the speakers to blend into a backyard so the sound seems to come from nowhere? Positioning the speakers with the grilles toward the listener doesn't fool anybody. Here's what I did. I turned my rock speakers completely around so I couldn't see the grilles. "But wait," you say. "You can't hear the surround channels, and they would be out of phase. And, besides, it's just not done." You know what? I don't care. It's outdoors. There are so many elements that are out of your control in this type of environment, anyway. I cranked up the volume a little more, and the sound reflected against the back wall and the landscaping. Whatever speakers you select, you should run the speaker wire through conduit for weather protection and long life. There is a class of direct-burial cable that doesn't require conduit, but I tend to be a purist on this topic.
Remote Control
So, how do you control the whole system from the patio and maintain the weather-resistant theme? Simple. Try RTI's U1 waterproof RF controller ($678). Yup, they played the waterproof card. What's more, RTI claims that the remote floats. Four source and eight general-purpose buttons are fully assignable. It is completely customizable, programmable, and upgradeable. The U1 has optional voltage- and video-sensing modules to monitor your equipment's power status and an optional interface for RS-232-controlled equipment. Since it operates via RF, it has a 100-foot range and can work through walls, windows, and cabinets. Its operating temperature range is 32 to 122 degrees Fahrenheit with a 5-to-100-percent operating humidity range.
System 1 (Minimum, Maximum Price)
TV, Mount, and Hardware $4,395-$7,499
LCR Front Speakers $450-$1,500
Surround-Channel Speakers $1,200-$2,000
Subwoofer $500-$900
Remote Control and Processor (excluding programming) $678-$678
Approximate Price (excluding tax, labor, parts, programming) $7,223-$12,577
Safety
• Follow all building and safety codes. Use experienced, licensed professionals.
• Run all speaker- and line-level wire in PVC conduit (seal ends). Put all components and outdoor wiring on a separate circuit of sufficient amperage.
• Use a ground-fault circuit interrupter (GFCI).
• Never touch components with wet hands.
• Keep electrical cords away from toddlers or pets. Teach children at an early age about electricity and the importance of practicing electric safety.
• Don't use extension cords as a substitute for fixed wiring. Cover electrical outlets you're not using with plug protectors.
• Stay clear of substations and power lines. Keep radios, TVs, and other electrical appliances away from your swimming pool or hot tub.
• Don't operate your system in inclement or wet weather.