Quad L-ite Soundbar Speaker System
Price
: $2,350
At A Glance
: 41-inch-wide soundbar contains three front channels • Remote-controlled sub with presets • A smooth, warm, unhyped, high-fidelity sound
Genius Bar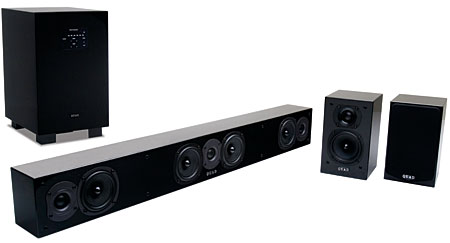 Quad is one of those great speaker companies whose pedigree encapsulates some of the fascinating and significant parts of audio history. The name is an acronym for Quality Unit Amplifier Domestic. Born in London in 1936, the company first produced publicaddress equipment, then moved into hi-fi after World War II. It eventually became known for producing relatively thin electrostatic floorstanding speakers that are considered classics—heirlooms, even—and are still produced today. That our sister publication Stereophile named the Quad ESL-2805 Product of the Year for 2007 should indicate how much Quad's current owner, IAG, venerates this Anglo-Chinese brand. It produces its products at a state-of-the-art factory in Shenzhen and ardently defends its historic reputation. Have I mentioned that Quad also produces both tube and solid-state electronics for the two-channel market? Now get ready to change gears.
Regrettably, Quad has yet to adapt its signature electrostatic technology to surround use. But like its IAG stablemate Wharfedale, Quad has staked out a place in home theater territory with box speakers, including the active L Series, the passive L2 Series, and the L-ite Series—which includes satellite, center, and subwoofer models, plus a brand-new soundbar speaker. As with its electrostats, Quad designs and manufactures the majority of the parts of these box speakers in house. The chief designer enjoys an almost godlike status. He can design a new part and have it produced within days. This review will consider the Quad L-ite LCR, a three-channel soundbar speaker, plus the L-ite Satellite and L-ite Subwoofer.
Three Tweeters, Four Woofers
At nearly 41 inches wide, the L-ite LCR soundbar speaker is approximately as wide as a 42-inch flatpanel TV (depending on the thickness of the set's bezel). Soundbars look good to me when they're the same width (or less) than the HDTVs they serve under, so get out your tape measure and give that some thought.
Deployed within the soundbar's sealed enclosure are three silk-dome tweeters, which may partly account for the system's mellow sound. There are also four woven Kevlar-coned woofers, whose potentially bulletproof material stands up well to highdecibel onslaughts. The center channel contains one tweeter surrounded by two woofers, essentially the same as you'd get in a typical separate horizontal center speaker. That lets this two-way soundbar keep all of its drivers arranged around a center axis. Driver sizes and materials reappear in the L-ite Satellite.
For mounting, the soundbar has two of the biggest keyholes I've ever seen; the satellite has a trio of threaded inserts. The soundbar and satellite both have all-metal binding posts, although their design varies. The soundbar has familiar-looking gold-plated non-biwire posts, while the satellites have non-gold biwire posts that protrude by about an inch. This will leave a gap if the sats are wall mounted.
The L-ite Subwoofer is a 70-pound bruiser-cumnonconformist that's loaded with remote-controllable features. The supplied remote offers controls for standby, volume, phase, six low-pass filters (35, 45, 55, 65, 75, and 85 hertz), a low-pass filter bypass, and four presets. The presets allow different settings for music, movies, and other contingencies. The front panel momentarily confirms all settings with red or green LED dots, and it indicates the volume with two huge red LED digits. Shortly after you've made your selections, the sub display goes dark, which eliminates visual distraction.
The sealed enclosure has a relatively modest width compared with its height and depth. Its single down-firing 10-inch driver is powered by an internal amplifier rated at 300 watts RMS. The driver material is a trilaminate composite of carbon fiber sandwiched between layers of bidirectionally woven glass fiber, with extra stiffening at the outer rim. Supplied feet include a choice of cones or spikes that are just a little longer than the built-in L-shaped metal supports. A weak sub hobbles many soundbar systems, but that isn't the case here. This is the best sub I've yet reviewed in connection with a soundbar. You might consider the L-ite Subwoofer as a separate purchase even if you don't go for the L-ite LCR.
Associated equipment included a Rotel RSX-1550 A/V receiver, OPPO BDP-83SE universal disc player, Rega Planar 25 turntable, Shure M97xE phono cartridge, and Bellari VP530 phono preamp. All movie selections had DTS-HD Master Audio soundtracks.
Un-Soundbar-Like
The L-ite soundbar and satellites sounded consistently warm and smooth regardless of content. They seemed to have been voiced by someone who cares more about overall performance and listening comfort than about whiz-bang effects—although the effects certainly whizzed and banged, especially with that monster sub lurking in the neighborhood. The overall effect was surprisingly un-soundbar-like, and I say this as someone with a broad frame of reference in soundbar listening.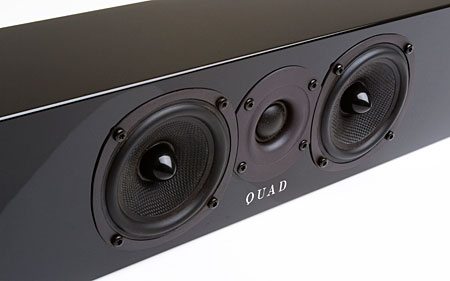 Public Enemies stars Johnny Depp as the Depression-era gangster John Dillinger—a match made in casting heaven. One consequence of the soundbar's unhyped high-frequency presentation was that dialing in voices took more power than an average soundbar would use. The L-ite LCR loves power, and I gave it more and more as time went on. It took me about an hour to realize that I could raise the master volume high enough to catch all of the dialogue without the effects in this gun-crazy movie shredding my ears. Inherently bright sounds—an alarm bell ringing in a bank full of hard walls, a bullet blasting through shattering glass—were as dazzling as you'd expect. But midrange-centered material, like the throbbing of the orchestra, was also rich and pleasing.