Q Acoustics' Announces 'Most Progressive' Speaker Yet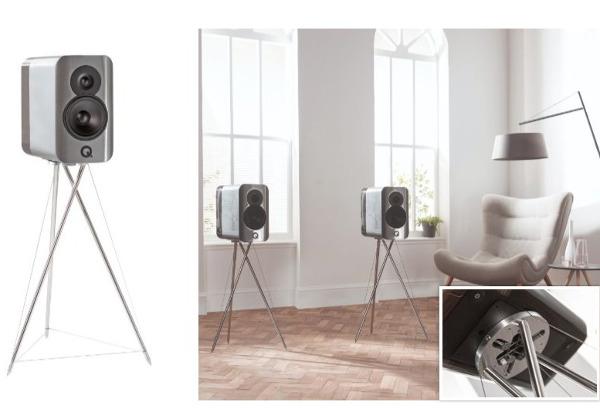 U.K.-based Q Acoustics' today announced a stand-mount speaker that builds on the success of its $6,000/pair flagship speaker, the floorstanding Concept 500.
Hailed as its most progressive speaker yet, the Concept 300 is a two-way bass-reflex design said to refine and advance all of the technological highlights of the Concept 500. The speaker, slated for release in March at $4,500/pair, features a striking silver/ebony lacquer finish over real-wood veneers and an integral tripod designed to provide stable support as well as reduce the transmission of vibrations.
The Concept 300 incorporates several innovations, according to Q Acoustics, including the same "Dual Gelcore" cabinet construction with internal P2P (point to point) bracing used in its big brother, an isolation base suspension system, spring-tension fitted drivers, and the unique dual-color finish.
The Dual Gelcore cabinet construction comprises three layers separated by a specially developed non-setting gel said to dissipate high-frequency vibrations generated by moving drivers, while the P2P bracing is fitted to interior areas of the cabinet most susceptible to low-end frequency reverberations.
An example of form following function, Q Acoustic's Tensegrity tripod is a self-supporting structure made of load-bearing aluminum rods and thin stainless-steel cables that "define and maintain the spatial orientation of the rods." The result is a low surface area said to eliminate radiating sound.
Q Acoustics believes rigidly coupling a speaker to a stand helps maintain accurate audio performance by minimizing the intensity of vibrations, so it developed an isolation base plate to anchor the bottom of the cabinet to the stand and provide a flexible suspension system. The speaker also rests on four springs, damped using a polyurethane elastomer called Sylodamp, which is said to convert any vibrational energy in the springs into heat for improved stereo imaging and more controlled but extended bass.
At the heart of the 14-inch tall enclosure, is a 6.5-inch woofer and 1-inch wide-dispersion tweeter. To preserve the speaker's minimalist design aesthetic, the woofer is secured from behind by spring-tensioned retaining bolts, which not only eliminates the need to hide screws behind "vibration-attracting decorative trim" but keeps torque constant to maintain consistent performance. The tweeter is held in place by an isolating mount developed for the Concept 500, which is said to prevent the tweeter from sending or receiving unwanted vibrations.
Concept 300 specs include a rated frequency response of 55 Hz-30 kHz (-6dB), sensitivity of 84 dB/W/m, and nominal impedance of 6 ohms (4.7 ohms minimum). Recommended power is 25-200 watts.
In addition to the new silver/ebony finish, the Concept 300 is available in gloss black/rosewood and gloss white/oak finishes.
For more information, visit qacoustics.com.