Q Acoustics 3000 5.1 Speaker System Review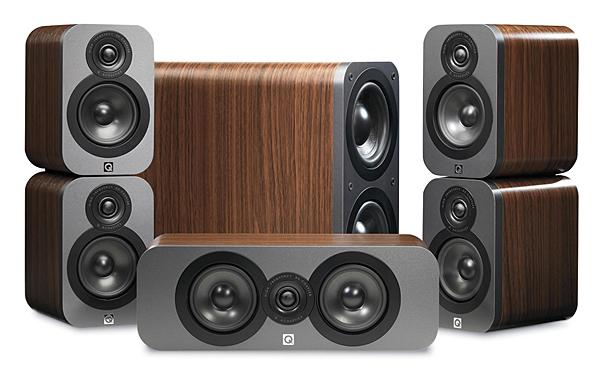 PRICE
$900
AT A GLANCE
Plus
Sweet and smooth sats
Dual 6.5-inch sub
Minus
Deep sub juts out from wall
THE VERDICT
A sweet-sounding system, with a sub worthy of the satellites, the Q Acoustics 3000 is one of the best under-$1,000 5.1-channel setups I've heard.
Tube amps. Mono pressings. And now, 5.1? Has bedrock surround sound indeed joined the ranks of retro audio technologies? Surround receivers beyond the most entry level nearly always have more than five channels (though their uses vary), while Dolby Atmos and DTS:X have made seven (5.1.2) the new minimum system configuration. What happens when you go in the other direction? The flood of 5.1 speaker sets that I used to review in the late 20th and early 21st centuries has tapered to a trickle. I see fewer new ones at CES and CEDIA, and plain old stereo is dominant at the rest of the domestic and international audio shows. However, the British manufacturer Q Acoustics has been marketing 5.1-channel speaker sets since the company's inception about a decade ago and continues to actively develop them. The brand's latest entry is called the 3000 5.1 Home Theatre System.
Cognoscenti
The founders of Q Acoustics previously worked for some fabled British loudspeaker makers, such as KEF, Mission, and Tannoy. The 3000 is one of four Q Acoustics 5.1-channel systems and one of two to be sold in the United States (through Q's American website or Amazon, among others, with free shipping). The other three systems are the satellite-based 7000i Plus 5.1, also sold in the U.S.; the towerbased Concept Cinema; and the 2000i Cinema, which uses compact speakers with 5-inch woofers, as opposed to the 4-inchers in the 3000. The company also sells soundbars, as well as in-wall, in-ceiling, and outdoor speakers.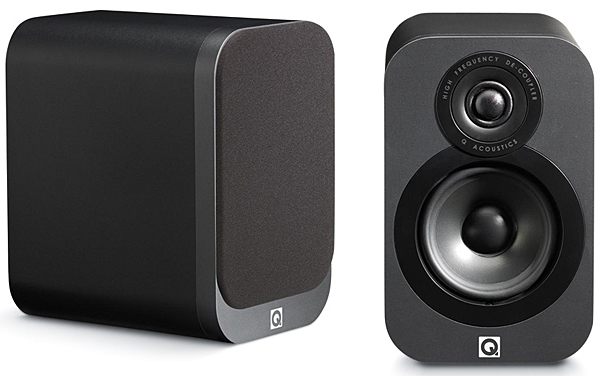 The 3000 system consists of four 3010 compact satellites, a 3090C center, and a 3070S subwoofer. (The individual models are priced at $200/pair, $180, and $400, respectively, which would total $980—but when you buy them together as the 3000 package, you get an $80 discount.) In pictures, these speakers look plain to the point of anonymity. Up close and personal, though, the matte graphite gray vinyl enclosures that housed my samples have a pleasing fit and finish, and the rigorous lack of ornamentation—aside from a slightly paler gray band around the baffle—makes them easy to live with. Optional accessories include the 3000ST stand ($140/pair) and 3000WB wall bracket ($28/each). The speakers do not have keyhole mounts, though there is a threaded insert on the bottom. The sub's supplied spikes may be made safe for hardwood floors with the included rubber covers.
The 3010 satellite is a twoway design with a 1-inch coated polyester-weave soft dome tweeter (with radiating surround) and a 4-inch paper-aramid (similar to Kevlar) cone woofer, behind a magnetically attached cloth grille. The 3090C center flanks the tweeter with two of the woofers. Both models have plastic-nut binding posts that are staggered at a right angle; inflexible speaker cables with short leads would not be ideal mates. Both have a nominal impedance of 6 ohms. Rated sensitivity is 86 decibels for the satellite, about average for an affordable compact sat, and 89 dB for the center. A decent budget receiver should run them fine, but a beefier one would run them even better. (To some degree, you could say that about most speakers.)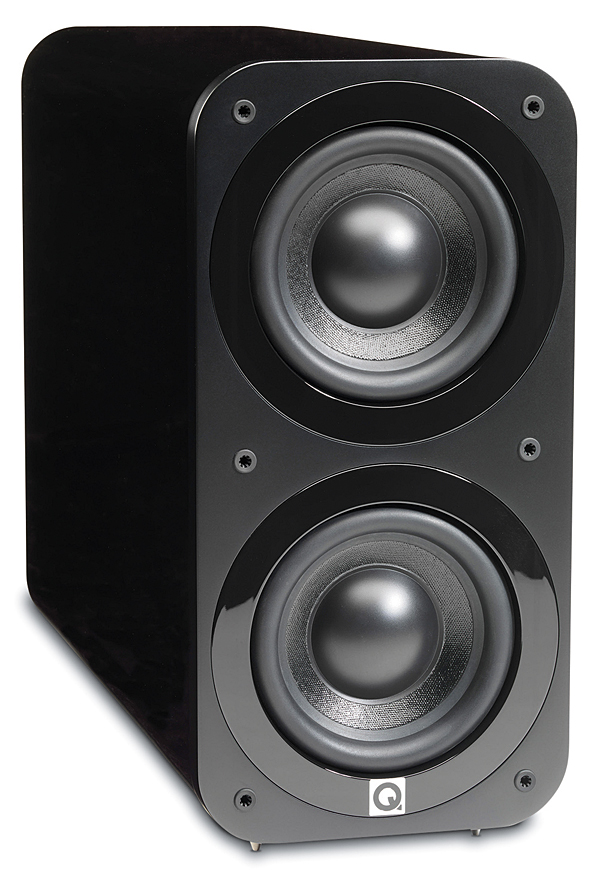 The subwoofer in an under-$1,000 speaker package is typically the weakest family member. It is here that Q breaks from the pack with what looks like a giant monitor offering two 6.5-inch drivers in a 21-inch-deep rear-ported enclosure. Small drivers, big enclosure. With that cabinet depth, this isn't a wall hugger, though it might sit alongside a credenza just fine. Amplification is rated at a respectable 140 watts RMS. The company chose not to inflate the number with a peak power rating, even an alternative one.
Associated equipment included a Denon AVR-X7200W A/V receiver, Oppo BDP-83SE universal disc player, Micro Seiki BL-51 turntable, Shure M97xE cartridge, Denon PRA-S10 serving as phono preamp, Lenovo Windows 10 laptop, and Moon by Simaudio Neo 230HAD DAC. All movie demos were on Blu-ray.
Dum Dada Dum
I try not to make snap judgments, but when this system uttered its first sound—the familiar fanfare of horns and snare drums that accompanies the 20th Century Fox logo on a movie disc—I immediately thought, "I like this!" Followed by, "That must be a soft dome tweeter," though this was break-in listening, and I hadn't pored over the specs yet. An openness at the top of the presence region let me know the tweeter wasn't sounding unduly soft.