The Pyle BlueReach PBTR70 Bluetooth Adapter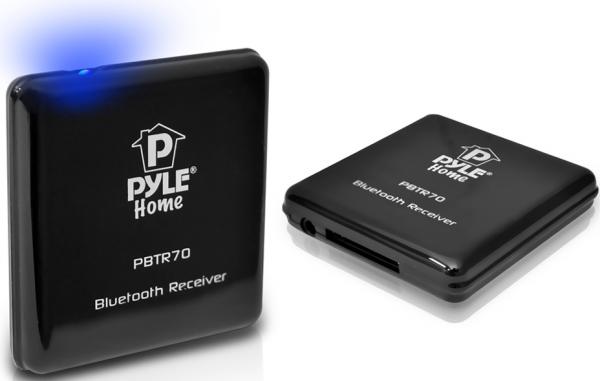 Dust off your recently-obsoleted 30-pin Apple docks – Pyle Audio has come to the rescue. Just when you thought you were reduced to connecting to your collection of Apple-ready speaker docks by a lowly audio cable, Pyle has released the BlueReach PBTR70, an adapter plugs into any 30-pin speaker dock to receive Bluetooth from any Bluetooth-enabled audio device.
Not only does this let you use your new Lightening-generation Apple products, it also makes it a breeze to connect Android phones and tablets via Bluetooth to previously Apple-only docks. Brilliant, right?
The day Apple announced their new Lightening connections, a collective cry of "Oh, crap" rose from the masses. Personally, I was crushed. After a long and extensive search, I had discovered the perfect dock for me - the LogitechS715i. It sounded great at home with excellent stereo imaging, it had an impressive battery life when I took it outdoors, and my 5th generation nano sat regally on the 30-pin connector. Then, I took my nano on a very, very, very rainy bike ride, destroyed it, and replaced it with a new 7th generation nano. With Lightening. Sadly, I was forced to use the headphone output of the nano to connect to the aux input of the Logitech. Nothing cool or regal about that in my book.
Thankfully, Pyle has come to my rescue. Well, my rescue and the millions of other people without an elegant way of connecting to their 30-pin speaker docks. My new nano has Bluetooth, the Logitech does not. For $66.99, I can plug the Pyle BlueReach onto the 30-pin connector on the Logitech, pair it up and off I go. A 3-colored LED makes pairing simple. In addition, you can plug in any device that uses a 3.5mm audio plug to stream your music via Bluetooth. The 3.5mm input allows for direct audio input into an Apple only 30-pin docking source. BlueReach supports A2DP V1.2, and is compatible with all devices enabled with A2DP stereo Bluetooth. It measures 2.15'H x 2.15'W x 0.45'D.
"We wanted to create a product that allows consumers to utilize their existing sound systems and easily convert them to Bluetooth capable music players," says Abe Brach, President of Pyle Audio. "Instead of spending more money to update your entire system, we've provided a solution that's affordable and easy."?

Thank you, Pyle for enabling me to pull my beloved 30-pin dock out of the trash pile.