Potpourri 2
Three quick glimpses into what's hot in the convergence world.
I don't talk much about my one and only year at NYU Business School (short version: not a good fit), but I did learn this: Making a successful product is only the beginning. To survive and thrive, manufacturers need to enhance, improve, and give consumers the added value and new features that will keep them coming back. Here then are three essential pieces of audio gear from Logitech, Creative, and Apple; refreshed, redesigned, and rethought for an ever-changing market of technophiles.
Apple iPod nano
If MP3 was originally an "outlaw" format, the Apple iPod was the first product line to bring status to the technology. Now, it's a must-have lifestyle accessory in a sea of competitors. With an uncluttered design and a winning user interface, iPod helped even computer illiterates embrace digital music. The models have evolved quickly to offer smaller form factors, photo display, and now even video on some models. While it lacks the video playback, the flash-memory-based iPod nano is a real sliver of a device. Flash-based players can't hold as much music as hard-disk-drive players. However, since flash-based players have no moving parts, they're more stable during rigorous activity and more reliable overall. They need no spin-up time and therefore provide faster data access. Plus, the nanos typically enjoy longer battery life. I absolutely could not make the iPod nano skip, as you would expect from a player without moving parts.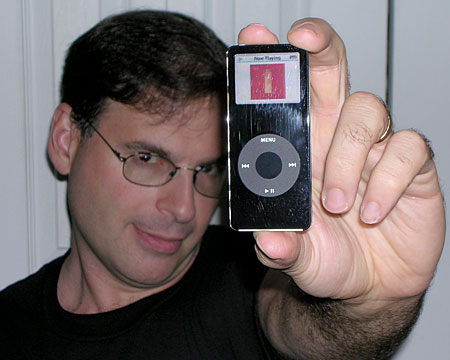 Unlike Apple's first flash-based player, the iPod shuffle, the nano has a display, a backlit color screen measuring 1.5 inches diagonally with a 176-by-132-pixel resolution. Storage capacity is also up from the shuffle: The nano comes with 2 or 4 gigabytes, in a package that is smaller than a business card, wafer-thin, and only 1.5 ounces. The non-user-replaceable lithium-ion battery charged in less than the purported three hours and lasted every minute of twelve hours of nonstop use. It requires a high-power USB 2.0 port, and it comes with a USB cable for charging and transfers. An optional cable will connect to FireWire for charging only, or you can use an optional iPod USB power adapter for more direct AC charging. Also bundled with the nano are a pair of Apple's distinctive white earbuds and an iPod dock adapter to mate with various iPod accessories, such as a host of home-audio systems.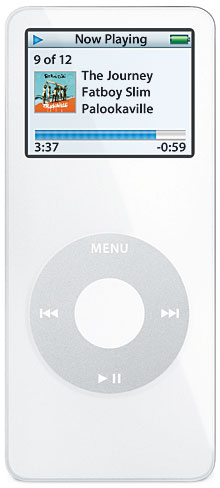 The iPod nano worked seamlessly with iTunes. It loaded songs in less than one second each, soon giving me a sense of just how vast 4 GB can be. (The software CD carried the latest version of Apple's music software.) Using iTunes, I easily located all of my digital photos, optimized them for display on the small screen, and transferred them to the player. Before I knew it, I was creating slide shows in the palm of my hand—with musical accompaniment. The nano also displays album cover art, if available, in a variety of sizes.
While the tiny shell and sensitive click-wheel navigation were sometimes a challenge to my oafish hands, I am still marveling at the nano's physical beauty and its quality—and at how Apple managed to squeeze so much entertainment in there.
• 2 GB $199, 4 GB $249
• www.apple.com/ipod
Creative Sound Blaster X-Fi Elite Pro
This is certainly the most impressive sound card in Creative's long and illustrious history, and it is perhaps the finest consumer-grade sound card ever released. Their Sound Blaster X-Fi (Xtreme Fidelity) promises performance in the realm of true audiophile-quality CE componentry. Creative maintains all of the benefits of their previous Audigy sound card line, namely Dolby EX, DTS ES, and Neo:6, as well as DVD-Audio support for up to seven speakers and a subwoofer. A variety of permutations of the X-Fi technology ranging from $130 to $280 address everyone from MP3 music fans to high-end gamers. I reviewed the THX-certified X-Fi Elite Pro, the top-end configuration that pairs their best card with their best breakout box, for Windows XP (Service Pack 2) PCs only.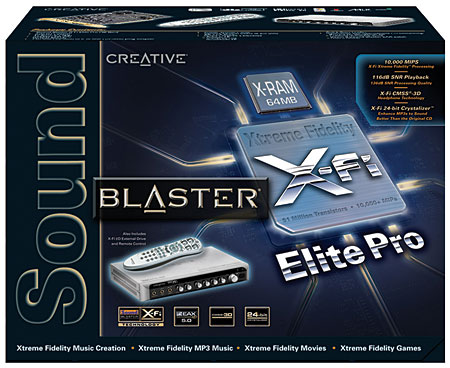 With proprietary technologies that work faster at these specific tasks than a Pentium 4 processor, X-Fi's 24-bit Crystalizer upsamples individual tracks to true 24-bit/96-kilohertz sample rates. Plus, X-Fi CMSS-3D (Creative Multi-Speaker Surround) executes a "smart" remix of stereo to 5.1 channels. Perhaps best of all, X-Fi can carry out both of these enhancements simultaneously—and on the fly.
Compressed video files benefit, as the processing techniques know to send dialogue to the center channel, ambience to the surrounds, and so on. Even DVDs that were not mastered for true 5.1 are rendered with a new, Hollywood-esque mix. Onscreen settings match the operations to your specific gear, be it a 7.1 speaker setup or simple headphones, which themselves can now deliver a convincing surround experience. The SuperRip application of the Creative Media Source 3 software can also enhance the creation of new MP3s, forever changing the fidelity of tracks at the time of capture.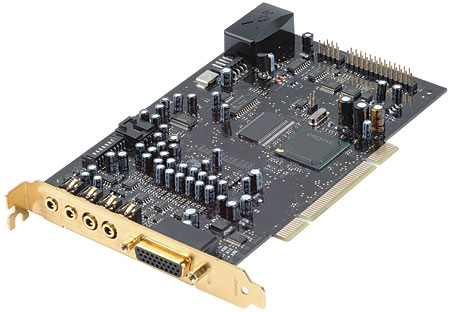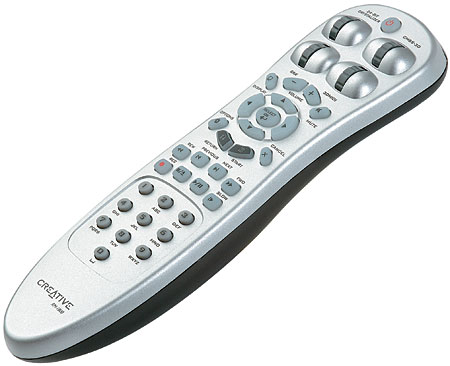 The digital-to-analog converters yield a signal-to-noise ratio of 116 decibels, while 64 megabytes of onboard X-RAM dedicated audio memory enable superior gaming performance on even the newest and most demanding titles. You can control all the functions via a mouse and a keyboard. The large X-Fi I/O console also supplies hard control knobs for the CMSS-3D, the 24-bit Crystalizer, volume, and more. There's also a full complement of connectivity in front and back: MIDI, digital coaxial, and digital optical inputs and outputs, analog stereo with a switch to set phono levels, DIN connection, plus a trio of 0.25-inch TRS jacks for microphones and headphones. And, as expected, the included RM-1800 is one of the most sophisticated remotes I've seen for anything, ever.
• $400
• (405) 742-6655
• www.soundblaster.com
Logitech Z-5450 Digital 5.1 Speaker System
Consistently, Logitech has manufactured some of the best-performing 5.1 multimedia solutions I've evaluated: hearty speaker suites with mighty subwoofers and ample built-in decoding options, some even boasting THX Multimedia certification to remove all doubt. While 2004's Z-5500 Digital might have taken this configuration as far as it could go, the next frontier was wireless surround speakers, the gotta-have-it feature for cluttered desktop scenarios, where style and simplicity are always welcome.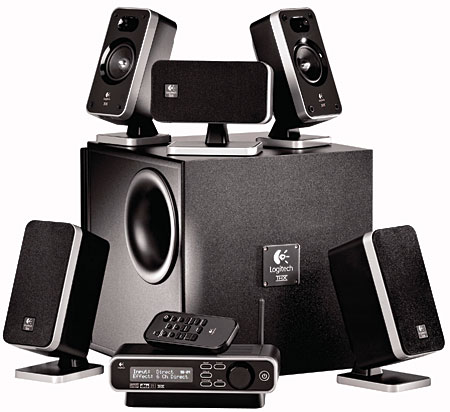 The new Z-5450 Digital delivers all of its predecessor's key features: hardware decoding for Dolby Digital, Pro Logic II, DTS, and high-resolution DTS 96/24. The hardware has been sleekified yet again. The nifty black satellites incorporate 2.5-inch drivers with aluminum phase plugs that pull double duty, covering the range of both the tweeters and the midrange drivers. The dual-chamber, band-pass sub with a 6.5-inch driver plays low and loud. Total system power is down from Logitech systems past, but this one efficiently uses the 315 total watts RMS, so I can still recommend the Z-5450 for desktop home theaters.
The compact, horizontal Digital SoundTouch Control Center is the new brain of the system, where all of the components are connected. It includes rear-panel inputs for two digital optical sources, one digital coaxial, one six-channel direct (via three stereo miniconnectors) for SACD/DVD-Audio or three separate analog stereo components. There's also another analog stereo mini input on the side panel to easily patch in portable devices. A wireless remote controls it all.
Setup of the wireless surrounds is automatic upon initial installation. The instructions state that reconnecting in times of trouble is a painless process involving a paper clip. I never found out, though, as mine operated without incident. This first-ever THX-certified wireless surround multimedia speaker sys-
tem relies upon adaptive hopping between all 38 available channels in the 2.4-gigahertz range, and redundant transmissions ensure uninterrupted entertainment. When needed, the system sends the signal twice, once on each of two different channels. The signals are compressed before transmission, with less than a 20-millisecond delay from front to rear. Logitech's proprietary technology uses a low-latency 48-kHz sample rate; therefore, it downsamples any 96-kHz streams to 48 kHz for the surrounds only. Each of the surrounds has an internal amp and thus requires AC connection.
At $500, this is Logitech's most expensive audio solution to date. It has outstanding sonic quality and a hot new wireless technology that combines dependability and enjoyably natural sound.
• $500
• (800) 231-7717
• www.logitech.com