Poll Results: Action/Adventure Movies Rule the Demo; HT Readers Recommend Their Favorites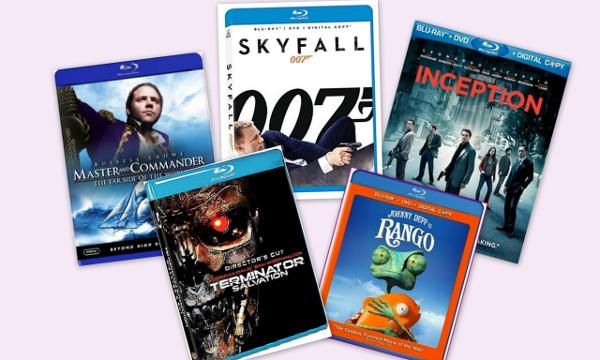 The results of last week's survey are in. We asked what type of demo material you use to impress unsuspecting friends and family and action/adventure movies were the runaway winner capturing more than half of the votes. Computer animated movies were a distant second with 22 percent of the votes, followed by concert videos with 10 percent and current hit TV shows with 8 percent.
Here's the breakdown:
1. Action/adventure movie – 57% (559 votes)
2. Computer animated movie – 22% (216 votes)
3. Concert video – 10% (102 votes)
4. Discovery Channel-type documentary – 8% (83 votes)
5. Palladium, the high-def music channel – 2% (20 votes)
6. Current hit TV show – <1% (4 votes)
7. Reality TV show – 0% (0 votes)
Stay tuned for our next poll and feel free to suggest topics/questions.
Demo Material Recommended by Fellow Enthusiasts
Here's a compilation of demo recommendations from fellow enthusiasts, the overwhelming majority of which fall into the—you guessed it—action/adventure genre. We've included links to our Blu-ray reviews, most of which were done by Home Theater equipment reviewers, David Vaughn in particular. Enjoy and keep the conversation going. There are more demo nuggets to mine.
Blade
The Dark Knight (two mentions) – Opening scene [Click here for David Vaughn's review.]
Open Range – Cited for its DTS soundtrack on DVD (yes, DVD)
Flight of the Phoenix – Crash scene [Click here for Tom Norton's review.]
Inception – The title sequence [Click here for David Vaughn's review.]
The Incredibles (two mentions) – Most all action sequences [Click here for David Vaughn's review.]
Kung Fu Panda – Escape scene [Click here for David Vaughn's review.]
Lawrence of Arabia – A beautiful transfer [Click here for our review.]
The League of Extraordinary Gentlemen
Lord of the Rings: The Fellowship of the Ring [Click here for David Vaughn's review of the Blu-ray extended edition of The Lord of the Rings Trilogy .]
Lost in Space – The 1998 movie (not the cheesy 1960s TV series) was cited for its action-packed opening scene
Master and Commander: The Far Side of the World – Esappy called the entire high-seas adventure a "top notch demo" but singled out the scene when men are scrambling to quarters: "...you not only hear them running around you, but you can actually hear them running ABOVE you. And that is without having extra height channels." [Click here for Kris Deering's review and unique perspective on the movie's demo qualities.]
The Matrix Click here for David Vaughn's review of 2008's The Ultimate Matrix Collection.
Mission: Impossible - Ghost Protocol [Click here for our review.]
Predator Click here for David Vaughn's review of the Ultimate Hunter Edition released in 2010.
Public Enemies– Shootout scene in the forest [Click here for David Vaughn's review.]
Rango – Scene where they're walking through the caverns with torches [Click here for Kris Deering's review.]
Ratatouille – Described as "brilliant, vibrant animation" with stunning detail [Click here for Tom Norton's review of two Pixar movies and a collection of shorts.]
Speed – The first bus explosion [Click here for our review.]
Skyfall [Click here for our review and here for the story behind the Skyfall's thrilling soundtrack.]
Terminator Salvation – Giant robot sequence [Click here for our review.]
Transformers
Tron: Legacy [Click here for David Vaughn's review.]
X-Men: First Class [Click here for 10 great comic book movies on Blu-ray, including this one.]
Underworld
Other miscellaneous mentions:
Game of Thrones, the HBO fantasy drama series
Hell Freezes Over, live performance of the Eagles on DVD-Audio – "Hotel California"
Michael Jackson's This Is It – The Thriller sequence [Click here for David Vaughn's review.]