Polk SurroundBar 6000 Soundbar Speaker System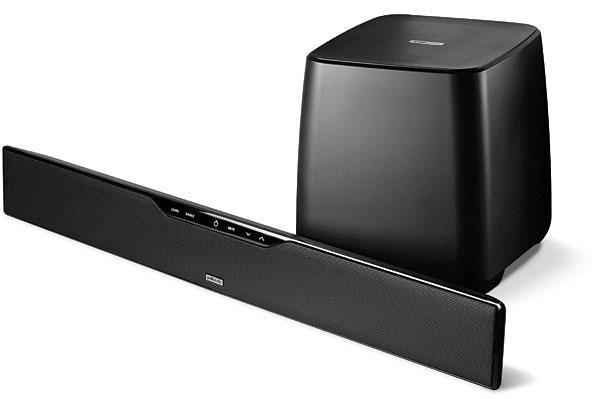 Price
: $500
At A Glance
: Self-contained soundbar with wireless sub • Proprietary Polk SDA and Digital Logic processing • Relatively few user controls
Mellow Bar
As I've noted so many times in the recent past, soundbars are a viable step up from horrific built-in HDTV speakers, which have only gotten worse as flatpanel HDTVs have gotten flatter. Soundbars are especially suitable for people who don't like component audio systems, with their speaker-placement requirements, cabling, and—perhaps the ultimate deal breaker for the flat-panel-owning Luddite—the need to be mated with one of those scary man-eating A/V receivers. But what if there's a second deal breaker lurking in the bushes?
I'm talking about complexity. Granted, compared to the average AVR, the average soundbar isn't much of a challenge. Even the ones with various kinds of real or faux surround processing typically offer just a few listening modes and are easy to set up. But what if even that small selection of options requires more experimentation, manual reading, and decision making than some folks would tolerate?
Meet Polk Audio's SurroundBar 6000 Instant Home Theater. Look at the tiny remote. It has buttons for power, volume, mute, subwoofer level, and three-way source selection. That's all. No surround versus stereo, no cinema versus music, no wide versus narrow, no tone controls, nothing, nil, nix, nada, null, naught, goose egg, zero, zilch, zip, zippo. (Tip of the hat, chapeau, lid to synonyms.net.)
Three Feet of Bar
The SurroundBar 6000 is 35 inches wide and most likely suitable for flat-panel HDTVs 40 inches and up. Some people find it disconcerting to juxtapose a soundbar with an HDTV that's not as wide, although your gaming-obsessed kid probably won't care if the soundbar is wider than his bedroom set. Measure the width of your HDTV and give that some thought.
Inside the unit are four drivers that, in various combinations, reproduce the left, center, right, surround left, and surround right channels. The surround effects rely on Polk's Stereo Dimensional Array (SDA) and Digital Logic technologies. My contact explained: "SDA effectively improves breadth of acoustic image and spaciousness of the FL/FR and SL/SR channel pairs embedded in the program material. Digital Logic pertains to the suite of DSP by which we control acoustic response magnitude, acoustic output capability, and further expand acoustic imaging breadth and spaciousness (beyond SDA). Center-channel performance—specifically clarity/intelligibility—is a byproduct of several factors, including some of the Digital Logic parameters."
You can learn more about SDA, as described by the now-retired Matthew Polk himself, from my review of the Polk SurroundBar 360 (Home Theater, January 2009), one of the finest soundbar speakers I've ever heard. The SurroundBar 360, which is now somewhat dated, comes with an integrated DVD player (not Blu-ray), while the product reviewed here has no drive and functions only as a self-amplified speaker system.
The two-piece SurroundBar 6000 is easy to set up. Either wall-mount it or just plop it on a table in front of your HDTV, as I did. Raise it as close to the bottom edge of the screen as possible. Besides binding the soundstage to the screen, this also gives your ears a better shot at hearing the soundbar on axis in most listening rooms. It sounds clearer and more coherent that way.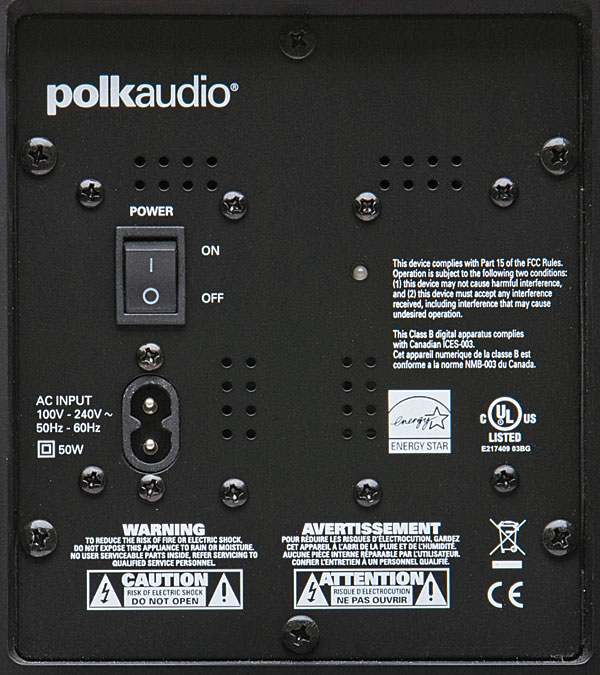 Even a few inches can make a difference. If you do wall-mount it, via a pair of keyhole slots on the back (remarkably, it weighs less than 5 pounds and measures just 2 inches deep), you can peel off the little rubber feet that support it on a surface for a nice clean look.
The Polk's 7-inch wireless subwoofer is ensconsed in a compact plastic enclosure that measures about a foot all around. You won't likely have a problem mating it with the soundbar.
They paired effortlessly when I connected their power cords and switched them on. That leaves only one more connection. Polk recommends that you use a digital optical cable from your HDTV's audio output—and thoughtfully provides a 6-foot optical cable for that purpose. In this setup, the HDTV assumes the role of A/V switcher, and all of your source components plug into the HDTV. The soundbar also has two analog stereo mini-jacks, and you can easily select any of the three inputs from the remote. I chose to use the direct optical connection from my OPPO BDP-83SE universal disc player to the soundbar.
The soundbar has built-in Dolby Digital decoding from its digital input and accepts anything from a two- to a 5.1-channel input. There's no comparable DTS decoding. Most DVDs have Dolby Digital 5.1 soundtracks, and those with DTS 5.1 usually provide Dolby Digital 2.0 as an alternative. Blu-ray is a little thornier: The dominant soundtrack is usually DTS-HD Master Audio, with Dolby Digital 2.0 used for foreign-language and commentary tracks. To solve this on problematic discs, I instructed the OPPO to output a PCM stereo (as opposed to bitstream) signal, which worked consistently with all movie and music content.

SPONSORED VIDEO