Polk Audio Introduces $499 MagniFi 2 Soundbar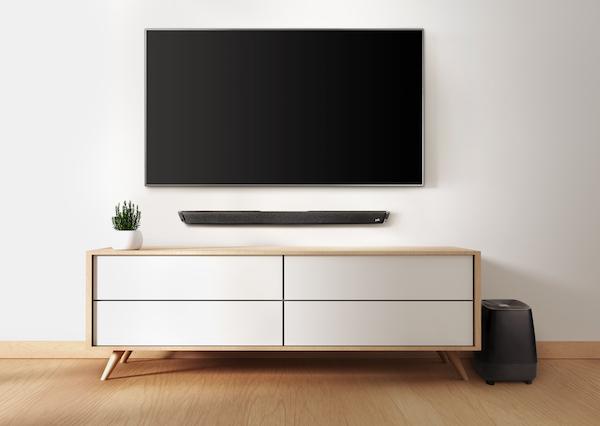 The latest soundbar to emerge from Polk Audio is the $499 MagniFi 2, a 2.1 model featuring a six-driver array (four 1-inch by 3-inch full-range drivers, two 0.75-inch tweeters) and an 8-inch ported wireless subwoofer. It also features Chromecast built-in and Bluetooth for audio streaming. But what's most notable about the MagniFi 2—aside from its affordable price—is the inclusion of the company's patented Stereo Dimensional Array (SDA) technology, along with a new 3D Audio Mode that works with SDA tech to "create even more convincing immersive surround and height effects," according to the company.
Here are the details from Polk Audio's press release:
3D Audio mode is the newest DSP advancement from Polk Audio. It employs 3D-specific DSP settings from Polk Audio's Stereo Dimensional Array technology, an acoustic means of cancelling interaural crosstalk, to enhance the front, surround and low frequency channels in a 5.1 soundtrack. When this technology is applied to the front and surround channels on the MagniFi 2, the listener perceives an extremely wide sound stage, engulfing surround sound and convincing height effects. Bass response is also weightier and more impactful as a result of applying the advanced 3D listening mode.
Connectivity options on the MagniFi 2 include three HDMI 2.0 inputs and one HDMI ARC output, plus an optical digital input. Both HDMI and optical cables are included. Along with Chromecast built-in to stream music from compatible apps including Tidal, Spotify, and others, Polk Audio's latest soundbar works with Google Assistant for voice control of track playback and volume adjustment functions. Polk says that the MagniFi 2 also has built-in support for Samsung, LG, Vizio, TCL, and Sony TV remotes for volume control, and that its IR Learn feature allows it to work with other TV remotes if the codes aren't already built in.
The MagniFi 2 will be available for purchase in August 2020 from Polk Audio's website.