Plantronics BackBeat GO 3 Wireless Earbud Review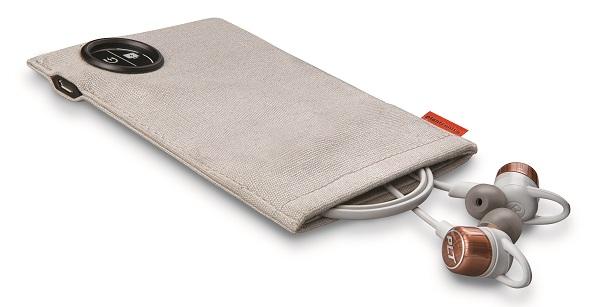 Absolute power corrupts absolutely; lack of power is just freakin' annoying. The new Plantronics BackBeat GO 3 is a wireless, sweatproof earbud that solves the lack of power problem in a unique and clever way. The carrying case has a built-in rechargeable battery that provides the power for up to two recharges, giving the Backbeat GO 3 an extra 13 hours of playback. That's the kind of power a girl could get used to.
The BackBeat GO 3 ($100, $130 with charge case) is the latest from Plantronics, known more for headsets than headphones, but they're slowly becoming a contender in the crowded earphone space. Kudos to them for adding a unique feature or two to stand out from the fray. The GO 3 is nano-coated with a special substance that makes it very resistant to sweat and even a light rain shower—however, they're not waterproof. No swimming with these bad boys on.
It connects via Bluetooth and pairing is activated immediately upon powering up the earbuds. Power and volume are located on the inline controls. That's also where the microphone is for taking calls and using voice control. Being a Plantronics product, phone functionality is exceptional, and call clarity was great.
The BackBeat GO 3 has up to 6 hours of playtime on a single charge. As mentioned earlier, the charging case offers an additional 13 hours of charging, and the case can also be used to charge your phone or other portables via the built-in micro USB plug. Pretty nifty, if you ask me.
The GO 3 earpieces have a non-adjustable soft plastic loop that lets it hook into your ear for a secure fit, essential for active users. With the sweatproof coating, these are great for the gym, where wires are always a bother. I tried it on the elliptical and they stayed put even during some vigorous intervals. The GO 3 also comes with three sizes of eartips so you can get a comfortable fit, but more importantly, gets the best bass response. A little PSA here: always try another size even if the ones you first try feel okay, just to be sure you're getting the best sound possible.
The BackBeat GO 3 has an interesting sound. There is a slight harshness in the upper mid-range. It was most evident on the guitars and female backing vocals on Adele's "Send My Love (To Your New Lover)" and but really only bothersome at very loud listening levels. The upper ranges on her voice on "When We Were Young" also show this drawback. It is quite bright but there is a nice amount of bass. The bass was pleasant on more acoustic mixes like the new Mumford and Sons release. The overall sound might be too bright for some users, but playing around with the different eartips might help give a better bass response and overall, a more balanced response.
The BackBeat GO 3 is a handy set of earbuds. As someone who routinely forgets to charge up her electronics, I love the idea of a carrying case with charging capabilities. I always seem to remember to charge my phone, but my bike computer, FitBit and other gear always end up dying halfway through a long ride or workout, and I just don't bother with most rechargeable earbuds because they're always dead. Instead of having to charge the GO 3 up immediately after getting back from the gym or a ride, I can get away with charging every couple of days if I remember to also charge up the case. With so many products entering the wireless market, the BackBeat GO 3 from Plantronics has just enough of an edge with its sweatproof coating and the charging carrying case to make them ones I'll keep around as part of my daily gym routine.