Pirates of the Caribbean: Dead Men Tell No Tales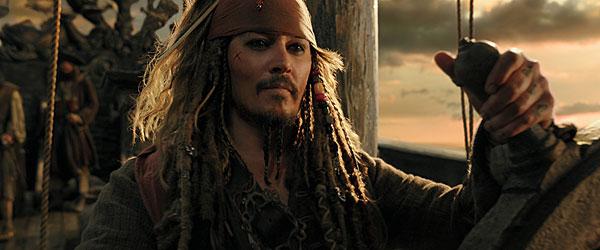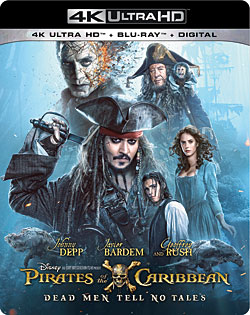 The plot is superbly ridiculous, and despite all this, I thoroughly enjoyed it. Johnny Depp and Geoffrey Rush reprise their iconic roles as Captain Jack Sparrow and Hector Barbossa, but seriously, could you even have a Pirates movie without them? As the cursed Captain Salazar with a murderous vendetta against Sparrow, Javier Bardem amply follows the distinguished line of thespians like Bill Nighy and Ian McShane in the token role of the deliciously psychotic villain. But the cherry on top has to be the delightful cameo of ex-Beatle Paul McCartney appearing as Sparrow's imprisoned Uncle Jack. "If they disembowel you, ask for Victor. He's got the softest hands." Classic.
Both the 4K UHD and standard HD discs tout excellent picture quality with remarkable sharpness and clarity throughout. HD suf- fers slightly from intermittent motion blur and strobing issues and a consistently artificial look. Daylight exteriors look like they were shot on Hollywood backlots, and interior sequences are noticeably overlit. Advantage ultimately goes to the 4K version for its subdued color scheme and more realistic appearance. This world looks lived in, and the green-screen special effects are more seamlessly integrated with their live-action counterparts.
The Dolby Atmos track on the 4K disc also surpasses the 7.1 DTS-HD Master Audio of the HD version. Both mixes give plenty of punch in all the right places, but the Atmos has the edge with a clearer separation of background elements like seagulls and crashing waves.
Bonus content is on the standard HD disc and includes a wealth of featurettes that accumulate to over 45 minutes, covering the making of the film and the culmina- tion of the entire series. There's also a gag reel, deleted scenes, and a meager Jerry Bruckheimer photo diary. Digital Copy included. If this is indeed the final instal- lment in the series, then Dead Men Tell No Tales is a suitable and fitting finale to the popular franchise.
Blu-Ray
Studio: Disney, 2017
Aspect Ratio: 2:40:1
Audio Format: Dolby Atmos, DTS-HD Master Audio 7.1
Length: 129 mins.
MPAA Rating: PG-13
Directors: Joachim Ronning & Espen Sandberg
Starring: Johnny Depp, Geoffrey Rush, Javier Bardem
I typically tend to bash films that rely on hackneyed plot devices and laughably implausible action sequences, and Disney's latest escapade in their beleaguered Pirates of the Caribbean franchise is guilty on all charges. The entire series has anchored its plot lines to a host of supernatural elements like cursed pirates, leviathan sea monsters, and homicidal mermaids. Tales throws more gas onto the fire with killer ghost ships, zombie sharks, and the fabled Poseidon's Trident, a mythical object that can break all known curses, so naturally, everyone wants it.