Pioneer SP-PK22BS Speaker System

Price
: $450
At A Glance
: Affordable designer speakers • Second gen with improved parts • Clearer, meatier sound
Twice a year, New Yorkers revel in Restaurant Week. Penny-pinching diners flood into customarily high-priced restaurants to enjoy fixed-price menus fit for the immortals. For a few brief, shining moments, economic class distinctions break down, and ordinary middle-income people get to invade ritzy spaces normally occupied by credit default swappers and supermodels, to sit down and eat like Zeus. Wouldn't it be great if Restaurant Week could be every day, everywhere? Wouldn't it be great to always get more than you pay for?
As it applies to audio products, this is an idea I normally militate against. I don't want my readers to believe in fairy tales. There are good reasons why a $2,500 A/V receiver outperforms a $250 budget model: It probably has higher power and lower distortion, among other things. And it's the same in loudspeakers. More money can buy you better parts and superior build quality, which a good designer can translate into higher performance. And most of the highest-performing products are sold through A/V specialty channels, far from the madding crowds of the big-box retailers.
But what would happen if one of the most gifted designers could command the vast resources of a large company to fashion loudspeakers specifically designed to sell through mass-market channels while beating the pants off other products sold through those channels? What if he could get sweet deals on the kind of parts and manufacturing processes that really improve sound—and bring those potentially audible benefits to the masses? What if his prime directive were to offer the big-box-store shopper more performance for less money? Folks, it's happened. In fact, it's happened again.
Once More With Feeling
Andrew Jones was an engineer for KEF and Infinity before he turned his attention to Technical Audio Devices, a subsidiary of Pioneer. The EX Series speakers he's designed for Pioneer are heavyweights that can hold their own with high-end competitors at any price. However, starting with last year's SP-BS41-LR and its siblings (Home Theater, June 2011), he began directing some of his attention to speakers that can mate with A/V receivers—even inexpensive ones—and attracted rave reviews both here and elsewhere. This year's SP-BS22-LR monitor, SP-C22 center, and SW-8MK2 subwoofer might be thought of as Affordable Andrew Jones II.
The new speakers retain the approximate size and shape of the old ones, though the monitor is half an inch shorter, and the center has lost more than an inch and a half of its width. Those curved sides are an important part of the story. They're made of medium-density fiberboard sheets that are heated, softened, and pressed by aluminum plates. The resulting shape, which curves inward toward the back, helps reduce bass-bloating standing waves within the enclosure. In a speaker that aspires to decent bass response, standing wave reduction is a good thing. However, this year's enclosure is different in other respects. The old design with individual metal grilles has given way to more conventional fabric grilles, which can be removed if you want a slightly brighter sound.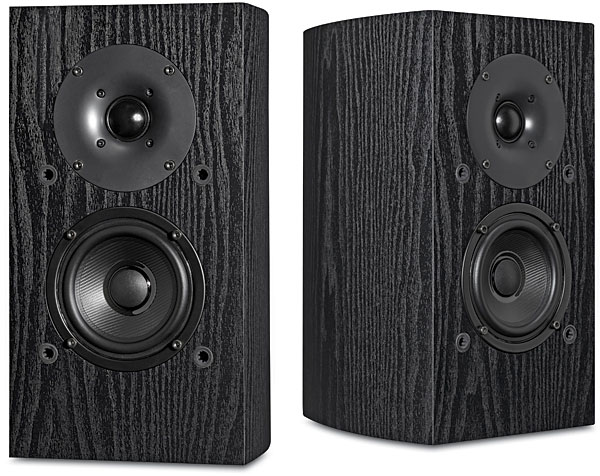 While the 1-inch silk-dome tweeter appears unchanged on paper, the dome itself is different, as are the enlarged magnet behind it and the waveguide designed to reconcile its on- and off-axis response. The old model's 5.25inch polypropylene-coned driver has given way to a 4-inch driver with a cone made of structured-surface polypropylene, which is said to be stronger, for better dynamic bass, and smoother, for more accurate midrange. Spoiler alert: I hadn't absorbed this part of the literature when I first demoed the speakers. Yet I was struck by the monitor's and center's muscular bass—despite the smallish woofer—and their well-defined midrange.
The SP-C22 center has a similar tweeter and two of the woofers in a horizontal enclosure. The new SW-8MK2 sub still has last year's 8-inch polypropylene-strengthened paper-coned driver, firing down with a port facing front, in an enclosure of identical size. The only difference is that it's CARB-2 compliant, which refers to California state regulations on formaldehyde emissions in composite-wood products.
Associated equipment included (fittingly enough) a Pioneer Elite VSX-53 A/V receiver, Oppo BDP-83SE universal disc player, Lenovo Windows 7 laptop, and—to improve the performance of high-resolution audio files played through the computer—a Wadia 121 digital-to-analog converter. While CDs, LPs, and various high-res disc formats will always be a large part of my listening diet and review arsenal, I've begun adding high-res files to reflect a tectonic shift in the way many readers listen to music. All A/V demos were on Bluray Disc with DTS-HD Master Audio soundtracks.
What Changed?
In my review of the Pioneer SP-BS41-LR, I concluded: "While these modestly priced speakers haven't altogether abolished the immutable truth of price/performance ratio, they have bent, massaged, and finessed it to the extent humanly possible." Reader Rex41 added in a comment to the online version of that review: "These speakers are great. They work for both music and movies. The bass response is excellent. The better the amplifier you hook these up to, the better they sound."