Pioneer Shows Off 50" and 60" Kuro Plasmas
Pioneer just had a press conference in Tokyo, introducing two new KURO plasma displays. The KRP-600A (60-inch) and KRP-500A (50-inch.) Both have Full HD resolution and are designed, according to Pioneer, to produce blacks five times deeper than the previous KURO models. Now, that's black!
These new KUROs feature a digital TV tuner, KURO link, Pioneer's Advanced Direct Color Filter, and Optimum and Director Mode. It has inputs galore: 4 HDMI, 4 audio ins, 3 D4 inputs, 3 video inputs, and RGB inputs.
The lucky folks at Akihabara News got to see them in person. See what they had to say.
"During the press conference, we were plunged into darkness in order to admire the KURO panel's quality, and indeed, the black colors were very deep, causing you to forget the TV."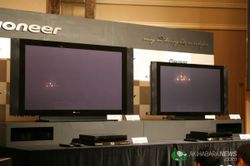 Apparently, they couldn't see where the TV stopped and the room began. Nice...
These blacker beauties don't come cheap. The 60-inch model will run about $8,830 and the 50-inch will go for about $6,310. The prices were quoted in yen. Let's hope the dollar improves soon. -Leslie Shapiro
All images and report courtesy of Akihabara News
LATEST VIDEO
WHERE TECHNOLOGY BECOMES ENTERTAINMENT