Pioneer Elite VSX-91TXH AV Receiver
Even lower priced Pioneer Elite models appear rich and substantial. Pioneer's Elite models are to Pioneer as Lexus is to Toyota. According to Pioneer, the driving force behind Elite A/V receivers is uncompromising sound quality, impeccable design, and the most sophisticated digital processing.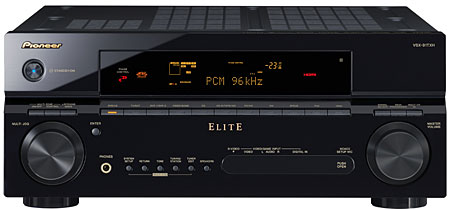 The VSX-91TXH is not as well outfitted as the more extravagant models in the Elite series, yet it still offers an abundance of state-of-the art features and performance that belies its $999 price tag. The VSX-91TXH AVR offers every conceivable surround format, plenty of power for a full 7.1-channel home theater system, automatic set up and room EQ, HDMI switching, and a striking appearance anyone would be proud to display in his/her entertainment center.
Description
The Pioneer VSX-91TXH incorporates seven channels of amplification rated to deliver 110-watts per channel. If you are not using the back surrounds for a 7.1-channel system, you can use those terminals to either bi-amp the front left and right speakers or to power an extra pair of speakers for a second audio zone in another part of the house.
The inputs and outputs on the rear panel are probably more than enough for the average A/V system, although it only includes two HDMI version 1.3 inputs (along with a single HDMI output). There are also four component inputs. The Pioneer can convert all incoming analog video signals to HDMI or component, so you can easily switch all your video sources through a single connection to your TV.
The lack of video upconversion is a major omission in the VSX-91TXH and a big reason it is under $1k. Today's video display devices all have some form of video processing, so this isn't necessarily a major negative.
On the audio side, there are two coax and three optical digital audio inputs and a set of 7.1-channel analog inputs is also provided. Zone 2 audio is accessed via the Zone 2 L/R line level outputs and an external amplifier is required if all the internal channels are being utilized in the main system.
With the optional Pioneer IDK-90C iPod Control Dock ($199) you can navigate your iPod through the OSD. In addition to an AM/FM tuner, the VSX-91 supports digital radio by providing connections for external XM Radio and Sirius tuners.
Surround Galore
In addition to all the usual Dolby Digital and DTS modes, the Pioneer features onboard decoding of both Dolby TrueHD and DTS-HD Master Audio lossless for use with HD DVD and Blu-ray players. Of course, your high-definition source must have the capacity to pass through these two high-resolution bitstreams via HDMI ver 1.3, and that capability is rare at the moment.
The Pioneer does accept multichannel, hi-res PCM over HDMI. Many Blu-ray and HD DVD players have the ability to convert TrueHD to PCM for output over HDMI (and allegedly the ability to so with DTS-HD Master Audio is coming in future players). My Toshiba HD-A20 for example, would not send a native TrueHD bitstream to the Pioneer, but I was able to listen to these lossless tracks at full resolution, converted to PCM over HDMI.
HDMI Woes
I ran the HDMI output from my DirecTV set-top box and Toshiba HD-A20 HD-DVD player to the two HDMI inputs on the VSX-91 TXH. The HDMI output went to my BenQ projector.
It was here that I ran into a bit of a problem. My BenQ PE8700 projector is equipped with a DVI input, not HDMI. Using an HDMI to DVI "breakout" cable from the Pioneer VSX-91TXHI was not able to secure an image or any audio from HDMI sources with this configuration Curiously, if I removed the cable from the AVR's HDMI output, audio came in loud and clear.
Just to verify that the receiver was functioning properly, Tom Norton let me borrow an InFocus 1080p projector that he was in the process of reviewing. Running HDMI from the Pioneer directly to the projector worked perfectly.
According to a Pioneer, the projector was not communicating back to the AVR with a proper HDCP 'key' to unlock the signal, which caused the source to "think" that the receiver was the final destination (not the projector) and terminate the signal at that point.