Pioneer Elite VSX-42 A/V Receiver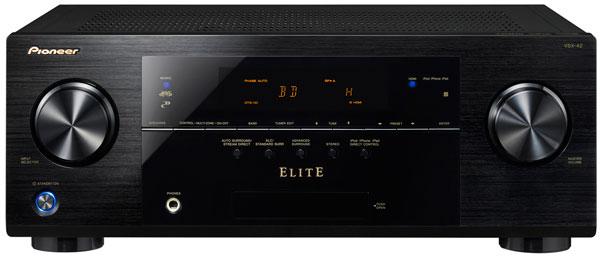 Price
: $450
At A Glance
: Good streaming features • Ample power for a budget receiver • Free iOS/Android control app
Pioneer Electronics has long offered consumers an evolving array of attractive audio/video receivers, from simple, high-value choices to high-end alternatives that serve up the most desirable new features. In the company's step-up Elite line, the extremely affordable VSX-42 is the entry-level model and still relatively new, having debuted just this spring. Pioneer offers non-Elite models that are significantly less expensive, and some much pricier, but the VSX-42 offers a surprising complement of features at a price under $500.
Features
This is a substantial, well-built product. The solid front panel is graced with two knobs, one to select between the various inputs with a gentle but undeniable click, the other to adjust the volume, with a pleasing snugness. The blue LED display clearly reports various bits of pertinent data. One design choice that vexes me is the removable plastic panel that protects the sometimes-used USB/composite video ports for Apple devices (adapter cable included) and the seldom-used room-setup microphone port. This little plastic rectangle seems destined to be broken or lost.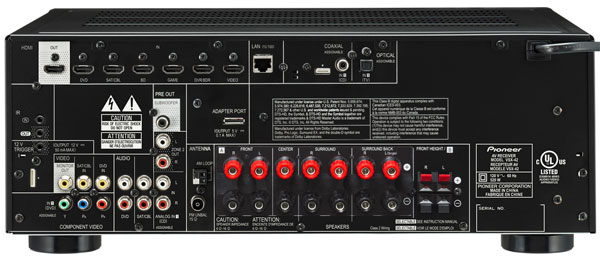 Around back, we find the fairly standard-issue red and black plastic binding posts for the seven channels, which can accept bare wire or banana plugs. Speakers with a nominal impedance between 6 and 16 ohms are recommended, and so I called my go-to suite of Klipsch Synergy speakers to active duty. For my review, I used banana-terminated Straight Wire Musicable to connect the front channels, and the company's WaveGuide cables for the surrounds. A generous array of six 3D-ready HDMI 1.4 inputs is provided, and here I connected my components with Straight Wire ConX CHE HDMI cables.
The VSX-42 also supports a second audio zone if desired, but strictly with RCA analog outs feeding a separate amplifier. Unlike many AVRs—including Pioneer's pricier models—you can't dedicate the back-surround amplifiers for Zone 2 speakers, though they can feed a second room as B speakers that will mimic whatever is on in the main room. The difference is in the ability to select independent sources for the Zone 2 output and independently control the volume.
As we should expect at this price point, no S-video or phono inputs are provided, and no multichannel analog ins or outs. However, Pioneer does provide onboard video processing with an Anchor Bay chip that cross-converts standard-definition legacy sources and upscales them up to1080p for the receiver's HDMI monitor output. This allows a single connection from the receiver to the TV.
At this stage of the high-def game, we've come to expect Dolby TrueHD and DTS-HD Master Audio decoding, and both are here with 7.1 channels. Power-wise, the VSX-42 is specified to offer a respectable 80 watts continuous per channel into 8 ohms (rated with two channels driven; see our test-bench results for the all-channels-driven power output).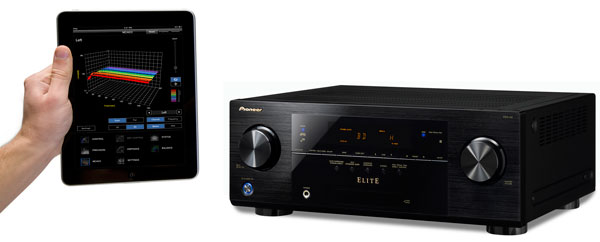 The receiver is certified for DLNA and Windows 7, so it plays well with a home server if you wish to stream content on a local network. The Ethernet port also enables it to provide sophisticated Internet radio options from Pandora and vTuner. Even more impressive, this is an official "Made for iPod/iPhone/iPad" device, with built-in support for AirPlay, Apple's premium wireless link, implemented here for audio only. An optional Bluetooth adapter can be added to link with other brands of smartphone and other wireless media players.
User Interface


The included remote is sufficiently straightforward and can be programmed to operate the TV and a source component. A free remote-control app is available for Apple and Android devices, and a network-connected VSX-42 is automatically discovered, at which time model-specific product data is then downloaded to customize the app.
I was suspicious of how good the iPhone-version remote would be, worried that I would need to flick between endless pages to get to the specific controls I wanted. But it's actually a pretty clever layout, albeit quite different from the receiver's included physical remote. Once you've completed the system setup process, you can probably rely upon the app almost exclusively for day-to-day use.
In general, I found the onscreen menu system to be fairly standard relative to most receivers I've tried, allowing me to toggle up and down through text lists of the various setup and control options. Everything was more or less where it should be, occasionally illuminated by basic graphics or a brief footnote.
Setup
Right out of the box, the VSX-42 delivered ample volume to all channels, although the peculiarities of my L-shaped home theater pose a challenge for any receiver. In addition to old-fashioned manual speaker setup—with controls for speaker size, crossover frequency, individual channel levels and speaker distance—Pioneer's proprietary automatic set-up and room-correction feature, dubbed "Multi-Channel Acoustic Calibration" or MCACC, seeks to remove the guesswork. You need only plug in the included microphone and place it at ear level in the listening/viewing position then wait for all the beeping and processing to finish.