Pioneer Elite SC-57 A/V Receiver
Price
: $2,100
At A Glance
: Nine Class D amps that sound good • Most fun you can have with a remote smartphone app • Home networking champ, including Apple AirPlay
I'm usually suspicious of celebrity endorsements of audio gear (think Dr. Dre's association with the Beats headphones bearing his name). But the Air Studios logo on the front panel of this attractive-looking, innovative flagship Pioneer Elite A/V receiver represents more than a casual association.
According to a Pioneer spokesperson, engineers working at the famed recording facility started in 1969 by Beatles producer George Martin were actively engaged from the beginning in the sonic outcome of the SC-57's designed-from-scratch Class D amplifiers, of which there are (count 'em) nine inside.
Measurement and listening-based feedback from Air's engineering team helped tune the switching-mode amp's final sound. Numerous prototypes shuttled back and forth between Pioneer and the studio—an enormous multiroom venue where, appropriately, many famous orchestral soundtracks have been recorded through the decades. I toured Air a few years ago, and it's an impressive, even awe-inspiring facility.
I could spend the entire review talking just about this three-zone unit's ultra-flexible configurability, its wealth of features, and the dizzying amount of functionality (some of it actually useful) included in its $2,100 package, and I'll get to most of that shortly. But what's the value of bells and whistles if the power plant is weak and sounds bad? So, first things first.
The Sonic Back Story
As some readers know, Pioneer is among a small number of audio manufacturers releasing highpowered AVRs or amplifiers featuring Class D circuit topology. Among its chief benefits, Class D features a cool-running and energy-saving efficiency that its Class A/B and Class A brethren don't share. Last year's generation, called ICEpower, appeared in the Elite SC-27, reviewed by my colleague Fred Manteghian (Home Theater, March 2010), and it earned an enthusiastic Home Theater Top Picks. More recently, I reviewed Rotel's RMB-1575 Class D amplifier (November 2010) and found it seriously wanting in terms of sound quality.
The SC-57's release was delayed for two years by the combination of Air Studios' involvement in the project and the introduction of new, ultra-low-distortion International Rectifier switching devices that held the promise of creating a low-distortion amp with little or no negative feedback. Waiting for the new semiconductor was key, as the high-frequency filters that previous-generation switching-mode designs used in their distortion-lowering feedback loops were said to cause signal delay that produced phase shift, among other audible problems. Pioneer engineers thought taming the negative feedback could translate into a noticeable leap in sound quality.
According to Pioneer, this new design, which has been dubbed Class D3 amplification, behaves more like a good Class A/B amp. There's a bit more distortion at very low power output, and distortion decreases as the output increases, until, finally, distortion increases again as you approach maximum output. Thus, distortion is minimized at levels where most listening occurs.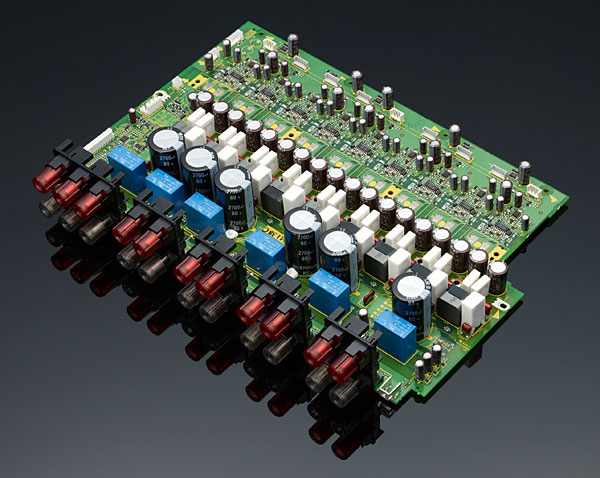 While the story sounded good, I remained skeptical, and not just because of my recent experience with the Rotel. The amplifier power specs in the SC-57's owner's manual seemed a little sketchy: Multichannel simultaneous power output was listed as 810 watts total at 1 kilohertz, with 1 percent distortion driving an 8-ohm load. Continuous power for each amplifier channel claimed to be 140 watts at 1 kHz with 0.08 percent distortion into 8 ohms. Neither was specified across the full 20-hertz-to-20-kHz bandwidth. So, loosely speaking, the AVR is specified to output 90 watts per channel, all nine channels driven simultaneously. But at lower distortion figures and across the entire bandwidth, its output might be somewhat lower.
If it performs as claimed, 140 watts times nine is an impressive amount of power for $2,100. This is especially so considering that rarely, if ever, will you drive all channels simultaneously and continuously. This 39-pound, reasonably compact AVR (heavily weighed down on its left side by a massive power transformer) should be able to effectively drive just about any loudspeaker you're likely to mate it with. As usual, you can check our test bench measurements to see how the SC-57 fared in the Home Theater Lab. (Ed. Note: With seven channels driven simultaneously and continuously, the Pioneer achieved 109.6 watts at 0.1 percent distortion and 123.7 watts at 1 percent distortion. Of course, this test places significantly greater demands on the amplifier than any real-world content. See HT Labs Measures)
Mind-Boggling Feature Set
The THX Ultra2 Plus–Certified SC-57 decodes about every codec known to mankind and also includes a long list of Pioneer's own listening modes for music and cinema. You can configure its nine channels of amplification to reproduce front height or width channels in addition to L/C/R, surrounds, and surround back for a total of 11 speaker connections, plus two subwoofers. There aren't enough channels to run front simultaneous height and width speakers with this arrangement, but you can easily switch between them thanks to dedicated terminals for each. Or you can rejoin the real world and leave room for pictures on the walls.
You can also run 7.2 channels and use the extra two channels to run a remote set of speakers in another zone, or you can run 7.2 channels and biamp the front left and right channels should your speakers allow that. The instruction manual shows two more pages of speaker setup possibilities, in part because there are remote zones to consider.
In a nod to the resurgence of vinyl, the Pioneer includes an integrated moving-magnet phono preamplifier. Also included are a conventional AM/FM tuner with 63 presets and a Sirius Radio tuner port. Via the Ethernet LAN connection (wired or wireless using an optional accessory), you get Internet radio plus music services that include Rhapsody (free 30-day trial), Pandora, and Sirius (Internet subscriptions cost extra if you're a satellite subscriber, or you can purchase them separately). A front-mounted USB port can play MP3s or show photos on a memory stick. It's also iPod/iPad compatible, so you can connect your iDevice via the included cable and control it with the Pioneer's remote. In addition, the SC-57 incorporates a Bluetooth receiver input, so you can stream music from Bluetooth-equipped music sources.