Pioneer Back In Black
Bouncing back from the news that Pioneer is exiting the plasma-panel manufacturing business—Matsushita, Panasonic's parent company, will provide the panels for future Pioneer plasma TVs—the company debuted a new line of upscale, eye-popping products at a press event held May 7 at New York City's appropriately upscale Gramercy Park Hotel.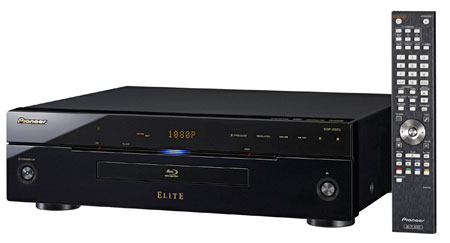 The second—and final—generation of Pioneer-built Kuro panels includes Pioneer and Elite 1080p models in 50- and 60-inch sizes and a new Elite Signature Series. The new sets produce black levels claimed to be five times deeper than first-gen Kuros. Pioneer also debuted a 1080p Elite D-ILA (LCoS) front projector based on JVC technology. The new projector will carry the Kuro moniker and sell for $9000.
Prices for the Pioneer line of plasmas are $4000 for the 50-inch PDP-5020FD and $5500 for the 60-inch PDP-6020FD, both of which include a 1-year warranty. The Elite models will set you back $5000 and $6500 for the 50-inch PRO-111FD and 60-inch PRO-151FD, respectively, which come with 2-year warranties. Both series include built-in ATSC tuners and will ship this June.
The new, limited-edition 50-inch PRO-101FD and 60-inch PRO-141FD Elite Signature monitors (prices not available at press time) are designed specifically for the custom-install market and will have their own IP addresses, allowing for remote ISF calibration and dealer diagnostics. Both models will be built using hand-selected parts and hand-built sub-assemblies, and they will undergo an ultra-rigorous inspection process designed to produce superior results. An accompanying certificate will vouch for the authenticity of the product.
Two new Blu-ray players made their debut as well—the $799 Elite BDP-05FD (see photo) and the $599 Pioneer BDP-51FD. Both conform to Blu-ray Profile 1.1 (aka "BonusView") and feature onboard decoding of Dolby TrueHD and DTS-HD Master Audio as well as four Wolfson audio DACs. In terms of video, both players implement 12-bit Deep Color and 24fps output as well as 1080p DVD upscaling. Boot and disc-load times have been dramatically reduced—they're almost as fast as DVD players—and a suite of 13 video adjustments lets you tweak the picture to your heart's content.
When one of the new Blu-ray players is connected via HDMI to either of Pioneer's new Elite A/V receivers—the SC-05 ($1800) and SC-07 ($2200)—the player receives a master clock signal that re-clocks CD data and allows the player to send a jitter-free bitstream back to the receiver for what is claimed to be a major advancement in sound. Other interesting features include Direct Energy HD amplifiers, DTS-HD and Dolby TrueHD decoding, and Home Media Gallery, which lets the AVRs access digital music and JPEG photo files on networked computers. Rounding out the new receiver line are the Pioneer VSX-01TXH ($750) and VSX-03TXH ($1000).
Demos of the new plasmas compared to last year's models as well as competing plasmas and LCDs demonstrated that the new Kuro produced far deeper blacks than either the previous generation or any of the competition. The picture and sound in the "big" room, featuring the new D-ILA front projector and the Andrew Jones-designed Pioneer EX series loudspeakers was spectacular in every way.
LATEST VIDEO