Pink Floyd's Live 8 Reunion Revisited with 3D Sound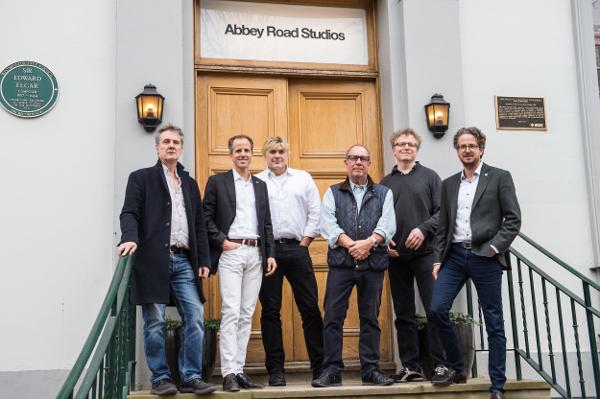 Sennheiser and Pink Floyd have partnered to produce a new immersive mix of "Comfortably Numb" and other songs from 2015's Live 8 concert—the last time David Gilmour, Nick Mason, and Rick Wright played onstage with former band member Roger Waters.
Created in a new 25-speaker format using Sennheiser's Ambeo 3D technology, the 360-degree mix places sound around and above the listener to deliver an "immersive audio sensation unlike anything visitors have experienced before."
The new version of "Comfortably Numb," which was recently previewed at Abbey Road Studios in London where Pink Floyd recorded a number of their albums, will be featured in "The Pink Floyd Exhibition: Their Mortal Remains," which opens at London's Victoria and Albert Museum on May 13. The exhibition is a retrospective of the band's history, connecting music, sound technology, live performance, and more.
Recording engineer Andy Jackson, who worked with Pink Floyd on several albums, is collaborating closely on the project with Simon Rhodes and Simon Franglen, the masterminds behind the Ambeo remixes.
Rhodes is a senior engineer at Abbey Road with over 18 years' experience of working on productions for projects, including the movies Avatar and Spectre, and Franglen is a Grammy Award-winning and Golden Globe-nominated composer and producer with credits on many big films, including Titanic and Avatar.
"I can't think of a band that is better suited to Sennheiser's Ambeo 3D technology than Pink Floyd," Franglen said. "They pioneered surround sound in their live shows, now Sennheiser's 3D immersive audio pioneers a completely new experience. It allows the audience to hear every detail inside the performance. I can't wait to see what Pink Floyd fans make of the 3D audio version when they see the exhibition."
Tickets to the exhibition are available at pinkfloydexhibition.com.
LATEST VIDEO