Phone Tunes
Lots of mobile phones double as music players. Many have built-in speakers. But, have you ever listened to them? Seriously, the sound quality from the tiny speaker built into these phones is typically abysmal. Notice that was "speaker," not "speakers." The majority of phones only have monaural playback, and a frequency response that's just pathetic. Ugh. Why even bother to have music players if they're going to sound so bad?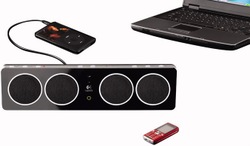 Logitech recognized the problem, and has an elegant solution. The new Pure-Fi Mobile speaker system is a Bluetooth speaker array. Place it within 33 feet of your Bluetooth-enabled cell (or any Bluetooth device) and let the music play. The system supports stereo playback, but only phones that support A2DP technology will provide stereo playback. Even without A2DP, you can get stereo playback through the AUX input or through a USB connection.
The Pure-Fi Mobile (MSRP: $150) will run for about 12 hours on batteries, or you can plug it in for unlimited runtime. If you get a call while using Pure-Fi, you can use its microphone, making this a great-sounding speakerphone.
The Pure-Fi Mobile has four 2-inch speakers: two active drivers and two pressure driven (passive) bass radiators.
If you're going to carry your music library around on your mobile phone, don't you owe it to the music to provide a decent way to listen to it? Really, your music deserves better. -Leslie Shapiro
LATEST VIDEO