Phantasm: Ravager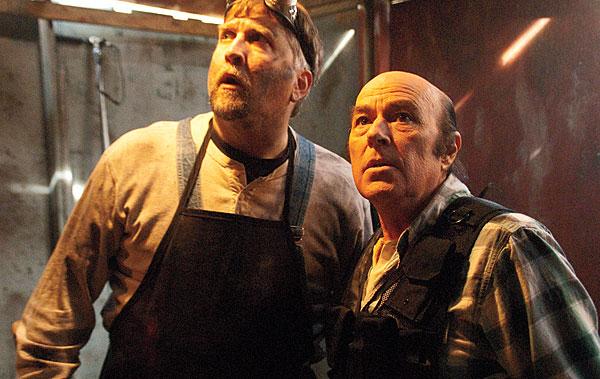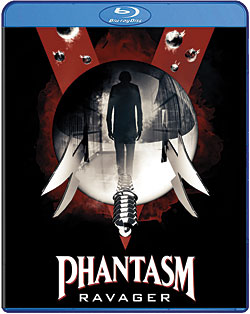 Phantasm: Ravager stuck to its low-budget B-movie roots and was "filmed" in the HDCAM digital format. That makes it unsurprising that this 1.78:1 AVC 1080p transfer on Blu-ray is inconsistent in its quality and shows issues in its source. There seems to have been a level of filmic noise or artificial grain applied that adds good texture, keeping the image from looking too much like video. In some places, such as around the 18-minute mark where Reggie and Dawn talk in her low-lit living room, a lot of noise and obvious banding appear. The same issue can be spotted again at around 45 minutes as Reggie and the Tall Man converse in an alternate dimension. Mostly the image will be pleasing, even if it's not perfect. Fans of this franchise can find the remastered 1979 Phantasm being released alongside Ravager. The original film edges out this digitally filmed one in picture quality even with its 37-year-old vintage by offering up an organic and clean picture.
There's no Atmos or DTS:X track for this one, and in fact the DTS-HD Master Audio 5.1 mix provided is underwhelming. While it does spread the sound of Christopher L. Stone's New Age–esque score through the channels spaciously, the dialogue clips during louder passages. Mixing of discrete sounds into the surrounds is rare, and when it happens it sounds out of place. Low end is subtle and in some spots suddenly boomy.
The extras on this release are light, but we get a fantastic audio commentary from director David Hartman and writer/producer Coscarelli along with three annotated deleted scenes (HD), a bloopers and outtakes reel (HD), and the theatrical trailer (HD).
Blu-Ray
Studio: Well Go USA, 2016
Aspect Ratio: 1.78:1
Audio Format: DTS-HD Master Audio 5.1
Length: 86 mins.
MPAA Rating: Not Rated
Director: David Hartman
Starring: Reggie Bannister, A. Michael Baldwin, Dawn Cody
Thirty-seven years after the horror franchise Phantasm debuted, director Don Coscarelli passes the directorial reins to David Hartman for what is being billed as the final installment in the popular mind-twisting series. Although there isn't much left here for fans of the original to really cling to, there is a sense of the series getting back to its roots. Actor Reggie Bannister returns as Reggie, and other series regulars A. Michael Baldwin, Bill Thornbury, and Kathy Lester also return for a tale that brings the story right into the core of the Tall Man's (Angus Scrimm reprising his role) home world. While it is slow to start and maintains that slow burn straight through, Phantasm: Ravager manages in the end to wind its way through a reasonably strong if aged effort at the sort of psychologically taxing and macabre horror the franchise is known for.