PEEX Technology Brings Live Music into Sharp Focus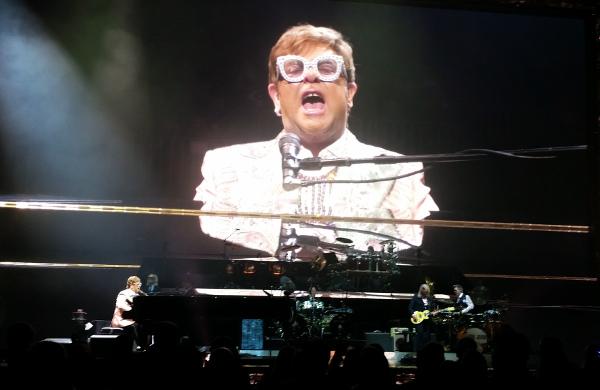 How much would you be willing to pay to improve the sound of a live concert put on by one of your all-time favorite artists? That was one of many questions I pondered as walked to my seat at Elton John's "Farewell Yellow Brick Road" tour last week at New York City's Madison Square Garden. And what a seat it was: left of center, 11 rows from the stage and aligned perfectly with Elton's grand piano.
I was a guest of U.K.-based PEEX, which was showcasing a bold new technology that aims to make concerts "more interactive and personalized" through an app that lets you augment the live sound with sound from the band's mixing board.
I don't know about you, but the notion of being able to tap directly into Elton John's soundboard struck me as crazy cool and I couldn't wait to try it out.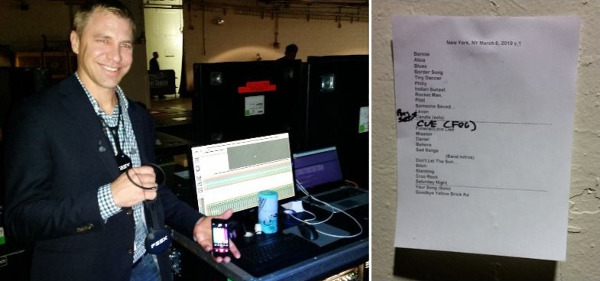 I arrived at the Garden an hour before the show and was greeted by David Johnson, chief operating officer of PEEX, who took me and two other journalists backstage to show us the brains of the operation: a couple of laptops and a small rack of gear that receives 120-some-odd channels from the mixing board and separates it into five "stems."
PEEX collaborated with Elton and his team to determine what would be mixed into each of the five channels, which show up in the PEEX Live app as virtual sliders, each with an icon of a musician: Elton (vocals), musical director and EJ's long-time guitarist Davey Johnstone (guitar), Kim Bullard (keyboards), Matt Bissonette (bass), and Nigel Olsson (drums), who's been with EJ since the 1970s. The drum channel also included the exceptional percussion work of Ray Cooper and John Mahon.

Now here's the cool part: Four transmitters, strategically positioned around the Garden, broadcast an encrypted 5-GHz signal throughout the venue for all who are wearing a "PEEX rX" lanyard with earbuds to receive. Because the transmission is one-way, there's no limit as to how many concertgoers can tap into the signal, which is buffered and synchronized with sound from the mixing board with the help of a tiny microphone in the lanyard.
With our lanyards and earbuds in place, we walked across the side of the stage and out onto the floor of Madison Square Garden, stopping to snap a photo of the stage set with its vibrant "Farewell Yellow Brick Road" mural before making our way to those amazing seats. Even Johnson was surprised how good they were, if not a bit concerned because, as he put it, "you have one of the best sounding seats in the house." Could the PEEX technology actually improve the sound?
From the moment Elton hit the opening chord to "Bennie and the Jets" it took all of a minute for me to decide that PEEX was doing its thing and doing it quite well. The earbuds are designed to let ambient sound in so it's not like you're isolated from the event — who would want to be? — and you can mix in as little or as much of the sound from the board as you want.
The app has a swiping feature that lets you isolate the individual channels. Each swipe brings you to a different channel, highlighted with a large image of the performer, which can be moved up or down to adjust volume. It was cool to be able to "check in" on one of the channels every now and then, but in truth I rarely used the feature.
With 50 (!) years of touring under his belt, Elton was in fine form and went out of his way to acknowledge his adoring fans (including yours truly), standing up and gesturing with arms wide open after every song. Toward the end of the show, he stopped to thank the audience for making possible a level of success he never imagined and dedicated "Crocodile Rock" to his fans. The song was played against the backdrop of a video featuring EJ devotees donning classic EJ paraphernalia. I confess to missing Elton's soaring falsetto on songs like "Rocket Man" but taken in the context of a man who has given the world a steady flow of wonderful music for most of his 71 years, it was a very small price to pay.
As the show progressed, I became more comfortable with PEEX, adjusting the sliders between a quarter and half of the way up for most of the show, making tweaks from song to song to bring a clarity and crispness to Elton and his band that simply wasn't there when I removed the buds. Like most large-venue rock shows, the sound was boomy so it benefited from the boost in clarity and intelligibility PEEX provided. Which is not to say that the live sound was horrible — it was actually quite decent from our primo seats.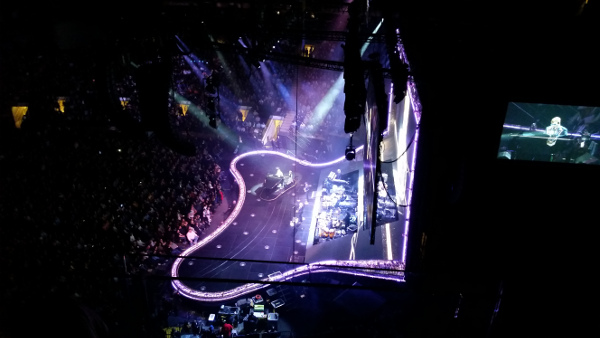 I relished being able to goose Elton's vocals, Ray Cooper's captivating percussion, or Davey Johnstone's guitar — especially the power chords in songs like "Funeral for a Friend/Love Lies Bleeding" and "Saturday Night's Alright for Fighting" — but left the bass slider at or near the "0" position for most of the show. We were close enough to the stage that the pulsating bass we heard (and felt) needed no reinforcement. I did, however, nudge up the bass when we ventured to the Press Box high above the stage (just below the top 400 section for those who know the Garden) to see how the PEEX system handled latency (the difference between when the music was actually played and when it reached my ears). Very well as it turned out: Everything synced up beautifully with no perceptible delay.
Being a guitar player, I particularly enjoyed the ability to home in on Johnstone's playing, especially the intricate acoustic guitar parts on "Rocket Man," which were barely audible in the live mix.
By the end the night I experienced some discomfort with the earbuds, but the show was almost 3 hours long — he played 24 songs in all — so it wasn't that big a deal. Removing and repositioning the earbuds helped restore a comfortable fit.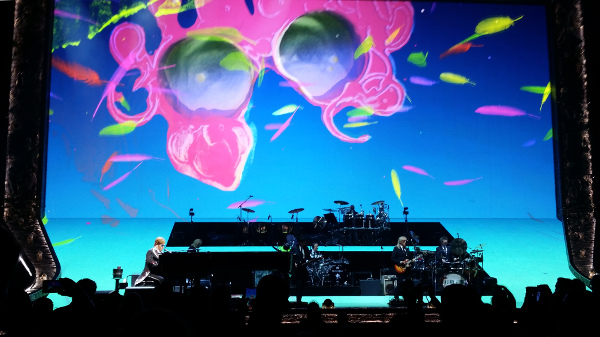 PEEX has succeeded in making the concert experience more personalized and taken a major step toward improving the sound of live performances — something I, for one, appreciate. Would I change anything? Sure. The earbuds could be better and I'd like to see a master volume that turns everything up or down after you've adjusted the sliders the way you want them. But those are nit-picks and there's nothing to stop you from using another set of minijack-equipped earbuds or headphones with this system.
Will the average concertgoer see (hear?) the value in PEEX? It's hard to say because the idea of "personalizing" live music is foreign to most. And whether people care enough about sound quality to wear special earbuds is an open question. One thing's for sure: PEEX will spark curiosity. Then it becomes a matter of interest and how much people are willing to pay to "rent" the system.
Pricing has not yet been announced but we've been told it is likely to land somewhere around $20, which strikes me as reasonable. The system will be offered to the public as an add-on, starting with the European leg of EJ's tour, which kicks off in May. PEEX is actively working on deals with other artists and venues that will be announced in the future.
The next time you go to a concert, look for PEEX. It's well worth a test drive.