Paradigm Reference Signature Series Loudspeakers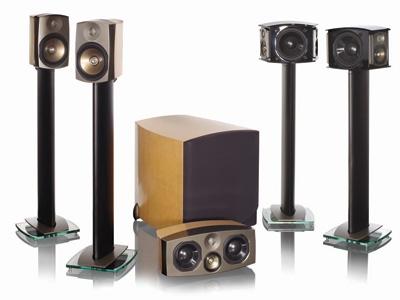 Ed. Note: Readers are advised that prices for this system and its individual elements as reported in the December print edition of Sound & Vision were incorrect. Current prices, including premiums for the birds-eye maple finish on our review system, are provided here.
Longtime devotees of S&V test reports may be getting tired of reading about Canadian speakers, especially when the review begins with a variation on this theme: "Here's another superb design from the Great White North . . ." (never mind that Toronto's climate is a good deal milder than Boston's), ". . . a design that is accurate, balanced, detailed, and thoroughly well conceived." Sorry, but I don't make the news; I merely report it. And it's a fact that, as a body, Canada's esteemed manufacturers regularly advance the art of the loudspeaker, with each new generation achieving worthwhile gains in quality.
Perfect example: the v.2 Signature Series in Paradigm's high-end Reference line. The Toronto-area company's Signature family has been around for at least a decade. Among the upgrades in the latest iteration are extensively refined beryllium-dome tweeters and cobalt-treated aluminum midwoofers, along with volume-maximizing cast-aluminum cabinets. The series also adds three new downsized models - all of which Paradigm provided us, together with its flagship Signature Servo subwoofer.
The speakers that Paradigm sent me arrived in a sexy veneer of bird's-eye maple, excellently finished and glass-smooth (cherry and black are offered, too). For the corner speakers, Paradigm also sent its new GS-30 stands ($319/pair) - single-pedestal, glass-bottomed pillars that match the main bookshelf monitors quite nicely.
Setup Unpacking the Signatures revealed a quintet of jewel-like small speakers dwarfed by a hulking great beast of a subwoofer (though Paradigm also offers its more modest Seismic and Ultracube options). The S1 bookshelves, C1 center, and ADP1 surrounds are remarkably compact - conventionally laid out but with little wasted baffle area. They all incorporate strongly curved bottoms and tops (and sides, save for the surrounds) that make stand-mounting via their rear-panel threaded inserts the preferred setup. Stick-on feet make the S1 and C1 more sittable - which is fortunate, since finding a short stand adaptable to the C1's bolt-up fittings may prove a challenge.
The Signature Servo subwoofer runs 75% of the cost of all the other speakers combined and looms over this array with fridge-like bulk. Its 15-inch driver fires forward, while its massive Class D power amp (Paradigm claims 4,500 watts peak) is governed by a servo-control system that monitors and corrects the cone motion to match the signal. The sub offers up only a single-channel line-level input, in both conventional RCA-jack and balanced (XLR) forms, but has no defeat or bypass for its crossover. Consequently, after placing the sub in my usual front-wall location, I left this wide open and let my preamp/processor do the crossover work.
The satellites, meanwhile, went on stands in front and on high side-wall shelves at the surround positions. After some tinkering, the S1s' ended up 10 feet apart, about 3 feet from the front wall and roughly 9 feet from the prime listening position.
Music & Movie Performance Taken on their own, with no subwoofer support, the S1s are very capable small speakers, able to deliver musical, listenable, reasonably satisfying bass on stereo playback down to perhaps 60 Hz. Because they do so with a bit less of the usual pre-rolloff response hump (around 80 Hz) that so many small two-way speakers exhibit, their response seemed just a shade "leaner" than what you may be accustomed to hearing from this type. But I mean this as a positive, because eschewing such midbass-response enhancement promotes clarity and definition on bass instruments and, I believe, contributes to smooth, balanced sub/satellite integration as well.