How Streaming Changed in 2020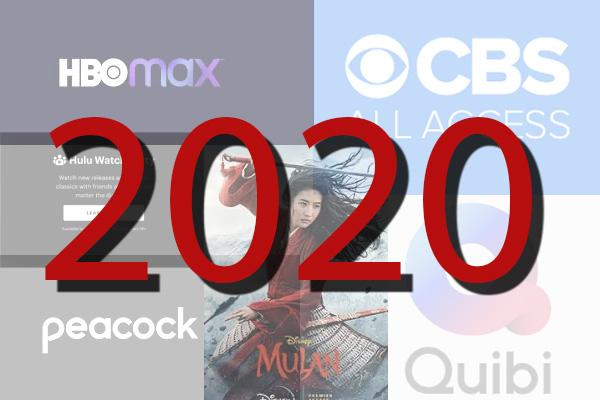 As the world slowed to a stop in 2020, it accelerated streaming adoption and innovation. Sparked by theater closures and social distancing requirements of the pandemic shutdown, we had to find new ways to watch movies together with friends and family. Theatrical films that were ready to be released had to find new ways to reach their audience. Day-and-date movie releases and synchronized viewing were no longer just ideas but necessities. Being confined to our homes gave a boost to streaming this past year.
Most of the changes to streaming devices were simply upgrades to hardware and operating systems rather than new players. The 4K players from Roku, Fire TV, and Chromecast added DolbyVision HDR and Atmos surround capabilities. Roku's new Ultra had an improved processor to launch menus, apps, and content faster.
Roku continued to improve its operating system and content offering as well. Most players and Roku TVs are now capable of AirPlay. Apple users can mirror their mobile devices or play videos directly to a Roku TV or media player. Roku released a simple-to-setup, wireless speaker system to turn Roku TVs into a basic full home theater for those with more need for simplicity than audiophile quality.
Chromecast was the most changed device in 2020. The new generation of Chromecast moved from being a passive device that played videos from a mobile device. The 2020 model comes with a remote to control its built-in Google TV platform. Chromecast now has apps like other streamers and plays the content in superb picture quality.
But, it was streaming services that made the news this past year. After the Disney+ launch in November 2019, the other Hollywood studios wanted their share of the streaming users by taking back their content's licensing rights.
Viacom/CBS announced that CBS All Access would be adding Paramount movies to their CBS TV show offering. While it has been a slow add, in early 2021, the service will be rebranded to Paramount +. Warner Brothers/AT&T launched HBO Max in May with a plethora of content sourced from HBO Warner Brothers, Turner Movie Classics, TBS, DC movies, Cartoon Network, Adult Swim, and more.
By summer, Universal launched NBC's Peacock service. The weakest of the bunch, they are betting on siphoning some subscribers to their service when The Office and ultimately Friends(expected to be available in May 2021) return to play exclusively on Peacock. In the meantime, Peacock is the only service with a free ad-supported tier. Still, they'll need to work on their content if they expect to survive.
Free "live TV" stations are a big part of the Peacock free tier. Many of the stations stream linear programming for niche audiences. Unlike Hulu + Live TV, YouTube TV, or Sling that offer broadcast TV and premium channel live programming, most channels stream reruns of game shows, cooking and lifestyle programs, and sports and news highlights. Still, people were stuck at home looking for new hobbies. Bob Ross's The Joy of Painting series became a huge success. The Roku Channel and Plex launched similar free "live TV" channels. All of these offerings are ad-supported. Again, the stations aren't live, but many offer new content.
Netflix started offering free content, as well. In an attempt to lure those few people who don't subscribe to Netflix, a handful of shows were made available to watch for free. Despite the competition, Netflix continues to be the standard for streaming services. Netflix streamed two of the most-watched shows of the year —The Tiger King , and The Queen's Gambit, which proves that both highbrow and lowbrow entertainment will attract big audiences.
As with all business in 2020, the shutdowns, stay-at-home orders, and quarantines due to COVID-19 greatly influenced streaming and entertainment. For years, studios have played with the idea of day-and-date releases where a movie streamed on the same day it was released in the theater. With theaters shuttered, the only way to release a movie was straight to video. Trolls World Tour was a relative success bringing in over $100 million. A handful of other films— Bloodshot, The Way Back, Birds of Prey, and more—were released in the Spring. Initial prices were around $20 to purchase or rent the title. While it's a hefty price tag for a streaming title, it's still a bargain compared to tickets and concession goodies for a family of four.
Some movies were a holdout. The new James Bond movie still has no release date. Tenet, the much anticipated Christopher Nolan film, released in the fall to disappointing ticket sales. Many say that it was due to fewer seats being sold and blamed a lack of audience research that might have told them that the story was too confusing for most.
Disney's attempt at charging $30 for Mulan didn't fare as well as hoped as users had to continue their subscription to watch it again. Disney + did gain several subscribers with a filmed version of the stage play Hamilton. Baby Yoda, (aka Grogu) in the Star Wars spinoff series, The Mandalorianhelped to keep the new subscribers.
As Warner Brothers looked for a solution of what to do with the films that were ready to be released, they opted to offer them for free to their streaming subscribers hoping that a regular diet of new movies would boost users of HBO Max. Some directors were up in arms, others like the Wonderwoman 84 director saw it as a necessary compromise to accommodate the strange times dictated by the pandemic.
Along with day-and-date video-on-demand options, the pandemic gave impetus to the Watch Together feature. At first, third-party apps like Scener and TwoSeven allowed users to watch a movie with friends. It was the perfect way to experience a movie simultaneously as viewers could control the playback, message each other, or even video chat while watching. Now, many services— Hulu Watch Party, Disney+ Watch Party, Prime Video Watch party, and Plex's Watch Together— make sharing the movie experience as simple as clicking on a button.
But for all the positive progress in streaming that came from finding solutions during the pandemic, the stay-at-home order was the nail in the coffin for short-form video service, Quibi. We'll never know if this expensive launch would have worked. The idea was to offer short videos for people who had ten minutes or less while waiting in line or commuting on a bus or train. But the idea was flawed. People can stop streaming any show after 10 minutes and continue it later. They didn't need Quibi. And now that they were stuck at home, they wanted to watch on their big-screen TV. Quibi's founders were adamantly against playing their content on any device other than a smartphone. By the time Quibi changed their mind and allowed the content to stream to TVs, it was too late. Quibi was the streaming failure of 2020. There are unsubstantiated rumors published by The Wall Street Journal that claim Roku will be buying the rights to Quibi content. No one on Roku would comment on the rumor.
It will be months before theaters reopen. When they do, we will have to see what is the new normal. Will we continue to watch together at home? Will day-and-date continue? Will there be less bingeing on streaming shows, or will the popularity continue to grow. It will be an interesting future in streaming.