Stream These Netflix Originals for Free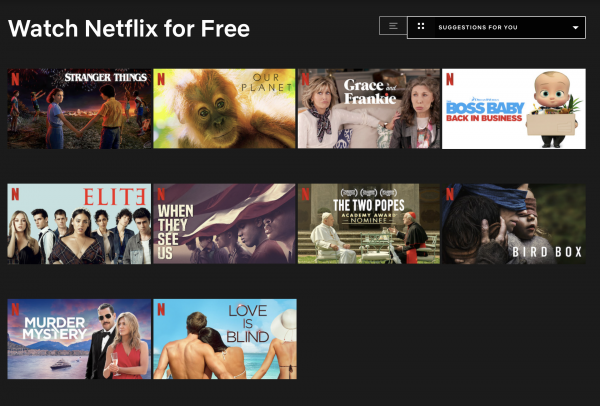 Netflix is offering a small number of titles to stream for free without a subscription. Streaming is immediate and does not require that viewers create an account or login.
There are no ads, but there are limitations. The free titles are not available on the Netflix app on streaming devices or TVs. The only way to watch them is to use a web browser on a PC or Mac computer or on Android devices. Apple devices like iPhones and iPads are not supported. Note that you can't Airplay from a Mac to an Apple TV or cast from Chrome to Chromecast.
Netflix has offered free content in the past, but most offerings have been outside the U.S.
The streaming giant is feeling pressure from competition. Disney Plus, Peacock, and HBO Max have started taking back their content as licensing of shows on Netflix have expired. Disney movies, including Star Wars and the Marvel titles, have returned to Disney Plus. The popular reruns of Friends is exclusive to HBO Max. The Office will move to Peacock in 2021.
During a Netflix earnings call at the beginning of 2020, the company stated that there were "slightly elevated churn levels." In other words, subscribers were canceling and going to other services. Netflix confirmed their intentions for the new free content promotion in a statement given to website, Gadgets360. A company spokesperson said, "We're looking at different marketing promotions to attract new members and give them a great Netflix experience."
To access the free Netflix content, go to netflix.com/watch-free. There are three movie titles and seven series, but only the first episode of a series available—presumably because Netflix wants to get you hooked so you'll subscribe and watch more. The page states that "the selection may change from time to time." The current list of 10 titles includes:
The Two Popes, a film that received Oscar nominations for lead Jonathan Pryce and supporting actor Anthony Hopkins.
Bird Box, , a post-apocalyptic horror thriller from 2018 with strong acting performances by Sandra Bullock, John Malkovich, and Sarah Paulson. The premise is that a woman protects her family by blindfolding themselves to not go insane when looking at supernatural beings.
Murder Mystery, a wacky dark comedy with Adam Sandler and Jennifer Aniston. A New York City cop and his hairdresser wife find themselves having to solve a murder on a billionaire's yacht.
The teen sci-fi series Stranger Things has become one of Netflix's biggest hits, and the first episode is available to stream for free. The series has three seasons available to Netflix subscribers.
When They See Us is a four-part limited series from 2019 based on the 1989 Central Park Jogger Case. Five boys of color are arrested and coerced into confessing to an attack on a woman they did not commit.
The series Elite begins with three working-class teens enrolling in a private school in Spain. A class clash eventually leads to murder. Three seasons are available.
Love is Blind is a romance reality show that Netflix describes as a love experiment where couples meet and get engaged without ever seeing each other. The drama unfolds as we learn which couples will stay together and get married once they see each other and date face-to-face.
Our Planet is a spectacularly beautiful wildlife and nature documentary series narrated by David Attenborough. Each episode examines how climate change affects the animals of Earth.
Now with six seasons completed, Grace and Frankie stars Jane Fonda and Lily Tomlin as an odd couple who move into a shared beach house and become friends. The two women are thrown together when their husbands announce they have been having a secret affair with each other. This comedy series explores becoming single in one's later years as well as many other current issues.
Boss Baby Back in Business is a children's series based on the 2017 computer-animated DreamWorks film. Three seasons are available.