Warner Movies and HBO Max: What You Need to Know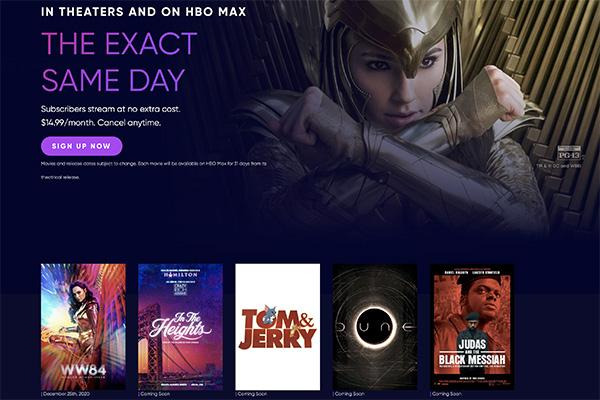 WarnerMedia has announced that all of the studio's 2021 theatrical movies will be available to stream on its HBO Max service the same day they get released in theaters. That may be a welcome decision to those of us who either don't want to spend two hours in a closed room with strangers or where theaters are closed. But it is also causing concern for those in the movie industry. How will this decision alter how we see new movies in the future?
Starting with the release of Wonder Woman 1984 on December 25th, all WarnerMedia movies will be available to stream in 4K/HDR exclusively on HBO Max on the same day that the title opens in the theater. Anyone who subscribes to HBO Max will be able to stream the movie during the first 30 days of its release for no extra charge. An HBO Max subscription runs $15 per month. The service is stopping its usual 7-day free trial period, so you will need to subscribe for at least a month to view the title. After the 30-day streaming period, the typical screen-to-stream schedule will begin. That is, there will be a period of time that the movie will play exclusively in theaters, followed by online video-on-demand sales through Apple iTunes, Amazon Prime Video, Vudu, and such, ending with availability on streaming services.
The 2021 titles include much anticipated big-budget films like the new Space Jam movie, the fourth installment of The Matrix, The Suicide Squad, a remake of Dune, as well as Lin-Manuel Miranda's In The Heights, The Little Things, Judas and the Black Messiah, Tom & Jerry, Godzilla vs. Kong, Mortal Kombat, Those Who Wish Me Dead, The Conjuring: The Devil Made Me Do It, Reminiscence, Malignant, The Many Saints of Newark, King Richard, and Clint Eastwood'sCry Macho.
Throughout 2020, studios have been trying to figure out how to release scheduled films during a time when theaters are either closed or have limited seating. Many tried "day and date" (same day online as in theaters) with prices starting at the $30 mark and coming down over time. Universal's Trolls World Tour brought in almost $100 million. Still, many titles have been pushed back to be released in 2021.
With the prediction that a Covid-19 vaccine won't be widely available until at least summer, studios needed to reconsider how and when to release their prized blockbuster films. WarnerMedia made a radical decision to stream the movies for the price of a subscription to its service, a move that has angered both filmmakers and theater owners. Universal has taken a milder approach. It made a deal to wait until 17 days after a movie premieres in the theater before making it available for a premium on-demand price.
Ann Sarnoff, CEO of WarnermediaStudios and Networks Group Chair explained the company's decision in a press release: "We're living in unprecedented times which call for creative solutions, including this new initiative for the Warner Bros. Pictures Group." She continued, "No one wants films back on the big screen more than we do. We know new content is the lifeblood of theatrical exhibition, but we have to balance this with the reality that most theaters in the U.S. will likely operate at reduced capacity throughout 2021. With this unique one-year plan, we can support our partners in exhibition with a steady pipeline of world-class films, while also giving moviegoers who may not have access to theaters or aren't quite ready to go back to the movies the chance to see our amazing 2021 films. We see it as a win-win for film lovers and exhibitors, and we're extremely grateful to our filmmaking partners for working with us on this innovative response to these circumstances."
"Our content is extremely valuable, unless it's sitting on a shelf not being seen by anyone," added Jason Kilar, CEO of WarnerMedia. "We believe this approach serves our fans, supports exhibitors and filmmakers, and enhances the HBO Max experience, creating value for all."
This decision has caused upheaval in the film business. Dune director Denis Villeneuve was one of many filmmakers who felt strongly that a traditional big-screen release was essential for his film. Legendary Entertainment, the production company that co-financed Dune, has suggested it may take legal action against WarnerMedia.
Others, like Wonder Woman 1984 director Patty Jenkins had a more pragmatic reaction. In a video interview on the SiriusXM Stars YouTube channel, she said, "If you had told me a year ago that we would ever go straight to streaming in any way, shape or form, I would have flipped out. Like I'm not for that plan in general, you know. I'm very pro theatrical release and I will be that again, as soon as this is over. However, this is such a crazy year. It's such a crazy year. It's like all of us are trying to figure out with our lives, how to demo everything the best we can. And so I kept saying there is no good option."
The coming year will be a challenge for all movie studios. We will see if theatrical releases continue to get day-and-date premium video on demand, as has been discussed in the past. New solutions may also arise as releases like the new James Bond or Black Widow movies continue to get pushed back.
These next few years could alter the model of how movies get released. Just as it takes time for any change in technology to gain acceptance, there are sure to be continued growing pains for the combined movies/streaming industry.